6 Sanitary Measures for Staying Healthy With Neutropenia
Was this helpful?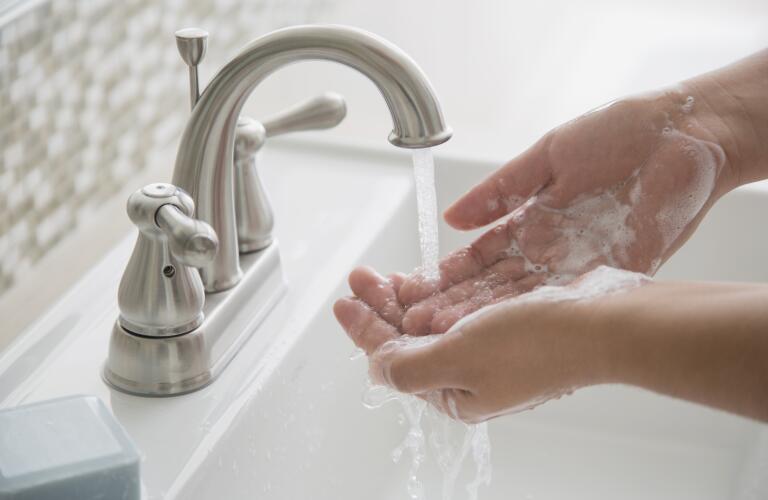 6 Sanitary Measures for Staying Healthy with Neutropenia
If you have neutropenia—a condition in which your bacteria-fighting white blood cells are low—you probably know that it's very important to avoid infections. But that doesn't mean you can't get out and enjoy life. You have the ability to help reduce your risk of picking up a germ or virus by focusing on a few simple steps. Below are six tips for staying as healthy as possible with neutropenia.

It may seem overly simple, but washing your hands often is one of the best ways to avoid germs and viruses that can cause infection. Use soap and be sure to wash for at least 20 seconds before you eat or prepare food and after you use the restroom. Also, don't forget to scrub after you blow your nose, cough or sneeze, handle garbage, or touch an animal. In other words, when in doubt, wash your hands! When soap and water aren't available, use an alcohol-based hand sanitizer containing at least 60 percent alcohol.

2. Watch Out for "High Touch" Areas
Germs tend to hang out on surfaces that are touched often, such as doorknobs, telephones, ATM and elevator buttons, and computer keyboards. Use a moist cleaning towel to clean areas that are touched often. And if possible, try to avoid crowded areas such as shopping malls or public events.
It's important to take precautions when preparing food. Many foods—or the equipment they are prepared on—can harbor bacteria. Make sure all your work surfaces, such as counters and cutting boards, are clean. Thoroughly wash and cook all your food. Don't use knives or cutting boards that touched raw meat or poultry for other foods. Do not thaw meat or poultry at room temperature. And eat a nutritious diet, focusing on foods that are at lower risk for bacteria.
To help lower the risk for infection, it's important to practice good personal hygiene and prevent any open cuts or sores. Take a bath or shower each day. Gently pat dry and use a moisturizer to avoid dry, cracked skin. Don't scratch or squeeze any blemishes. Use a clean electric shaver instead of a razor. Gently wipe yourself after a bowel movement using a baby wipe instead of toilet paper. And be careful not to cut or tear your cuticles when trimming your nails. Brush your teeth with a soft toothbrush twice a day. Talk with your doctor if you have bleeding gums.
5. Let Others Care for Your Pets
Pet care can expose you to a number of germs. Whenever possible, let someone else clean up after your furry friends. For example, have someone else empty the litter box and clean pet cages. Also, avoid picking up pet droppings.
Take steps to make your home a relaxing, safe environment. That means keeping as much illness-causing bacteria out as possible. For example, ask all those who come into your home to take off their shoes. Remove any live plants or fresh flowers from your bedroom. And do not share any bath towels or drinking glasses with others.
Remember, infections are much more serious in people with neutropenia. If you experience any symptoms of an infection—such as a fever or chills—call your doctor right away.
Avoiding infections is very important for people with neutropenia.

Washing your hands often is one of the best ways to avoid germs and viruses that can cause infection.

If you have neutropenia, be sure to properly prepare foods, practice good hygiene, avoid cleaning up after pets, and keep your home safe from bacteria.
Was this helpful?