What You Need to Know About Ovarian Cancer Treatment
Medically Reviewed By William C. Lloyd III, MD, FACS
Was this helpful?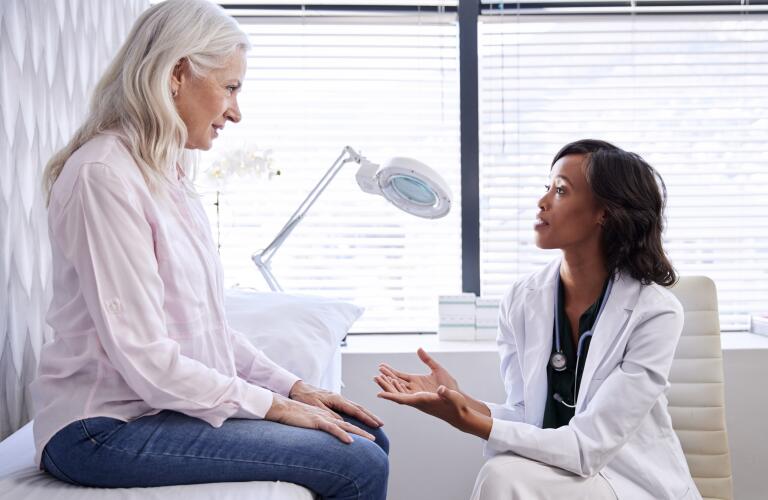 If you've been diagnosed with ovarian cancer, it can be a scary time. Learning as much as you can about the cancer and your treatment options can help you make decisions and feel more in control. Below is some information about treatment for epithelial ovarian cancer—the most common type of ovarian cancer.
The type of treatment your doctor recommends will depend on how far your cancer has spread. Your cancer may be confined to the ovary, or it may have spread only to nearby areas. If so, this is called local or early-stage cancer. If the cancer has spread to distant areas in the body, it's called metastatic or advanced ovarian cancer.
It's important to find a doctor who is an expert in ovarian cancer and can clearly explain everything you need to know about your specific type of cancer. Most likely, you will work with a gynecologic oncologist, a subspecialist with advanced training in the diagnosis, treatment and surveillance of female cancers, including ovarian cancer.
Treatment of ovarian cancer may include a combination of therapies. Doctors typically recommend surgery followed by chemotherapy.
The primary goal of surgery is to remove the cancerous tumor or tumors. To do this, your doctor may need to remove one or both ovaries and possibly surrounding tissue and lymph nodes. Sometimes a second surgery is needed after other types of treatment are complete to make sure all the cancer is gone or to take samples of lymph nodes or other tissues. This helps determine whether the cancer has spread.
Keep in mind that your doctor may recommend surgery even if your cancer has spread beyond the ovaries. Removing as much cancer as possible can provide a better chance for survival when combined with chemotherapy after surgery.
Chemotherapy drugs are used to kill or slow the growth of the cancer, reducing your chance that the cancer will return. Most women with ovarian cancer have chemotherapy, even those with early-stage disease.
Before you are treated for ovarian cancer, make sure you understand everything you need to know about the treatment. The best way to get information about your specific condition is to talk with your doctor. Don't be afraid to ask your doctor difficult questions. Find out the success rate of the treatment as well as the risks and side effects. Discuss how treatment may affect your daily life, such as your diet, appearance, mood, energy level, and sleep habits. Get advice on how to best manage the side effects.
Tell your doctor about your family plans. Ask if you are a candidate for fertility-sparing surgery. Your doctor may consider this surgery depending on the type and stage of your cancer.
You can also access credible information about ovarian cancer online at the Foundation for Women's Cancer ( www.thegcf.org), the American Cancer Society ( www.cancer.org), and the National Cancer Institute ( www.cancer.gov).
You can't control the fact that you have ovarian cancer. But you can control how you manage your diagnosis, treatment and recovery. Be prepared and feel empowered by partnering with your doctor and learning as much as possible. When you're feeling overwhelmed, find the courage to tell your doctor and the rest of your care team about your struggles. They are experts in helping women cope with the strong feelings and emotions that accompany a cancer diagnosis.
Was this helpful?