Ovarian Cancer: Prognosis and Life Expectancy
Was this helpful?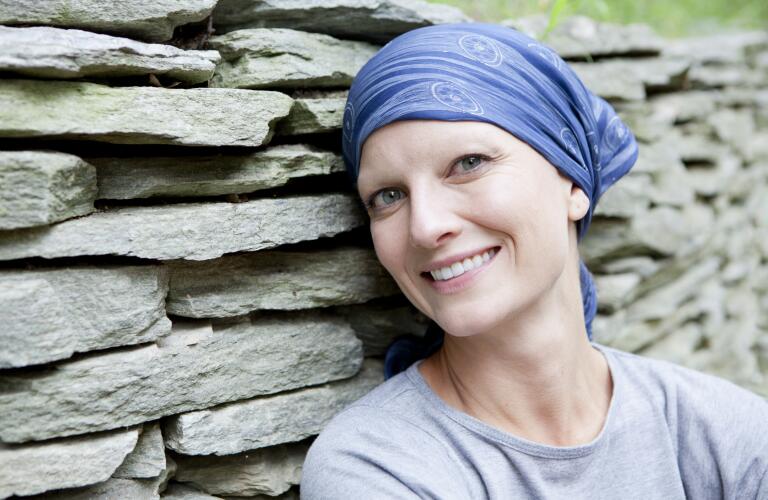 Ovarian cancer is a less common and more dangerous gynecologic cancer compared to others like cervical cancer, but advances in treatment are increasing ovarian cancer life expectancy for many women. While ovarian cancer survival rates are not a guarantee of your ovarian cancer life expectancy, they can provide an idea of what your prognosis may be.
Cancer prognosis is the likely outcome or result of the disease—such as the chance of remission or recurrence with treatment. For ovarian cancer, prognosis and survival rate depends on the stage, including stage 1, 2, 3 and 4, your age, and how the cancer responds to treatment.
Cancer survival rates are usually expressed as five-year relative survival rates, based on people who had that type of cancer at least five years ago compared to survival of people without cancer. Based on the SEER database maintained by the National Cancer Institute, the overall ovarian cancer survival rate is 49%. This means that someone diagnosed with it is 49% as likely as someone without that cancer to live at least five years after diagnosis. However, ovarian cancer survival rate depends on where the cancer is located and by the type.
Ovarian cancer is grouped by three locations:
Localized: Equivalent to stage I (1) ovarian cancer, the cancer is only growing in one or both ovaries.

Regional: Equivalent to stage II (2) and some stage III (3) cancers, the cancer is growing beyond the ovaries into other structures in the abdominal cavity, such as the uterus or colon. If it is stage 3, it may have spread to nearby lymph nodes.

Distant: Equivalent to some stage III and all stage IV (4) cancers, the cancer has spread farther away from the ovaries, such as the liver or lungs. It has spread to lymph nodes.
SEER survival rates also differ according to the type of ovarian cancer. The most common type is epithelial ovarian cancer. Localized epithelial ovarian cancer has a five-year relative survival rate of 93%.
Regional ovarian cancer survival rates range from 39 to 78%. The five-year relative survival rate of distant ovarian cancer drops to between 31% and 73%, depending on the type.
Most women with ovarian cancer are diagnosed with stage 3 ovarian cancer, which has a few substages that include both regional and distant ovarian cancer. Stage 3 cancer accounts for 60% of all diagnosed cases of ovarian cancer. The stage 3 ovarian cancer five-year survival rate ranges from 39 to 59%. The reasoning behind such a low survival rate is the difficulty in completely removing the cancer with surgery and chemotherapy. In addition, 60 to 80% of patients with stage 3 ovarian cancer experience a recurrence of the cancer.
The median age of ovarian cancer diagnosis is 63, with ovarian cancer most frequently diagnosed in women ages 55 to 64. The second-highest age group frequently diagnosed with ovarian cancer is ages 65 to 74. The five-year survival rate for women younger than 65 is 61% compared to 32% for women ages 65 and older. It's not entirely clear why younger women have a better life expectancy. It is possible the cancer is more likely to be diagnosed before it has spread beyond the ovaries. It also may be due to biological differences in the type of ovarian cancer in different age groups.
Ovarian cancer survival rates are based on cases from at least five years ago, and don't reflect the current outlook or your individual ovarian cancer life expectancy, which may be better than what is posted here. The most important part of being diagnosed with a serious illness is to have a strong support system, ask for help, and focus on yourself.
Following an ovarian cancer prognosis, build a strong support system.
Hearing the "C" word can be devastating for many, and reading about survival rates and hearing your individual ovarian cancer prognosis can add to that devastation. Therefore, it's crucial to have a strong support system you can rely on as you adjust to the diagnosis and start treatment. It's important to turn to them when negative thoughts start to take over, or you feel you won't make it through the next chemotherapy treatment. If you are experiencing long-term depression, talk with your doctor regarding psychiatric help.
Don't be afraid to ask for help after receiving an ovarian cancer diagnosis.
Loved ones want to help, so let them. This provides opportunities for them to express their love for you, and it allows you time to rest and recuperate from your treatments.
Addressing your needs could boost your ovarian cancer life expectancy.
It's not uncommon to try to keep living your life as you did before your ovarian cancer diagnosis, and that's OK. However, it's important to not overdo it. If you need to take a nap, take one. If you are unable to eat at regular meal times, eat when your appetite is better—even if it's two in the morning. If you need time alone to process your thoughts and emotions, take the time you need. While living your life, it's important to take care of yourself along the way so your body and mind has time to recuperate.
Recurrence means the return of cancer after testing shows no sign of cancer. Recurrence of ovarian cancer is not uncommon, particularly with stage 3 or higher, so it's important to be prepared for this possibility. There are no "rules'' for how to deal with a recurrence. Take comfort in knowing you overcame ovarian cancer before, and you will do your best to face it down again. Don't be afraid to talk with other ovarian cancer survivors who have experienced a recurrence to help you navigate the process. Also, remember treatment worked before, and there's a good chance it can work again. As with your initial diagnosis, you and your doctor will discuss your treatment options, including the possibility of enrollment in a clinical trial.
Was this helpful?