Gallbladder Cancer Explained: Causes, Symptoms, Treatments, and More
Gallbladder cancer is a rare disease. While diagnosis typically occurs in later stages, early detection may make it curable. Knowing the symptoms and risk factors may aid in early diagnosis and prompt treatment. This article discusses gallbladder cancer and its causes, risk factors, symptoms, and diagnosis. It also covers possible treatments and the outlook for people with the condition.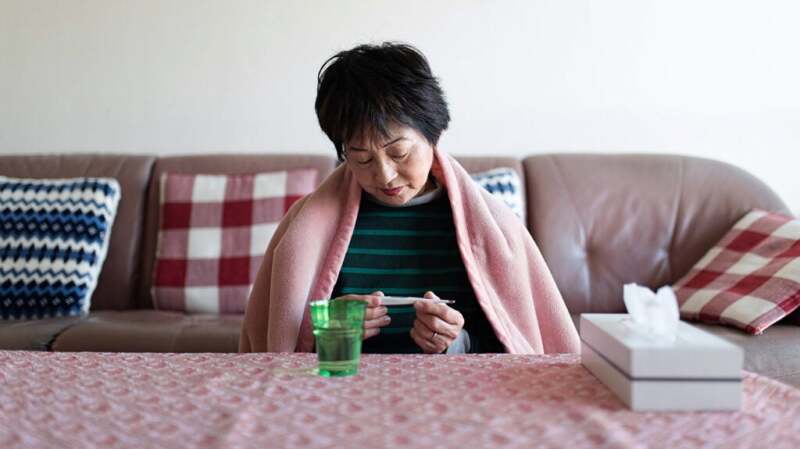 Gallbladder cancer, like any other kind of cancer, develops when cells grow uncontrollably. For gallbladder cancer, this uncontrolled growth begins specifically in the gallbladder. It's not always clear what causes this growth. However, certain factors may contribute to an increased risk of developing the disease.
Several factors may increase the risk of developing gallbladder cancer, including:
sex assigned at birth, as it's more common in females
advanced age
obesity
a history of conditions that affect the gallbladder, including:

gallstones
porcelain gallbladder, which occurs when calcium deposits cover the gallbladder wall
gallbladder polyps

bile duct irregularities
choledochal cysts, which develop in the duct that transports bile away from the gallbladder and liver
primary sclerosing cholangitis, an inflammatory condition affecting the bile ducts
typhoid fever
smoking
exposure to certain chemicals, such as radon
Unlike with some cancers, there's not yet a clear link Trusted Source PubMed Central Highly respected database from the National Institutes of Health Go to source between gallbladder cancer and a family history of the condition.
Often, the symptoms of gallbladder cancer aren't apparent until the later stages of the disease. Common symptoms include:
abdominal pain or swelling
lumps on the right side of the stomach
nausea or vomiting
jaundice, which presents as a yellowing of the skin or whites of the eyes
itchy skin
greasy or lighter-than-usual stool
dark urine
fever
weight loss
loss of appetite
Having these symptoms doesn't necessarily mean you have gallbladder cancer. Talk with your doctor to determine the underlying cause.
Doctors often find Trusted Source JAMA Peer reviewed journal Go to source gallbladder cancer during surgical procedures to address other conditions involving the gallbladder, such as gallstones. However, if you have symptoms that may indicate gallbladder cancer, they can order tests to confirm a diagnosis. These include:
blood tests
imaging tests, including:

CT scan
MRI scan
PET scan
cholangiography, a type of X-ray that examines the bile ducts
ultrasound
endoscopic ultrasonography, which can also rule out

Trusted Source

PubMed Central

Highly respected database from the National Institutes of Health

Go to source other conditions

biopsy, which involves taking a small tissue sample from the gallbladder to check for cancerous cells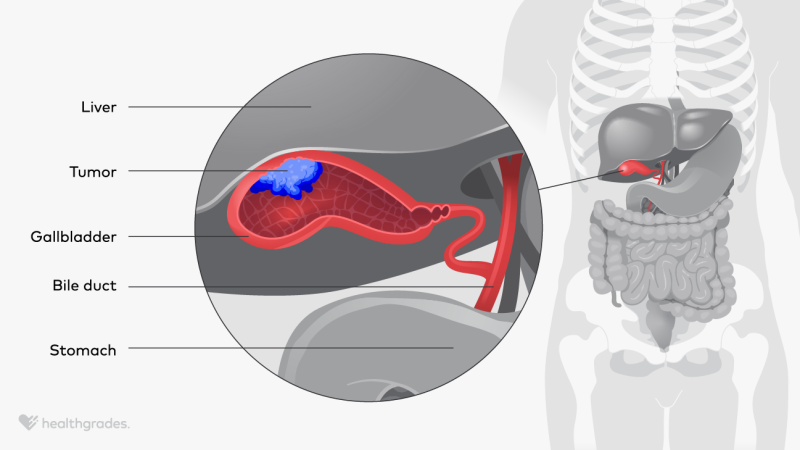 After confirming a gallbladder cancer diagnosis, your doctor will determine whether it has spread in a process called staging. The most common Trusted Source American Cancer Society Highly respected international organization Go to source staging system is the Tumor, Nodes, and Metastasis (TNM) system, which determines:
the size of the tumor
whether the cancer has affected any lymph nodes
whether the cancer has metastasized or spread to distant areas of the body
In general, the stages of gallbladder cancer are as follows:
| Stage | Overview |
| --- | --- |
| 0 | The cancerous cells are only present in the inner layer of the gallbladder. |
| 1 | The tumor has spread into the deeper layers of the gallbladder. |
| 2 | The tumor has spread into the lining of the abdominal cavity and may be affecting the side of the liver. |
| 3 | The tumor has spread directly into the liver or another nearby structure. It may have also affected a few adjacent lymph nodes. |
| 4 | The tumor has spread to one of the primary blood vessels entering the liver, or it may affect two or more structures outside the liver. It may be affecting 4 or more adjacent lymph nodes and may have spread to distant body areas. |
Cancer staging is a complicated process. Your doctor can help you understand the stages and what they mean for your individual situation.
The treatments for gallbladder cancer can vary depending on how far it has spread.
According to the National Cancer Institute (NCI), the treatments for localized or locally advanced cancer may include:
surgery
external beam radiation therapy
chemotherapy
Surgical removal followed by a secondary treatment, such as chemotherapy, is the only treatment Trusted Source PubMed Central Highly respected database from the National Institutes of Health Go to source that can cure the disease in people who:
have stage 0–2 gallbladder cancer
are healthy enough to undergo surgery
have a tumor that can be entirely removed with surgery, meaning it hasn't spread to blood vessels or other nearby structures
Learn more about what to expect from recovery after gallbladder surgery.
For people with cancer that has metastasized, reoccurred, or can't be entirely removed with surgery, treatment may involve radiation therapy and chemotherapy. Some people may benefit from immunotherapy, and clinical trials are currently studying targeted therapy drugs for gallbladder cancer.
Advanced gallbladder cancer isn't curable. Therefore, late stage treatments mainly focus on managing the cancer growth and relieving symptoms.
Gallbladder cancer can reoccur and often has low survival rates. However, catching it early can mean that treatments will be more effective.
If you believe you may have a higher risk of gallbladder cancer or have other concerns with your gallbladder, contact your doctor.
There is currently no definitive way to prevent gallbladder cancer. However, you may be able to lower your risk by addressing some of the risk factors. This may include:
maintaining a moderate weight
quitting smoking
limiting your exposure to chemicals like radon
Faith Selchick, D.N.P., APRN, AOCNP, reviewed the answers to these common questions about gallbladder cancer.
What is the survival rate of gallbladder cancer?
The American Cancer Society states that the 5-year survival rate for people with localized gallbladder cancer is 66% Trusted Source American Cancer Society Highly respected international organization Go to source . As the condition progresses, the survival rates decrease.
The relative survival rate suggests how long someone with a condition may live after their diagnosis compared to someone without the condition of the same race, sex, and age over a specific time. This is different from overall survival rate, which is a percentage of people still alive for a specific time after diagnosis of a condition.
It's most important to remember that figures are estimates, and everyone is different. Talk with your doctor about your specific condition.
Can cancer of the gallbladder be cured?
Surgical removal and chemotherapy may be able to cure gallbladder cancer in its early stages if it hasn't spread to nearby structures.
Gallbladder cancer is a rare disease that's often diagnosed in later stages. Symptoms can include jaundice, weight loss, abdominal pain, and dark urine.
Surgical removal of the tumor alongside secondary treatments, such as chemotherapy, may cure the condition in its earlier stages. As the disease progresses, treatment becomes palliative and focuses on symptom management.
Talk with your doctor about your risk of developing gallbladder cancer. If you have already received a diagnosis, they can help you understand your treatment options.
Was this helpful?