Does Daily Aspirin Reduce Cancer Risk?
Was this helpful?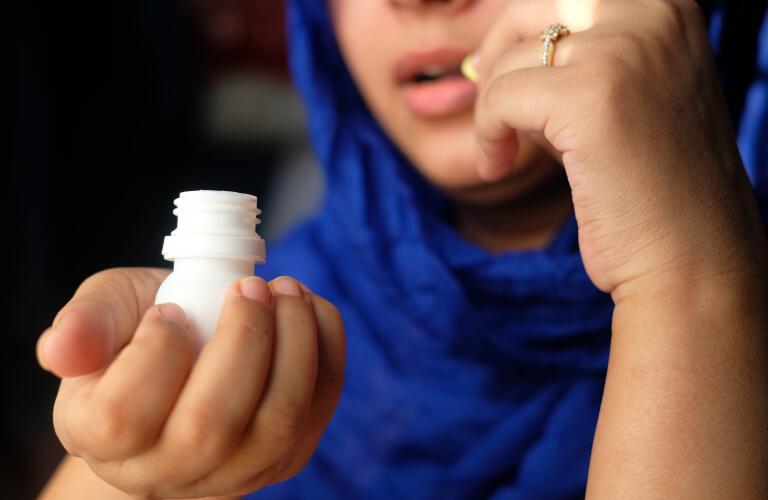 Aspirin may have been developed as a medication in 1899, but researchers continue to unlock its potential benefits for treating or preventing a wide variety of health conditions. Through the decades, research into aspirin's effect on cancer risk has yielded mixed results. New research seems to support the idea that aspirin may confer benefits by reducing the risk of colon cancer and improving breast cancer survival rates. Does that mean you should start taking low-dose aspirin? The answer is: It's complicated.
The Link Between Aspirin and Cancer
Some of the studies investigating the association between aspirin and colon cancer prevention or aspirin and breast cancer reviewed the potential of aspirin to prevent a recurrence of cancer. Aspirin may be beneficial for reducing the risk of developing colorectal cancers and in increasing survival rates in women who have had breast cancer. Those studies did seem to support the hypothesis that daily low-dose aspirin might benefit cancer survivors.
Despite many past and more recent studies, researchers still do not know exactly how aspirin works to prevent cancer or slow its growth. Some researchers hypothesize that the anti-inflammatory effects of aspirin on the human body help to reduce potential cancerous activity, in general. Aspirin also seems to play a role in stimulating anti-tumor activity by the immune system. These mechanisms could help explain how aspirin may prevent cancer or even treat small tumors before they can grow large enough to require additional medical intervention.
Should I Take Aspirin for Cancer Prevention?
There is some evidence for beneficial effects of aspirin for inhibiting cancer, but that doesn't mean everyone should start consuming low-dose aspirin to prevent cancer.
'Aspirin therapy' significantly raises your chances of experiencing a bleeding event, even if you're otherwise healthy. Aspirin reduces the ability of platelets to clot, which means even a minor accident like bumping your head on the car door can cause a serious intracranial bleed. In fact, one study found the risk of a cardiovascular event like stroke caused by aspirin therapy in men aged 50 to 59 years was greater than the potential cancer-prevention benefit in those men. Taking a daily aspirin also makes you more susceptible to a spontaneous gastrointestinal bleed—and that risk rises with regular alcohol consumption.
Bottom line: Even though aspirin is associated with reduced cancer risk, no one should begin low-dose aspirin therapy without consulting their personal physician first. Your doctor can take your entire health history (including other active health problems) into account before recommending (or not) that you take aspirin for cancer prevention.
Prevent Cancer Through Lifestyle Changes First
Both colon cancer and breast cancer are associated with lifestyle factors that elevate a person's risk. These factors include being overweight, living a sedentary lifestyle, and eating a poor-quality diet.
If you feel concerned about your cancer risk, you first should talk with your healthcare provider about lifestyle changes you can make to lower your risk. Lifestyle changes like achieving a healthy body weight, exercising regularly, and eating a high-fiber diet have been proven by research to reduce the risk of developing colorectal and breast cancers.
Aspirin therapy should be considered as an additional preventive measure for cancers, not as the first or only approach for you to take.
The promise of aspirin to reduce cancer risk is exciting. If you feel you might benefit from low-dose aspirin therapy, have a conversation with your doctor to find out if this approach could help you reduce your chance of developing a colorectal or breast cancer.

Was this helpful?