Dental Care for People With Cancer
Was this helpful?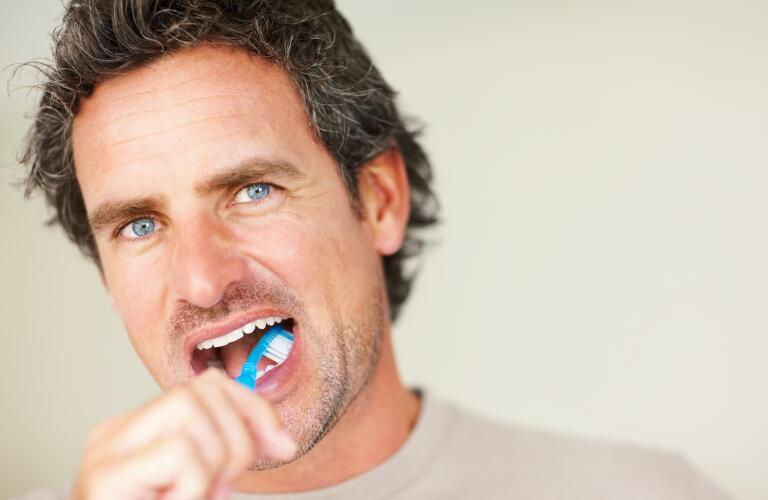 If you have been diagnosed with cancer, the last thing you may think about is your teeth and gums. Dental health is often something we take for granted unless we get a toothache. But if you're about to start cancer treatment, it's important to protect your oral and dental health—before, during and after your treatment.
A dental checkup is an important part of preparing for cancer treatment. You will have a thorough cleaning and examination of your gums, tongue and palate. Your dentist will also check your teeth for cavities. While you undergo cancer treatment, you may be at higher risk for infections, including those that could develop in your mouth. Undergoing any necessary dental care before cancer treatment helps reduce your risk of oral infections.
A dental exam is also an opportunity to speak with your dentist about your upcoming treatment. Ask your dental hygienist and your dentist about special precautions you should take to protect your mouth from the side effects of treatment. They can explain potential problems and help you identify them if they occur.
Tips and advice may include:
Avoid mouthwashes that contain alcohol, as they can dry your mouth.

Use an extra-soft toothbrush.

Brush your tongue, as well as your teeth.

Floss your teeth.

Keep your mouth moist by drinking water or rinsing regularly.

If your mouth is too dry, try using a saliva substitute for moisture.

Suck on a sugarless candy or chew sugarless gum to stimulate saliva production.

If your mouth is dry or sore, avoid sharp or abrasive foods, like chips, that could cut your gums or cheeks.

Avoid very hot or icy cold food and beverages, as well as spicy or sour foods.

Avoid alcoholic drinks.

Don't smoke or chew tobacco.
Chemotherapy (chemo) is a powerful treatment that kills cancer cells. However, the same medicine that kills cancer cells also affects healthy cells in your body and causes serious side effects, such as nausea and vomiting. Chemotherapy also affects your mouth.
Chemotherapy side effects on dental health can include:
Metallic or sour taste in your mouth

Tooth sensitivity, also called phantom toothaches

Sores in your mouth

Fungal infections (thrush)

Bacterial infections
New cancer treatments called immunotherapy and targeted therapy also cause oral and dental side effects, such as loosened teeth and swollen gums. Pain medicines and corticosteroids can dry your mouth or cause infections, such as thrush.
Head and neck cancers are often treated by radiation therapy. Radiation targets the tumor in a specific location, such as your jaw or part of your neck, but the radiation energy also enters healthy cells around the tumor. Radiation side effects on dental health include cavities, irritation and swelling, and stiffness in your jaw.
Even with great dental care, you still may develop mouth ulcers, sores, and swelling from chemo and other treatments. Talk with your dentist and your oncologist or cancer team if you develop mouth ulcers. They can help you find over-the-counter or prescription medicines to help relieve pain from the mouth sores.
Suggestions for care include:
Frequent mouth rinsing with water, at least every two hours

Continued use of a saliva replacement for dry mouth

Softening your toothbrush bristles before each use by first placing the brush in warm water

Taking breaks from wearing dentures or partial plates if they are rubbing

Topical pain-relieving ointments, such as Orajel

Using a prescription mouth rinse for cancer patients
If the pain becomes severe and you cannot eat or drink, it could jeopardize proper hydration and nutrition—both essential for fighting cancer. In that situation, you may be given oral or intravenous medications to help with healing and pain relief.
In all cases, if you develop a fever or any sign of infection (swelling, increase in pain, pus or discharge in your mouth), contact your oncologist and dentist right away. Dental care for cancer patients is an integral part of your overall treatment plan. By making your dentist part of your team before treatment starts, you can help prevent serious side effects.
Was this helpful?