6 Caregiver Tips for Biliary Tract Cancer
Was this helpful?
People with cancer need a lot of extra help and support. Helping a loved one with biliary tract cancer can be challenging, especially if you've never cared for someone with cancer. Learn how to navigate the treatment process and be a good source of support and encouragement, while also taking care of your own well-being.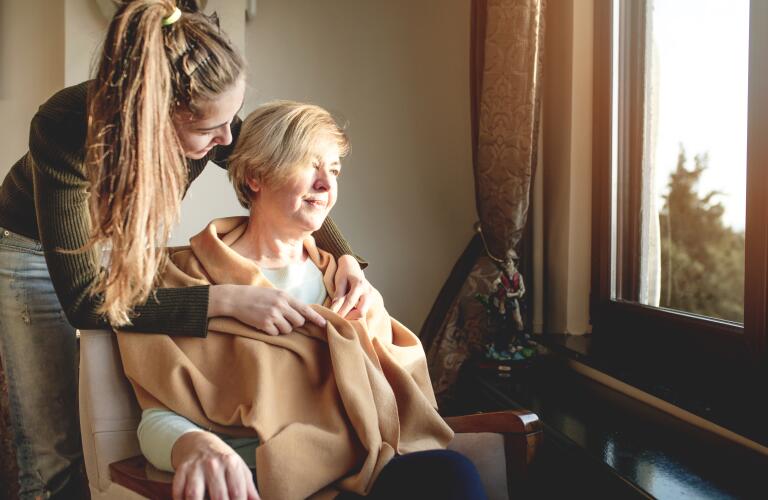 Biliary tract cancer forms in cells of the gallbladder or the bile ducts that carry digestive fluid from the gallbladder to the small intestine. In most cases, the cancer has already spread by the time it's diagnosed, making it difficult for surgery to completely remove it. Because this cancer is so rare and treatment can be complex, people who are diagnosed with biliary tract cancer need a lot of extra support from friends, family, and their treatment team.
Helping a loved one with biliary tract cancer can be a rewarding but also challenging experience, especially if you've never been a caregiver before. It's important to take advantage of the resources available to you and to take care of yourself. Learn what you need to help you navigate your new role.
You don't need to be an expert – that's what oncologists are for – but it helps to have at least a basic understanding of biliary tract cancer. Learn the symptoms your loved one might have, the most common biliary tract cancer treatments, and the outlook for this disease, so you'll know what to expect and you can be a better ally to your loved one.
Rely on reputable sources to ensure the medical information you get is accurate. You might ask your loved one's doctor for advice, or visit the websites of cancer organizations like the American Cancer Society or the National Cancer Institute.
Helping a loved one with biliary tract cancer can seem overwhelming. So much needs to be done each day. Don't try to handle every aspect of biliary tract cancer care yourself. Caregiving works better when it's a team effort. Asking other friends and family members to help will prevent you from getting burned out. Assign each person specific tasks and create a schedule so that everyone knows their role.
A caregiving plan will help you get organized. First, ask your loved one what types of assistance they think they'll need.
Help with biliary tract cancer care might include:
scheduling and driving to medical appointments
shopping for groceries and cooking meals
giving medications
helping with chores
offering emotional support
caring for pets or children
Care needs can change over time. For example, your loved one might need more help after surgery or chemotherapy. They'll need less care if they go into remission and more if their cancer progresses. With a caregiving plan, you'll be ready for any changes that occur.
Caregiving adds a whole new set of responsibilities to your existing ones. Taking care of another person can be a very stressful and sometimes isolating job. Although it could bring you closer to the person you're caring for, you could drift away from friends and family because you have less free time to see them.
Having a support system is important. You might lean on your partner, a close friend, or a member of your faith group.
A support group for cancer caregivers is another place to turn for help. You can find one through the Cholangiocarcinoma Foundation or the American Cancer Society. Cancer Hope Network offers one-on-one support from experienced cancer caregivers. It can be comforting to talk with someone who has been through the process before, and learn what strategies helped them.
Biliary tract cancer treatments can cause side effects, and there's always a possibility that even the best treatments available won't be enough to stop the cancer. It's normal for your loved one to feel afraid, anxious about their future, and even depressed.
Encourage them to share their feelings with you, other friends or family members, or a therapist. Try to get them out of the house, even if you just take a walk together. Do activities they used to love, like watching a funny movie together or making a craft, to bring back a sense of normalcy and boost their mood.
You can't be a good ally to your loved one when you're exhausted and burned out. Make sure to reserve part of your schedule just for you.
Set aside time to exercise each day, even for just a few minutes. Eat well-balanced meals. Relax with a good book, yoga class, or dinner with friends. Taking these little moments for yourself will recharge you enough to return to your caregiving role with renewed energy.
Caring for a loved one with biliary tract cancer isn't easy, but it can be very rewarding to know you're making an impact. Educate yourself, have a plan, and lean on others for support so you can be there for what your loved one needs most.
Was this helpful?