Talking With Your Doctor About Breast Reduction
Medically Reviewed By William C. Lloyd III, MD, FACS
Was this helpful?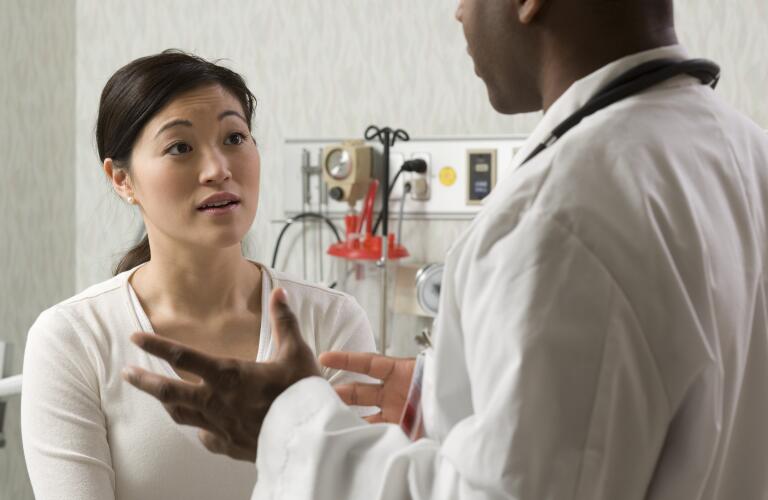 Breast reduction surgery is a surgical procedure to reshape the breast to reduce breast size. You may consider breast reduction surgery if, due to the size of your breasts, you experience pain in your back, neck or shoulders; you have to limit your activities; or you are unhappy with the way your breasts look. Here are questions to help you get started talking with a breast reduction doctor.
Here are some suggestions to prepare for your conversation:

Do your research. Learn as much as you can about breast reduction surgery so you can have a meaningful and informed conversation with your doctor.
Write down your goals. Be specific about your goals for surgery and be prepared to speak frankly about what you want to achieve, including breast size and appearance, as well as other symptoms you want to ease.
Make a list of concerns and questions. This will help keep the conversation on track and make sure you receive the answers you need.
Don't go alone. Ask a family member or close friend to accompany you to your appointment. This person can take notes while you are listening and asking questions. Ask your doctor if you can record the appointment to listen over again later.
Your options for breast reduction depend on what you hope to achieve with surgery. Make sure you and your doctor have the same goals in mind. This may include your desired breast size, pain and other symptom relief, or improvement in your quality of life and activity level.
For some women, it may only be necessary to remove extra fatty tissue to achieve a smaller cup size. Other women desire more significant changes to their breasts, which will require a different method of surgery. Types of breast reduction surgery include:

Liposuction only: This may be best for women who want only a small or moderate reduction in cup size and don't need reshaping of their breasts. This minimally invasive procedure results in very little scarring and a shorter recovery.
Vertical breast reduction: This procedure is a good choice for women who want to correct significant sagging of their breasts and desire only a moderate decrease in breast size.
Inverted-T or "anchor" breast reduction: This surgery is best for women who need larger reduction in breast size, asymmetry correction, and a raise of very droopy breasts.
Ask your doctor:

Which type of surgery is best for my goals?
Why do you recommend this approach to breast reduction?
How confident are you that I will get the results I want?
How often do you perform this type of breast reduction surgery?
Aside from the typical complications related to any surgery (infection, blood clots, bleeding and reactions to anesthesia), there are risks specific to breast reduction surgery. Scarring is unavoidable, but usually fades over time. Unfavorable shaping, asymmetry or skin discoloration of the breasts are possibilities. You may also have temporary or permanent loss of sensation of the breast and nipple. Breast reduction surgery can sometimes cause the inability to breastfeed.
Ask: What risks do I face with this surgery and what can we do to mitigate those risks? Then ask yourself if you are comfortable with breast reduction risks considering its benefits.
Finding out what to expect can help you prepare for surgery and recovery. Suggested questions include:

Where will we do the surgery—in the hospital or in an outpatient surgery center? How long will I need to stay in the surgery center or hospital after the procedure?
What testing do I need prior to surgery? Your doctor may recommend a breast exam, mammogram, chest X-ray, blood tests and other tests based on your age, medical history and specific procedure.
What medications or supplements should I stop or continue taking prior to surgery? When can I resume taking medications or supplements after surgery? Be sure to tell your doctor about all medications you take. You may need to stop some medications or supplements that can thin your blood to prevent excessive bleeding during surgery.
What kind of anesthesia will I have?
How much time should I take off from work for recovery? Your doctor can advise how long you should plan to be off work depending on the type of work you do, your surgery and your overall health.
Most patients can go home the day after surgery. Your breasts will be bandaged, and you will be sore for several days after the procedure. Pain medication and cold packs may relieve some of the discomfort. You'll likely also have swelling and bruising, but this is temporary. Ask your doctor specific questions about recovery and for post-surgery instructions and restrictions.

How will you manage my pain after surgery? What concerning symptoms should I watch for? What is the best way to reach you?
How can I prepare my home for recovery? What will be my limitations for lifting or reaching? What kind of support do I need at home? Before surgery, consider putting things you use often in small lightweight containers in easy-to-reach places.
What medical supplies or support bras should I purchase to care for my breasts after surgery? Sports bras with a front closure may protect your breasts after the surgery.
How many incisions will I likely have and where will they be located? How can I best care for the incisions and minimize scarring? What can I apply to the scars to promote healing? How long do you think it will take for the scars to become less noticeable?
What kind of help will I need at home after surgery? Plan to have someone drive you home and to stay with you for the first 24 hours after the procedure. If you have children at home, arrange for someone to be there to care for them and to handle other tasks you typically do.
Most of the time, women are very satisfied with the results of their breast reduction surgery. You and your doctor can discuss breast reduction benefits and risk; but you're the only one who can decide what's right for you. It's understandable if you're nervous or have additional questions or concerns to discuss with your doctor. Ask all your questions ahead of time so you will feel prepared and confident in your decision for your breast reduction.
Was this helpful?