Recovery After Breast Reduction: What to Expect
Was this helpful?
Breast reduction surgery, also called breast reduction mammoplasty, involves removing excess fat, tissue and skin from the breasts, resulting in a smaller breast size. People with large breasts may opt for breast reduction surgery to alleviate chronic back and shoulder pain or to improve their self-esteem related to their body image. Breast reduction recovery time varies for each person, but could take up to four weeks.
You may experience pain and soreness, have limited physical activity, and may need to wear specialty clothing to aid healing. Planning ahead for your breast reduction recovery can help the process go as smoothly as possible.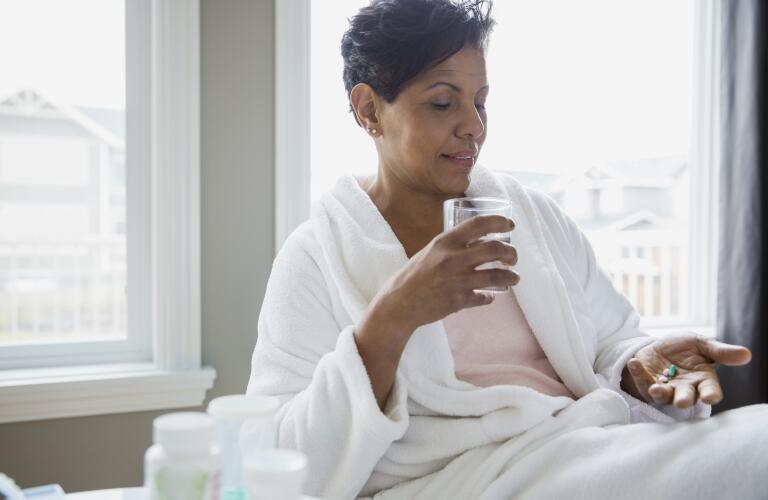 Not all breast reduction surgeries are the same. There are several options for breast reduction surgery, including:
Vertical surgery: This procedure includes two incisions, one around the areola and one vertically from the breast crease to the areola. Vertical surgery is generally used in patients who need a moderate breast reduction.

Inverted-T surgery: Your surgeon will cut three incisions on your breast, one around the areola, one vertically from the breast crease to the areola and one along the crease below the breast. This procedure typically is used when a large amount of tissue and fat needs to be removed.

Liposuction: This noninvasive procedure is used to remove excess fat in patients whose breast size is the result of excess fatty tissue.
With each type of breast reduction surgery, you likely will go home the same day you have the procedure. Patients who have liposuction may recover sooner than surgical patients because the procedure is less invasive. It's possible you may be able to drive and return to work after one week, although it may be several weeks before all the pain and swelling no longer bother you. Exact breast reduction recovery time varies from person to person due to their individual health condition and medical history.
After your breast reduction surgery, your doctor will place a gauze dressing or bandages over the incision site. You will need to follow the directions for caring for the incision site to avoid possible infection. The surgeon also may place a tube under each arm to drain excess blood or fluid. Be mindful of these so you don't accidentally dislodge them.
Plan for this "down time" by gathering materials for hobbies or activities you can work on from bed or the couch. Your care team will give you guidance on reasonable physical activities, such as walking.
While much of the swelling will go down in the weeks after the surgery, you may still have some swelling for a few months. Expect your surgical scars to fade over time as well.
Following breast reduction surgery, expect your breasts to be swollen and bruised, leaving them tender and sensitive. This pain and soreness could last up to a week or so after your surgery. Your doctor may recommend medication to help reduce the pain. Sleep in a recliner if possible, to elevate your upper body and prevent you from rolling over onto your chest.
Your care team also may recommend wearing an elastic compression bra to protect your breasts in the first weeks of your recovery. If you usually wear underwire bras, you may need to avoid those for the first few months of recovery to ensure your breasts are completely healed.
To keep pain at bay and promote full healing, avoid lifting, pushing or pulling any objects that weigh more than 5 to 10 pounds during the first six weeks of recovery. That includes picking up children, bringing in groceries, and doing laundry. Consider arranging help with duties at home, such as childcare, meal preparation, and cleaning.
Although you will be able to walk around once you return home after breast reduction surgery, you may need to adapt your hygiene routine in the first few days and weeks. Prepare for these scenarios:
You won't be able to shower for the first 48 hours; follow your doctor's orders for when you can resume full showers.

After your doctor removes the drains from under your arms, you won't be able to shower for the next 24 to 48 hours, depending on your doctor's instructions.

You won't be able to take a tub bath for up to eight weeks after your surgery. This helps your incisions and drain sites heal safely. Your doctor should instruct you on when you can take a bath.

When bathing during recovery, use fragrance-free soap.
Ask your doctor about using deodorant or lotion on or near your incision sites while they are healing.
For most patients, there are no complications from breast reduction surgery. However, if you experience any of the following symptoms, call your doctor right away:
Was this helpful?