Watchful Waiting for Breast Cancer: What Doctors Say
Was this helpful?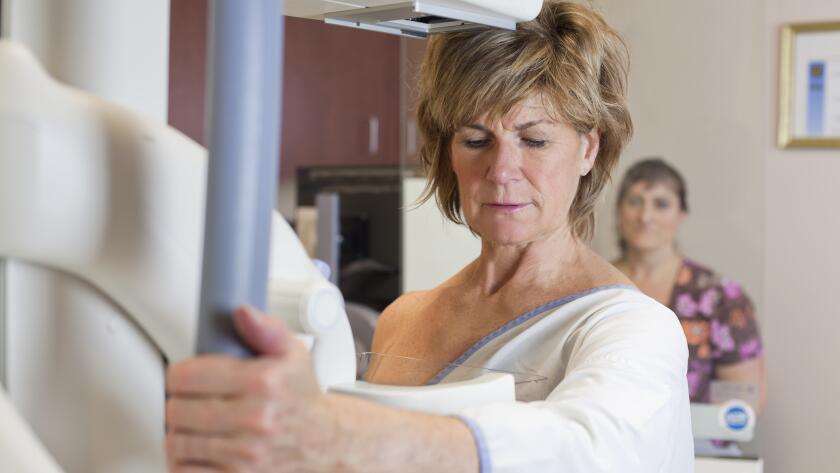 One in every five women diagnosed with breast cancer in the United States today has ductal carcinoma in situ (DCIS), a very early, noninvasive form of cancer sometimes called Stage 0 breast cancer. The abnormal cells are confined to the milk ducts of the breast and may or may not progress to invasive breast cancer over time. (About 40 to 50% of DCIS cases progress to invasive cancer without treatment, according to the Susan G. Komen Foundation.)
Yet many women with DCIS undergo breast surgery, radiation and chemotherapy—therapies with serious side effects that can permanently alter the body's functioning. That reality, combined with recent research that suggests as many as one-third of women diagnosed with breast cancer received treatment they didn't need, has raised the question of whether "watchful waiting" is a more pragmatic approach.
But is watchful waiting really a good option for certain types of breast cancer? Here's what oncologists and breast surgeons have to say on the topic.
"Some slow-growing, non-aggressive cancer can be simply monitored or treated medically."
Doctors agree: Watchful waiting is not appropriate for all patients or all forms of breast cancer. It is only an option for women with slow-growing, non-aggressive breast cancer. Therefore, accurate diagnosis is imperative.
"Since not all breast cancers are the same, it's essential that a woman undergo a needle biopsy of the suspected cancer so the cancer type and aggressiveness can be determined," says Dennis Holmes, MD, breast cancer surgeon, researcher and interim director of the Margie Petersen Breast Center at John Wayne Cancer Institute at Providence Saint John's Health Center in Santa Monica, Calif.
Genomic testing can help too, as it can indicate whether or not a tumor is "estrogen positive," or likely to grow in the presence of estrogen. Wajeeha Razaaq, MD, a breast oncologist at Stephensen Cancer Center in Oklahoma City says watchful waiting is appropriate for Stage 0 breast cancer that is estrogen-positive and low-grade.
Watchful waiting may be a particularly good option for older women diagnosed with Stage 0 breast cancer. "Cancers tend to grow more slowly in older patients," Dr. Holmes says. In fact, he says, "Watchful waiting for early stage breast cancer is usually limited to elderly patients with significant health concerns that increase the risks of surgery and radiotherapy."
"Watchful waiting is an active process."
Watchful waiting does not mean "do nothing." Rather, it requires continued vigilance. Women who choose watchful waiting will need a mammogram of the affected breast at least every six months, and a bilateral mammogram every year, Dr. Razaaq says.
"Women should be aware that watchful waiting is an active process and requires the patient to commit to undergoing regular breast examinations, mammograms, or other imaging studies to monitor the rate of cancer growth," Dr. Holmes says. "Her doctor might also recommend that she take an anti-estrogen medication such as tamoxifen or an aromatase inhibitor to suppress cancer growth."
If cancer growth is detected, traditional surgery and treatment may be recommended.
"A woman's risk tolerance plays a major role in decision making about watchful waiting."
At this time, watchful waiting is still an uncommon approach. According to Dr. Holmes, "The prevalent fear of breast cancer continues to drive most women to seek a more definitive solution." Most patients with Stage 0 breast cancer, he says, still choose to undergo breast surgery and radiation treatment, with some women undergoing lumpectomies and others choosing mastectomies.
Underlying these decisions are a woman's personal risk tolerance and past experience. "Women with higher risk tolerance are more inclined to accept watchful waiting, whereas a woman with low risk tolerance might select an aggressive treatment, such as a mastectomy, even for small, non-aggressive breast cancer," Dr. Holmes says.
Some women who are uncomfortable with monitoring only choose a middle ground: lumpectomy to remove the abnormal cells, without radiation or anti-estrogen therapy.
"Watchful waiting will increase in popularity."
The study that suggested watchful waiting as a safe, prudent approach to Stage 0 breast cancer was published just three years ago, Dr. Razaaq says. Since then, researchers have kicked off a four-year, randomized controlled study to compare the effectiveness and outcomes of watchful waiting versus surgery with or without radiation for the treatment of Stage 0 breast cancer. At the same time, scientists continue to learn more about breast cancer.
These advances, Dr. Holmes predicts, will lead to an uptick in watchful waiting. "I think watchful waiting will slowly increase in popularity as we increase our understanding of tumor biology," he says. In the meantime, women diagnosed with DCIS and stage 0 breast cancer should carefully discuss their diagnosis and treatment options with their healthcare providers.
Was this helpful?