PHYSICIAN VOICES

Treatment for Advanced Hormone Receptor-Positive Breast Cancer

Was this helpful?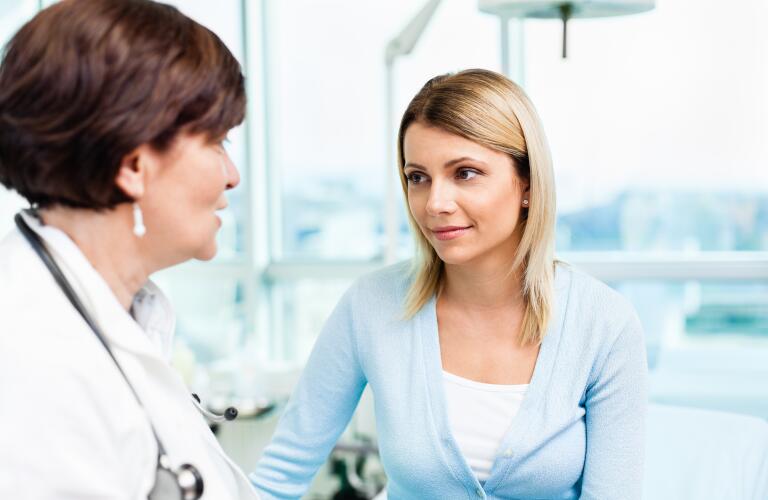 If you've been diagnosed with advanced breast cancer, it's important to know things are much different than they were in the past. Today, we have an enormous amount of knowledge about the disease, we have increased the number of drugs that can effectively kill the cancer, and patients are surviving longer, with a much higher quality of life. Now, people with advanced breast cancer can treat it like a chronic disease, managing it carefully with medications but able to live long, full lives. One key part of this progress is the discovery of specialized treatments for specific types of breast cancer. If you've been diagnosed with hormone receptor-positive (HR-positive) breast cancer, this phrase describes how your cancer grows, which determines the type of treatment you'll be receiving.
5 Things You Didn't Know About Breast Cancer
The first thing we'll do after diagnosis is identify how your cancer cells grow, so we can interrupt that process with the right treatment. Cancer itself, in a nutshell, is the uncontrolled growth of cells. This happens because cancer cells take advantage of the natural cell growth process. Tiny proteins called receptors live on the surface of certain cells in your body; these receptors receive messages from substances in the bloodstream and pass these messages along to the cells they live on. These messages usually tell the cells to do something, like grow or replicate. Typically, your reproductive hormones, estrogen and progesterone, send messages to receptors on your healthy breast cells and tell them to grow. However, in 70% of breast cancer cases, breast cancer cells have these hormone receptors too, and receive the message to grow. The cancer cells follow orders and continue to replicate, so the cancer spreads. This is called hormone receptor-positive (HR-positive) breast cancer.
The main goal of treatment for HR-positive breast cancer is to lower levels of estrogen and progesterone and also prevent these hormones from telling cancer cells to grow. We can do this in a few ways, using hormone therapy, also known as endocrine therapy or hormone manipulation.
Choosing the right hormone therapy for a patient depends on if she has been through menopause yet. Premenopausal women are still producing lots of estrogen and progesterone, while postmenopausal women aren't producing as much, so we approach these cases differently. For women who haven't gone through menopause, we will typically turn to a type of drug called a selective estrogen-receptor response modulator (SERM) which prohibits cells from being able to use estrogen. The most commonly used SERM is called tamoxifen (Soltamox, Nolvadex). We usually combine tamoxifen with medications called luteinizing hormone-releasing hormone agents (LHRHs). These stop the ovaries from producing estrogen. Examples of LHRHs include goserelin (Zoladex) and leuprolide (Lupron). In some cases, premenopausal women will choose to undergo surgery to remove the ovaries altogether, although they will not be fertile after this procedure.
In postmenopausal women, we may use tamoxifen as well, but can also turn to a class of drugs called aromatase inhibitors (AIs). These drugs drive the estrogen level down to virtually zero—this way, there's almost no estrogen telling breast cancer cells to grow. Aromatase inhibitors include anastrozole (Arimidex), exemestane (Aromasin), and letrozole (Femara). AIs usually work well; however, we've found that patients can become resistant to them over time. But new drugs have recently come to the market that can help with this problem, called cyclin-dependent kinase (CDK) 4/6 inhibitors.
CDK plays a role in the process that help cells divide and grow. CDK4/6 inhibitors block this process in specific places, affecting only cancer cells. Recent clinical studies have shown that combining aromatase inhibitors with CDK4/6 inhibitors is far superior than receiving aromatase inhibitors alone. Taking a CDK4/6 inhibitor can prevent patients from developing resistance to aromatase inhibitors, which is why these new drugs are so important. This means the patient can stay on effective treatments for longer periods of time. This combination is now the first-line treatment for postmenopausal women with advanced HR-positive breast cancer, because studies show taking both drugs together doubles the length of time a patient lives without her cancer progressing. The Food and Drug Administration (FDA) has approved three CDK4/6 inhibitors thus far—palbociclib (Ibrance), ribociclib (Kisqali) and abemaciclib (Verzenio)—but more are coming down the pipeline.
When we prescribe these agents, we need to follow these patients closely. Every month, the patient comes to see us for tests to check her liver function, kidney function, and white blood cell count. Sometimes these medicines affect bone marrow production of cells, so you won't have a healthy number of red blood cells, white blood cells, or platelets. But these effects can be treated and typically don't lead to infections or severe problems if they're well-monitored. The patient experience is now much better with these drugs than with other options and they're helping to turn this type of breast cancer into more of a chronic disease.
Was this helpful?