Promising Advances in Breast Cancer Survival Rates
Was this helpful?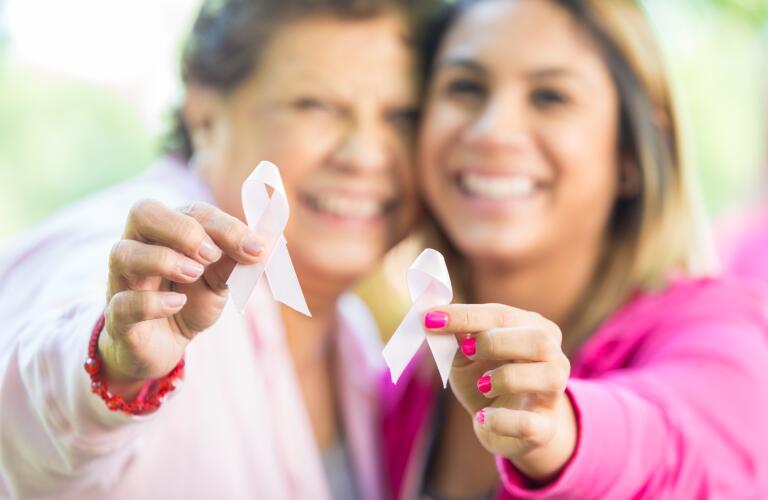 It's a diagnosis any woman dreads, but fortunately there's good news: Fewer women are dying of breast cancer. In fact, between 1989 and 2015, the breast cancer death rate declined by 40%, according to a report by the American Cancer Society. Experts estimate approximately 322,000 women who would otherwise have died during that time period survived, in large part due to advances in breast cancer detection and treatment.
Thanks to breast cancer research, American women diagnosed with breast cancer are living longer, healthier lives than previous generations of women affected with this all-too-common disease.
The five-year relative survival rate for women with stage 0 or stage 1 breast cancer is now nearly 100%. For stage II breast cancer (cancer confined to the breast or nearby lymph nodes), the five-year relative survival rate is about 93%. Cancer that has spread into the lymph system or nearby muscles has a five-year survival rate of 72%; metastatic breast cancer, 22%.
Contrast those numbers with survival rates in the late 1970s. According to a review by the American Cancer Society, the five-year survival rate for women with stage II breast cancer was just 55 to 68% in the '70s. Metastatic cancer, or breast cancer that's spread to other organs, had a five-year survival rate of only 16 to 19%.
Increased use of mammograms to detect breast cancer is one reason breast cancer survival rates have increased. More cancers are caught at earlier, more treatable stages.
New cancer treatments have also made a difference. The drug Herceptin (trastuzumab) was approved in the late 1990s; it's used to treat HER2-positive breast cancer and has increased survival rates for women with stage I to III HER2-positive cancer by more than 30%.
Healthcare providers now prescribe 10 years of Nolvadex (tamoxifen) to some women post-breast cancer treatment, after research showed taking the medication for a decade decreases the risk of death by nearly 30%. And a medication called Verzenio (abemaciclib) was approved in September 2017. It has been demonstrated to increase survival in women with estrogen receptor-positive, HER2-negative breast cancer that worsens after hormone therapy.
Unfortunately, advances in the treatment and detection of breast cancer seem to have done little to close the racial gap in breast cancer death rates. In every state in America, black women are more likely to die of breast cancer than white women. As recently as 2015, the breast cancer death rate for black women was 39% higher than the rate for white women.
Experts say these disparities are the result of a multitude of social and physiological factors. Some women lack access to healthcare or the means to pay for it, which can affect their rates of survival. Similarly, researchers have shown that racism acts as a persistent stressor, and can contribute to poor health.
From a medical perspective, black women are twice as likely to be diagnosed with triple-negative breast cancer, a type of cancer that's particularly challenging to treat. They are also less likely to have hormone-receptor (HR) positive breast cancer, and therefore less likely to benefit from effective treatments like Herceptin or Nolvadex.
Innovation is happening at a fast pace in the world of cancer treatment. Immunotherapy medications, which stimulate the immune system to attack cancer, are revolutionizing the treatment of some cancers, including lung cancer and skin cancer. Researchers are now studying them in breast cancer—and in combination with traditional breast cancer treatments. Researchers also are looking at targeted therapies, which target specific gene changes in cancer. Already, two PARP inhibitors (a type of targeted therapy) show promise in treating BRCA-positive breast cancers, or breast cancers related to mutations of the BRCA1 or BRCA2 gene.
Survival rates for breast cancer will likely continue to climb. Your healthcare provider can provide you with the latest information regarding breast cancer advances and answer any questions you have about breast cancer detection and treatment.
Was this helpful?