New Guidelines for Breast Cancer Screening: What Doctors Say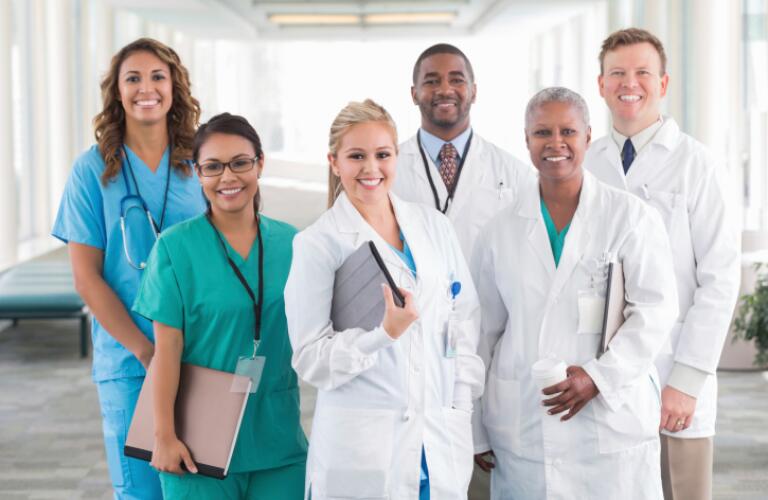 Recently the American Cancer Society (ACS) revised its guidelines concerning when--and how often--women should get breast cancer screenings. The new guidelines do away with the long-standing recommendation women get a mammogram every year beginning at age 40. Instead, the ACS recommends women with an "average risk" of developing breast cancer begin mammogram screenings at age 45 and then follow up every other year. Why did the ACS change its guidelines? The organization cites potential harms caused to women through false-positive findings for cancer that can lead to invasive interventions.
But what do doctors think? Well, not all of them agree with the new guidelines. Here are a few things some top docs want you to know about why they're advising patients to stick with the traditional advice to get annual mammograms starting at age 40.
Statistically speaking, early and aggressive breast tumors are more likely to be found in women under age 50. If screening doesn't start at age 40, some cancers won't be detected until they become advanced. "The delay in detection could be the difference between breast cancer survival and death," says ob/gyn Kevin Audlin, MD.
The ACS guidelines talk about "average" risk patients, but how do you know what your risk level really is? The gold standard for identifying high-risk patients is genetic testing for the BRCA genes, but "we are not routinely doing gene testing to find out which women are at high risk," says ob/gyn Shaunna Mason, MD. "We don't necessarily know who is low-risk for breast cancer and therefore must continue to recommend annual mammography starting at age 40." Starting screenings early will catch tumors in women whose breast cancer risk was higher than they thought.
At least three organizations have issued guidelines on breast cancer screening in the United States. In addition to the ACS, these include the American Congress of Obstetricians and Gynecologists (ACOG) and the U.S. Preventive Services Task Force. Board-certified ob/gyn doctors may lean toward using the ACOG guidelines over the others. "I do not, at this time, plan to change my recommendations regarding breast cancer screening for women in my practice," says ob/gyn Katie Krumwiede, MD. She plans to continue using ACOG's recommendation of a yearly mammogram starting at age 40.
No matter what clinical guidelines your doctor follows, breast cancer screening should be tailored to the individual. To help your doctor design the best breast health program for you, as an individual patient, you should educate yourself about your personal risk factors and communicate them to your ob/gyn. "If there is a takeaway from the recent confusion on the issue of breast cancer screening, it's that it is more important than ever for all women to become actively involved in their breast health," says ob/gyn Sherry Ross, MD. Dr. Ross says you should know these risk factors for breast cancer:
Number of first-degree relatives with breast cancer
Women who had their first menstrual period before age 12
Women who had their first pregnancy after age 30 or women who have never had a full-term pregnancy
Number of previous breast biopsies
Women with breast cancer are more likely to develop a second breast cancer
Presence of atypical hyperplasia, a non-cancerous condition that causes changes to breast cells
Mammographic breast density
Excessive alcohol consumption
Body Mass Index greater than 30
Physical inactivity
"The best way to make sense of these conflicting guidelines is to speak to your doctor and express your concerns," says radiologist Rand Stack, MD. "Even the new ACS guidelines give everyone leeway to do what's best for the individual patient." Don't hesitate to talk to your ob/gyn about which breast cancer screening guidelines he or she follows, and how the two of you can partner to do what's best based on your personal risk for developing breast cancer.
Healthgrades would like to thank the following contributors to this article:
Kevin Audlin, MD, is a gynecologist with the Division of Pelvic Floor Reconstruction at the Institute for Gynecologic Care, Mercy Medical Center, Maryland.
Katie Krumwiede, MD, is an obstetrician-gynecologist with Health Partners St. Paul Clinic in Minnesota.
Shaunna Mason, MD, is an obstetrician-gynecologist with Complete Women's Care Center in Texas.
Sherry Ross, MD, is an obstetrician-gynecologist and women's health expert with Providence Saint John's Health Center in California.
Rand Stack, MD, MBA, is a radiologist with WESTMED Medical Group in New York.
Was this helpful?