Breast Cancer and Oncoplastic Surgery: What to Know
Was this helpful?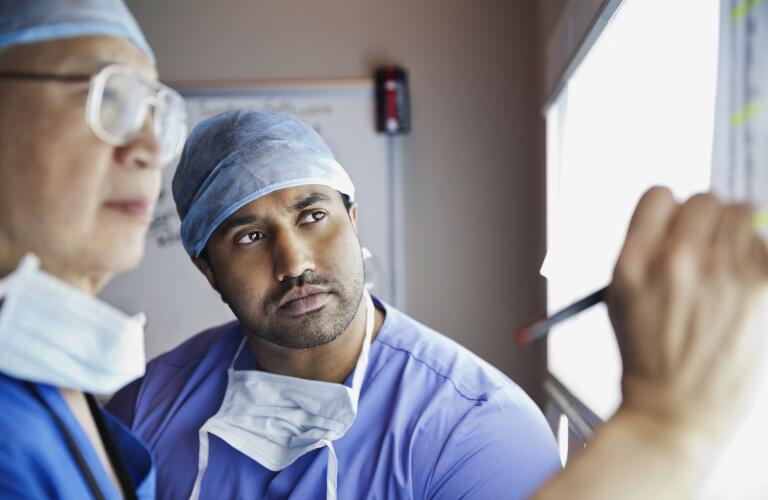 Surgery is a main treatment for most cases of breast cancer. There are two basic types of surgery—lumpectomy and mastectomy. Lumpectomy removes the tumor and some normal tissue surrounding it. Mastectomy removes the entire breast. Your cancer stage will determine how extensive the surgery needs to be. When you start to explore your surgical options, ask your doctor about oncoplastic surgery. Here are the basics to help you prepare for the discussion.
Oncoplastic breast surgery combines two surgeries into one.
Oncoplastic surgery for breast cancer combines cancer surgery and plastic surgery into one procedure. Two surgeons work as a team to complete the surgery. The first is a surgical oncologist or a breast surgeon. This doctor will remove the cancerous tumor and some surrounding healthy breast tissue. The second doctor is a plastic surgeon. This doctor will reshape or reconstruct the remaining breast tissue to produce a more normal looking breast. The plastic surgeon may also operate on the other breast to better match the two breasts. Sometimes, breast surgeons have the experience and expertise necessary to complete the entire procedure themselves.
Oncoplastic surgery may be an option for women undergoing breast-conserving surgery.
Breast-conserving surgery is either a lumpectomy or a partial mastectomy. These surgeries only remove part of the breast tissue. However, about 30% of women undergoing these surgeries end up with a deformity in the breast. The Women's Health and Cancer Rights Act of 1998 says you have the right to correct this under your insurance. It also applies to surgery on the other breast to create symmetry.
You are more likely to have a deformity when:
The surgeon must remove 20% or more of your breast tissue.

The tumor is located behind the nipple or in the upper or inner quadrants of the breast.
Oncoplastic surgery often allows the surgeon to remove more tissue—called a wide excision. This may mean some women can avoid mastectomy for larger tumors.
Techniques for oncoplastic breast-conserving surgery include:
Breast lift

Nipple and areola repositioning

Volume redistribution

Volume replacement using muscles from the back or abdomen
Patient satisfaction is high for oncoplastic breast surgery.
Studies suggest women are happier with the outcome after oncoplastic surgery compared to breast cancer surgery alone. One study found almost 90% of women had excellent outcomes. And more than 80% would make the same choice again. Women also tend to have higher self-esteem and better mental health after oncoplastic surgery. This is important because breast cancer surgery can have emotional and psychological effects on top of the physical effects.
Consider the limitations of oncoplastic surgery.
Like any procedure, oncoplastic surgery for breast cancer carries the risk of complications. This may include infection and wound healing problems. Oncoplastic breast surgery may also affect the ability to detect cancer recurrence. This is due to scarring and other changes from rearranging the tissue. It can be hard for doctors to tell the difference between these changes and cancer recurrence on a mammogram.
However, studies have found a lower recurrence rate with oncoplastic surgery compared to breast-conserving surgery alone. This may be because doctors can remove more breast tissue surrounding the tumor that might harbor undetected cancer cells.
Your doctor's experience matters.
It's true for just about any kind of surgery—the more experience a doctor has, the better your result is likely to be. Ask how many patients with your specific type of breast cancer the surgeon has treated. Also, ask how many oncoplastic procedures the doctor has performed. Find out about complication rates—complications the doctor has encountered as well as your own risk of complications. If you have any doubts, consider getting a second opinion before making your decision.
Was this helpful?