PHYSICIAN VOICES

An Expert's Perspective on Treating Advanced Breast Cancer

Was this helpful?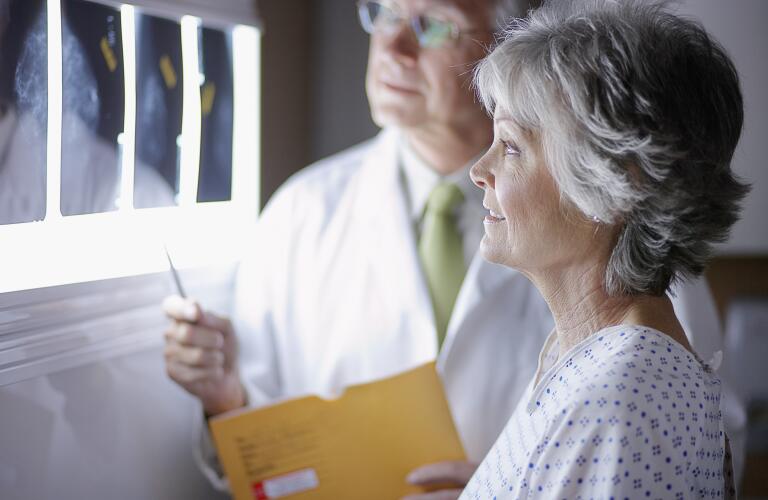 Learning you have breast cancer can turn your world upside down, but breakthroughs in treatment are helping to transform this type of cancer into a manageable chronic disease. Oncologist Dennis Citrin, MD, with Cancer Treatment Centers of America, explains what he tells his patients about living with late-stage breast cancer.
A: The modern approach to treating advanced breast cancer is to turn it into a chronic illness—we can do this today because we know an increasing amount about how breast cancer develops and grows; these research breakthroughs are, in my opinion, the biggest advancements in breast cancer treatment in the last 20 years. Today, patients can live with breast cancer just as people live with chronic illnesses like diabetes. Every day, a diabetic gives herself a shot of insulin or pops a pill to control her diabetes. She isn't cured of the disease—she's still diabetic—but her disease is under control. It's not going to kill her and it's not going to significantly impair the course of her life. This is the way we approach advanced breast cancer today, to turn it into a chronic illness the patient can live with while at the same time maintain a good quality of life. With most women, we can do this for many years.
A: There is no single entity known as "breast cancer." There are different types of breast cancer that need to be treated differently. The biology of the disease determines the treatment we offer—we find out what type of breast cancer the patient has. We do this by identifying how the cancer cells grow, so we can stop that process at the root. Cancer cells may use the reproductive hormones, estrogen and progesterone, to multiply, and they may also grow using a protein called human epidermal growth factor 2 (HER2). Breast cancer cells may use both hormones and HER2 to grow, or just one of those, or neither of them. By understanding what makes the cancer grow, we can use treatments that block these processes to stop the cancer in its tracks.
When breast cancer cells use your reproductive hormones to grow, it's known as hormone receptor-positive (HR-positive) breast cancer. This means your cancer cells are sensitive to estrogen, progesterone, or both, and use receptors on those hormones to propagate. If the cancer doesn't use estrogen and progesterone hormones to grow and spread, we call it hormone receptor-negative (HR-negative). When cancer is HR-positive, we use hormone therapy to block the cancer cells from using the estrogen or progesterone. When it's HR-negative, we must turn to other options.
We also look at how the cancer cells respond to HER2. HER2 is a special protein that breast cancer cells may use to grow and replicate. If your cancer is HER2-positive, the cancer cells are using HER2 to grow; if it's HER2-negative, there are other factors boosting the cancer, so we won't use treatments that target HER2. HER2-positive breast cancer makes up about 20% of all breast cancers, and it's known to be more aggressive, rapidly growing, and more likely to spread than HER2-negative breast cancer. However, we now have very potent drugs that specifically target the HER2 protein, so there are many options to treat it successfully.
If your cancer doesn't respond to estrogen or progesterone (making it HR-negative) and also doesn't use HER2 to grow (so it's HER2-negative), we call it triple negative breast cancer. In these cases, the targeted treatments are not going to be beneficial, so we generally treat with chemotherapy.
A: Most HR-positive breast cancers are HER2-negative as well. We now have a whole host of drugs that target hormone receptors, but it also depends on if the patient has been through menopause or not. For younger patients who are premenopausal, we'll prescribe drugs that block the cancer from using the estrogen receptors, called selective estrogen-receptor response modulators (SERMs). The most commonly used SERM is tamoxifen. We'll also give premenopausal patients injections of luteinizing hormone-releasing hormone agents (LHRHs) which, in effect, shut down the ovaries so they don't produce estrogen anymore. This way, there's less estrogen available to keep the cancer growing. After we stop giving the shots of LHRHs, the ovaries start working again and in most cases, women can get pregnant if they desire. Common LHRHs used are goserelin (Zoladex), leuprolide (Lupron), and triptorelin (Trelstar).
If a woman has been through menopause already, we use a different class of drugs called aromatase inhibitors. These drugs basically introduce what we call a super menopause, driving the estrogen level down to virtually zero, so the cancer can't use it to grow. Although postmenopausal women only make about 10% of the estrogen that premenopausal women make, that 10% can still help the cancer grow, so we want to bring that level down. Most commonly, we'll prescribe the aromatase inhibitors anastrozole (Arimidex), exemestane (Aromasin), and letrozole (Femara).
We now have new treatments for advanced HR-positive and HER2-negative breast cancer, just in the last few years. One drug, everolimus (Afinitor), is called an mTOR inhibitor, and it works by interfering with the process that helps cancer cells get energy to grow. We also can use new drugs called CDK4/6 inhibitors; these drugs are helpful because sometimes, after a few years, patients become resistant to hormone therapies. CDK4/6 inhibitors work to block different pathways than the hormone therapies, so we can use them when hormone therapies don't work anymore. In fact, studies have shown the benefit of combining a hormone-blocking drug with a CDK4/6 inhibitor to begin with—one major study showed that taking a CDK4/6 inhibitor doubles the length of time the patient remains in remission because it prevents the development of drug resistance. So what we'll do now is combine a CDK4/6 inhibitor with an aromatase inhibitor as first-line therapy and we've seen great outcomes. There are three CDK4/6 inhibitors approved by the Food and Drug Administration (FDA) today: palbociclib (Ibrance), ribociclib (Kisqali) and abemaciclib (Verzenio), with more in the research pipeline.
Was this helpful?