White Spots on a Brain MRI: What It Means
Was this helpful?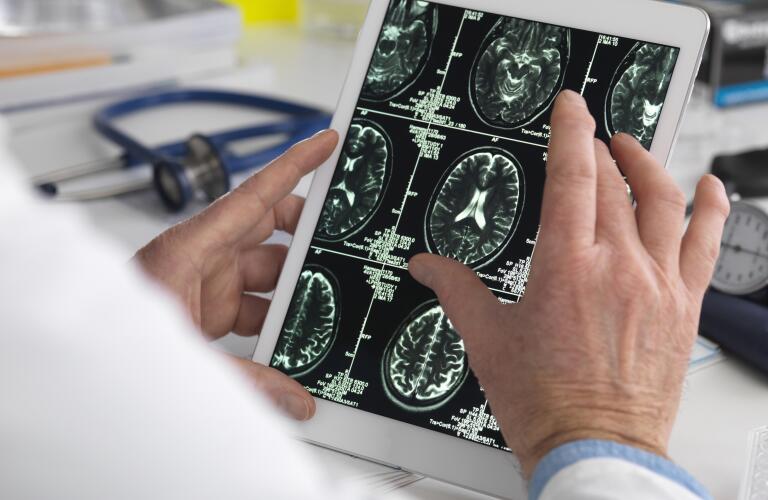 Your brain MRI results have come back and they show bright, white spots amid the gray brain tissue. Should you be alarmed?
Experts say such spots, called white matter hyperintensities (WMHs) or leukoaraiosis, can be a sign that you are at risk for certain illnesses, depending on how many spots you have, their size and location in your brain, and your age. WMHs increase with aging and have been linked to cognitive impairment, stroke (potentially triple the risk compared to someone without WMH) and dementia (double the risk), as well as other problems.
The good news is that knowing you have WMHs can help your doctor determine steps you can take to prevent conditions from occurring or slow their progression, if caught in time.
White spots on your MRI can show up even if you have no symptoms of illness. MRI, or magnetic resonance imaging, reveals these spots with greater intensity because they have increased water content compared to normal, higher fat content, myelinated tissue in the brain. The "watery" lesions, or WMHs become more common in your later decades, though they can be seen at any age. At age 60, about 10 to 20% of asymptomatic patients have WMHs. This value increases to almost 100% for those over 90.
Doctors used to consider white spots on a brain MRI a normal and benign sign of aging, like wrinkles or gray hair. More recent MRI technology has enabled doctors to study them more carefully and to recognize them as indicators of illness. They now are considered a sign of small blood vessel disease in the brain and may occur when blood flow is reduced due to various medical conditions.
Causes for WMH include:
Metabolic leukodystrophies (rare genetic diseases that affect white matter in the brain)
Sometimes, WMHs go away—for example, if an infection is cured or a tumor removed. Sometimes, the white lesions improve, but then worsen. This can occur with an episodic, inflammatory condition like lupus, which can cycle between periods of inflammation and remission.
If you have WMH, you may be at increased risk for:
Decline in gait (how you walk and move) and disturbances in balance
Your doctor is your best resource to explain what your MRI white spots mean and what steps you may need to take.
Some people are more likely to have WMHs than others. Research has shown that people of Hispanic or African American heritage are at higher risk. WMHs also have a genetic component, meaning they can run in families.
Medical conditions that put you at risk of developing WMHs include:
Vitamin deficiency (B12, B6 and folic acid)
Tension or migraine headaches (especially with aura)
You may be able to control some of these risk factors through lifestyle changes. For example, smoking is associated with greater WMHs, so quitting smoking can help reduce or avoid this problem. Studies show exercise may help reduce WMHs. Improving your diet can help too. One clinical trial currently in progress is examining whether consuming more omega-3 fatty acids (found in such fish as salmon and tuna) can help.
Researchers also have found older adults (60 and older) who have greater exposure to stress tend to have higher rates of WMH. Learning how to reduce stress may help reduce WMH.
In addition to lifestyle changes, make sure you control high blood pressure and other health conditions associated with WMH. This may mean taking medicine as well as following other guidance from your physician.
Scientists are continuing to study WMHs and how these white spots on the brain may be prevented, reversed or slowed. In the meantime, if your MRI shows white spots, the healthcare provider will work with you on any necessary follow-up tests and steps you can take to improve your long-term outcomes.
Was this helpful?