Cerebral Palsy and Speech Challenges
Was this helpful?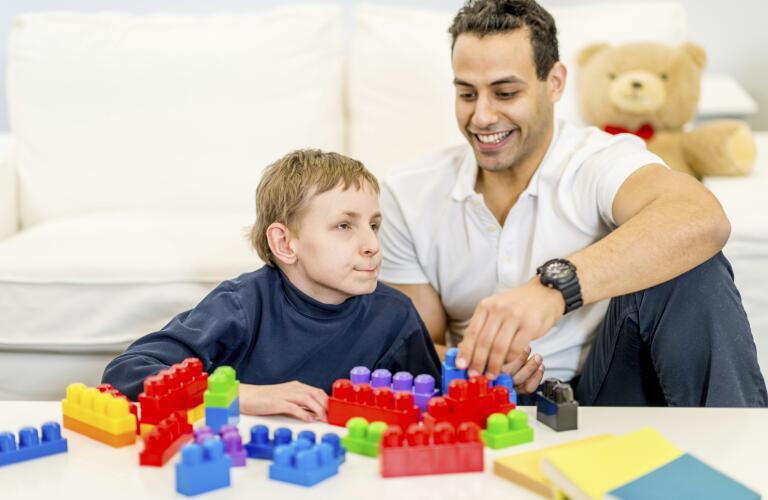 If you have a child with cerebral palsy (CP), you understand the many physical challenges the condition poses. It's just as important to realize that the condition can greatly affect your child's ability to communicate. Kids with CP want to have fun, interact with others, and be heard just as much as anyone. Helping your little one learn how to effectively communicate can greatly improve independence, education, relationships with family and friends, and quality of life.
"Cerebral palsy is a neurological problem that affects the whole body—including the strength and coordination of the muscles necessary for speech," explains Nancy Inman, M.A.T., CCC-SLP, program manager of the Department of Assistive Technology at the Kennedy Krieger Institute in Baltimore. "Although many children with cerebral palsy can speak clearly, some have speech that is very difficult to understand. Others may have no intelligible speech. Thankfully, there are many ways we can help people with communication disorders.
---
---
Help Your Child Find a Voice
Speech-language pathologists (SLPs) often work with children who have CP to help improve their communication abilities. Although there is not a recommended age to start therapy, some parents have their child begin working with an SLP as early as 1 or 2 years old, before he or she is expected to speak. An SLP can help young children with feeding and sucking issues, which involve the same coordination and strength necessary for speech.
When your child begins talking, an SLP may assist with improving his or her clarity of speech and expanding language expression. Therapy strategies may include oral-motor exercises, as well as teaching and practicing correct tongue and lip placement to form words.
Enhancing Speech with Communication Devices
If your child is unable to speak in a way that others can understand, there are many communication devices that can help. An SLP who specializes in augmentative and alternative communication (AAC) can explain the pros and cons of each speech generating device.
"There is a huge range in physical and language abilities and cognition among people with cerebral palsy," says Inman. "An AAC specialist can help you choose a device that best matches your child's unique needs."
For example, some AAC systems require precise pointing skills, while others can be modified to include a switch to select pictures or words on a screen. There are some simple systems designed for beginning users, and others that are quite sophisticated in terms of design and skill level required on the part of the user. Some choices of AAC devices include:
Manual communication aids
A manual communication board is an inexpensive and practical way to get simple ideas communicated. A handheld board may include pictures, typically of daily routine items or high interest items such as a cup, music player, or crayons. Users point to the picture that represents what they are trying to say. As a child grows older, these manual systems can grow in complexity, sometimes including category-based flip-charts for different topics.

Technology-assisted communication with communication information devices (CIDs)
A speech generating device uses the same concept as a manual board, but can provide many more options. These devices can use recorded speech or sophisticated speech synthesizers. Some communication setups are primarily based on pictures, while others emphasize spelling and word prediction. For people with CP who have difficulty pointing, a device can be accessed using a scanning setup with a switch. Other selection method options can include a headstick, an infrared headpointer, or a joystick. Some high-end devices are configured to be accessed using eye gaze. And now there are some AAC apps designed for mobile and tablet technologies.

When deciding between devices, ask the AAC specialist if your child can try them first in many different daily settings. Evaluate how easy it is for him or her to use and how effective it is in enhancing communication. Keep in mind that successful communication with an AAC device requires cooperation and collaboration between school and family.

"Good communication skills lead to success in school and in life. Children with cerebral palsy may experience a wide range of communication disabilities. Our goal as SLPs is to assist these children in reaching their fullest potential," says Inman.
Was this helpful?