What to Expect After an Enlarged Prostate Diagnosis
Was this helpful?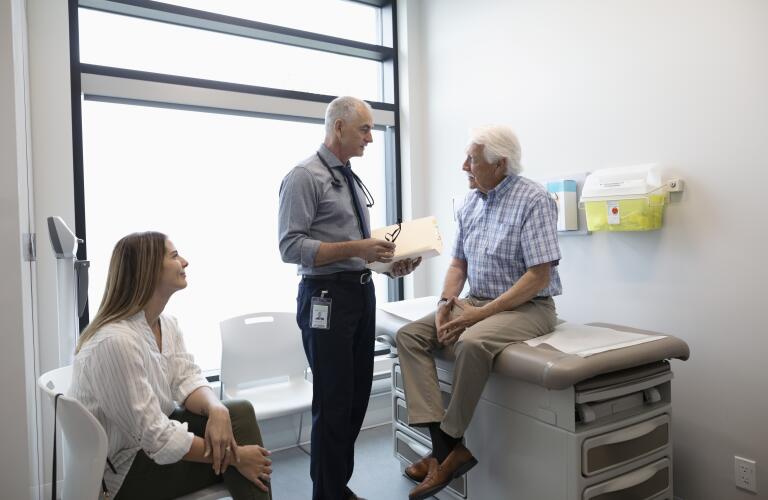 If you are a man, chances are you will develop an enlarged prostate as you age because the gland grows throughout your life. For some men, the symptoms can be difficult to tolerate. If you're experiencing a frequent or urgent need to urinate, a weak urine stream, or difficulty emptying your bladder, your doctor may diagnose an enlarged prostate, also known as BPH (benign prostatic hyperplasia). What happens then? You have several choices.
Depending on the severity of your symptoms and how much they bother you, the doctor who diagnosed you will likely discuss treatment options. Your doctor can explain various approaches and help you decide which may be right for you.
Treatment for an enlarged prostate includes:
Watchful waiting: If you feel your symptoms are manageable, your doctor may suggest periodic checks rather than treatment. Keep all follow up appointments so your doctor can monitor your symptoms.
Medication: Among the most common drugs for BPH are alpha-blockers, such as terazosin (Hytrin), doxazosin (Cardura) and tamsulosin (Floxmax). These medications can relax your urinary tract and make it easier to urinate. Another type of medication is called 5-alpha reductase inhibitors, such as finasteride (Proscar) and dutasteride (Avodart). These medications can help shrink your prostate, which can relieve symptoms. Sometimes these drugs are given in combination. Your doctor may also prescribe tadalifil (Cialis), which treats BPH as well as erectile dysfunction.

Noninvasive treatment: There are several high-tech approaches to treating BPH, including specialized microwave heat therapy, RF (radio frequency) treatments, or laser therapy. These techniques shrink the prostate but don't require significant incisions, so recovery is quicker than traditional surgery. Another procedure, called prostatic urethral lift, uses permanent implants to reshape your prostate and relieve symptoms.
Traditional surgical treatment: If your symptoms are severe, your surgeon might recommend surgery to remove the inner portion of your prostate, or make small incisions in the prostate to reduce pressure on the urethra. In certain cases, surgeons may remove the entire prostate.
You cannot prevent your prostate from growing, but you can take steps to limit the degree to which the symptoms interfere with your daily life. These include:
Avoid drinking a lot of liquids, particularly at night.

Be aware that alcohol and caffeine increase urine flow.

Medications for some conditions stimulate the bladder and prostate or make your bladder work less efficiently. You can discuss alternatives with your doctor, but do not stop any medication without consulting your physician.

Develop the habit of using the bathroom more often, even if you don't feel the urge.

Exercise regularly, as this can reduce symptoms and make them progress more slowly.

Eat a prostate-healthy diet, which is the same as a heart-healthy diet. Men who eat less fat are less likely to develop prostate enlargement.
You may have heard about the herbal supplement saw palmetto as a home remedy for enlarged prostate/BPH. U.S. researchers tested the efficacy of saw palmetto for enlarged prostate and found that it has no effect on symptoms or prostate size. If you are diagnosed with an enlarged prostate, you don't have to live with the symptoms. You have a range of options available to you through your physician.

Was this helpful?