When to See a Doctor for Whiplash
Was this helpful?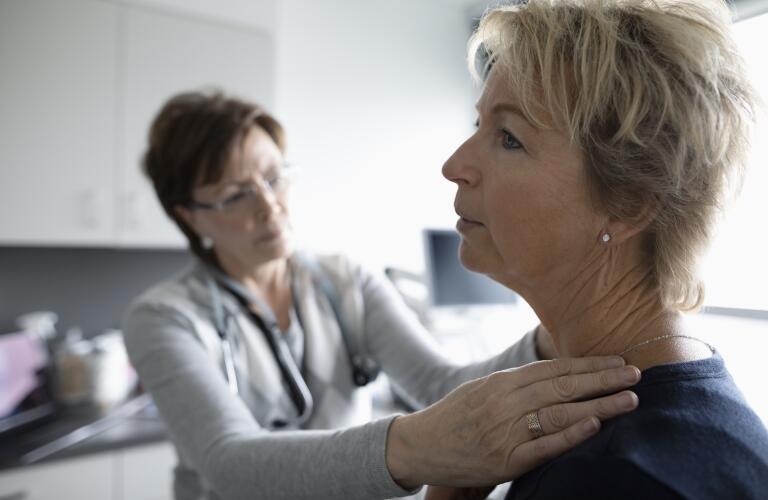 As its name implies, whiplash is a neck injury that can happen when the head moves in a forceful, forward-and-back, whip-crack motion. When this motion causes the ligaments in your neck to stretch too far, it causes whiplash.
Whiplash neck injuries are often associated with car crashes, but these injuries have many other causes too. When the injury isn't severe, you'll likely feel better within a few weeks with proper whiplash treatment. However, you should see a doctor for whiplash to ensure you don't have any broken bones or nerve damage.
A whiplash injury is frequently caused by rear-end car crashes, when the occupant's head jerks backward suddenly and forcefully. Whiplash can also be caused by:
Physical assault, such as shaking or a punch
Sports accidents, usually with contact sports
After an event like this occurs, pay attention to any whiplash symptoms you may have, such as pain and stiffness in your neck. These symptoms may begin immediately after the injury, but in some cases, it may take several days before you notice any symptoms. Common whiplash symptoms can include:
Decreased range of motion
Neck pain that worsens when you move
If you've been in a rear-end car crash or other event with whiplash risk and you have neck pain or other symptoms, it's important to see a doctor to make sure you don't have any broken bones or nerve damage. Numbness, tingling or weakness in the arms or hands could indicate spinal nerve damage, which is a serious medical problem and should be treated right away. If these nerve symptoms are severe or you're having trouble walking or sitting up, call 911.
Your doctor will want to discuss the severity and location of your pain, and he or she will evaluate your range of motion as well as your reflexes and the strength in your arms and hands. While a whiplash injury can't be seen on imaging tests such as an X-ray or MRI, your doctor might order an imaging test anyway to see whether there are any other issues, such as broken bones.
Your primary care physician can evaluate your whiplash symptoms and recommend the appropriate treatment. If your symptoms persist for more than three months, tell your doctor. You may need to visit a pain management specialist to discuss whether you have chronic pain or potentially another health condition that's causing pain. Ask your health insurance company whether you need a referral from your primary care physician before making an appointment with a specialist to make sure your visit is covered.
After visiting your doctor, you may have a prescription for anti-inflammatory medication or muscle relaxers to use for a few days. Your doctor might also recommend that you take it easy, but that means avoiding rigorous activity rather than immobilizing the injury or stopping all physical activity.
Returning to health will require gentle exercises of the injured muscles. Most people won't need to take time off from work, though some people may experience chronic pain that lasts for years. That's most likely to occur if your pain was severe immediately after the injury or if you experienced neurological whiplash symptoms.
Whiplash treatments your doctor might recommend include:
Applying heat to loosen the neck and shoulder muscles
Gentle neck muscle stretches several times a day
Maintaining an optimistic attitude
You may need to continue gentle exercises for several weeks. You'll know the exercises are working when you begin to regain flexibility and range of motion—not necessarily when all your pain is gone. Most people begin to feel better after a few days, though sometimes it takes a few weeks or longer.

Was this helpful?