Recovery After Ankle Replacement Surgery: What to Expect
Was this helpful?
Ankle replacement surgery involves replacing the damaged joint in the ankle with prosthetics to alleviate ankle arthritis or debilitating ankle pain. Following an ankle replacement, recovery time can last between 6 to 12 months and typically includes using crutches or a walker while you wear a splint or cast.
As you heal, your rehabilitation plan likely will include exercises to strengthen your ankle and improve your mobility. Your doctor will monitor your progress to ensure your ankle is healing properly, and, if necessary, make any modifications to your ankle replacement recovery.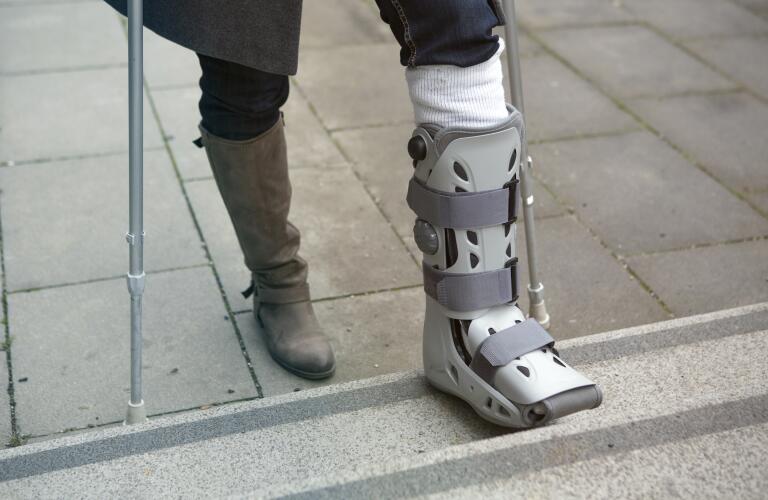 When replacing your ankle, there are two surgical options to choose from:
Arthrodesis (ankle fusion): This procedure connects the tibia, fibula and talus, permanently attaching the talus to the end of the leg bone. It alleviates pain, but takes away the up-and-down motion of the foot when bending your ankle.


Ankle replacement (or total ankle arthroplasty): This procedure involves removing the damaged joint in the ankle and inserting prosthetics in its place.
Recovery time for arthrodesis typically is longer than for ankle replacement surgery. While recovery for both includes wearing a cast, you may need to wear a cast for up to 12 weeks following arthrodesis, but only 3 to 6 weeks after ankle replacement surgery.
Once the surgeon removes the cast after ankle replacement surgery, you most likely will start physical therapy, which can accelerate healing and recovery time. There is no physical therapy after arthrodesis, so it may take longer to regain your strength and resume normal activities.
Once you schedule your ankle replacement surgery, start preparing for your recovery at home. If your bedroom is upstairs, you may need to prepare a makeshift bedroom on the main floor. This could include setting up a sleeper sofa or bringing in a twin bed and setting it in the corner of the room.
Also, examine your walking paths throughout your home. Remove obstacles that could be difficult to avoid after surgery while using crutches or a knee scooter. For instance, remove throw rugs and move ottomans, lamps or other fixtures against the wall to clear the way.
You may have movement limitations for some time, particularly when you first return home. Consider making arrangements for pet care, cooking, laundry, bathing, shopping and other day-to-day tasks.
To maximize healing and reduce recovery time, don't try to push the limits of what your ankle can handle. For instance, keep elevating your foot to reduce swelling, and don't put any weight on your ankle for 10 to 12 weeks (or for the time period your doctor prescribes).
Follow your doctor's and/or physical therapist's instructions for exercising and activity to promote healing and prevent injury. Likewise, follow all instructions for wound care until your incision is completely healed, and take the pain medications your doctor prescribes to you.
Not only will it require time to heal, but the muscles, tendons and ligaments around your ankle also will need to regain strength and mobility for a full ankle replacement recovery. To help you accomplish this, you likely will undergo physical therapy that includes rehabilitation exercises.
Your physical therapist may prescribe strengthening exercises, weight-bearing activities, and stretches that will improve your flexibility and range of motion. You also may undergo gait training to retrain your ankle on how to walk. In addition, your physical therapist may recommend massage and self-care tips at home to keep swelling at bay. For instance, your therapist may recommend icing the joint several times a day.
If you follow your doctor's instructions for ankle replacement recovery, you can minimize your risk of complications following surgery. However, people who smoke or have diabetes or an autoimmune disorder are at an elevated risk for complications. Signs of a complication could include:
If you experience any of these symptoms, call your doctor right away.

Was this helpful?