What Are the Best Joint Supplements? Options Explained
Was this helpful?
Joint supplements may help support joint health and alleviate symptoms such as pain and inflammation. They include extracts from natural sources, vitamins, minerals, and other substances. Many people experience conditions that may lead to joint pain, discomfort, or impaired function.
According to the Centers for Disease Control and Prevention (CDC), over 20% of Americans have an arthritis diagnosis as of 2018. Other joint conditions such as gout, arthritis, lupus, and sarcopenia can cause joint inflammation and joint cartilage deterioration.
Experiencing a joint condition can impact your quality of life, but certain research-backed supplements may improve joint health and help to alleviate symptoms.
This article will discuss popular supplements for joint pain and whether they may help you, according to research. It will also discuss how to take supplements safely, and how to choose the best joint supplement for you.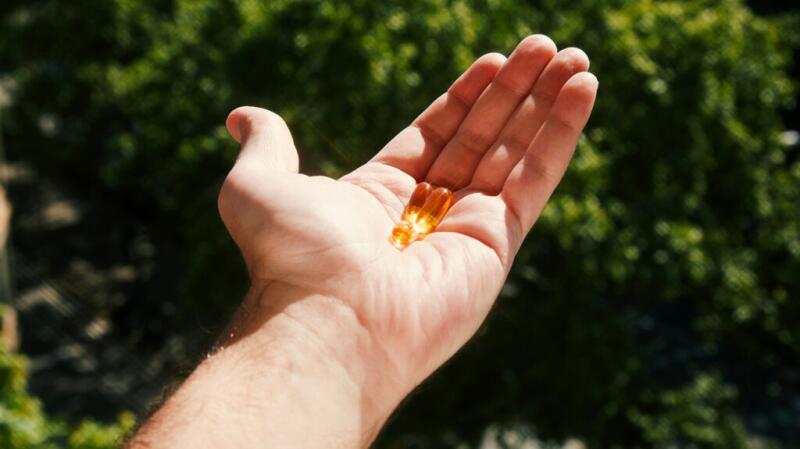 Curcumin and boswellia are both naturally occurring extracts. Curcumin is an extract of turmeric, while boswellia is a natural extract from the bark of the boswellia tree.
A 2018 meta-analysis suggests that curcumin and boswellia extracts may help reduce osteoarthritis pain in the short term.
Another placebo-controlled study from 2018 also suggests that taking boswellia and curcumin together may enhance the effects of curcumin.
Tamarind seeds contain many nutrients and are a natural ingredient that Ayurvedic and African medicines have used widely for different conditions.
A 2019 study examined the impact of Tamarindus indica seeds and Curcuma longa rhizome extracts on joint pain in adults without arthritis. Over a period of 90 days, the group taking the extracts experienced significant relief from knee pain and improved joint function after physical activity.
Green tea contains many compounds and nutrients that may be beneficial to health, such as catechins, a type of antioxidant.
Research from a 2020 study indicates that catechins may benefit joint health by reducing inflammation levels and preventing degeneration of collagen and cartilage.
Unlike other types of teas, green tea is nonoxidized. This means that it has powerful antioxidant and anti-inflammatory effects that can alleviate pain and improve function with osteoarthritis and sarcopenia.
Learn more about the proven health benefits of green tea here.
Magnesium is another supplement that may potentially affect pain levels. It also plays a significant role in maintaining bone strength, joint cartilage, and nerve and muscle function.
One 2018 investigation observed that lower magnesium intake was correlated with worse knee pain and function, particularly among people who also had low fiber intake.
Additionally, further research suggests that magnesium may help to reduce pain associated with other conditions, for example fibromyalgia, chronic headaches, and after surgery.
Collagen is the most abundant structural protein in the body and contributes to the health of many tissues in joints, such as tendons, ligaments, and cartilage. Some research indicates collagen supplementation may reduce joint pain.
In a 2021 study of young, physically active adults, researchers examined the impact of bioactive collagen peptide intake and activity-related joint pain. The results indicated a significant reduction in activity-related joint pain among young adults.
Another 2019 study into collagen supplementation and osteoarthritis also suggests a possible connection between collagen intake and reduced joint pain and stiffness.
Supplement companies can manufacture collagen from animal tissues, although there are plant-based sources.
Omega-3 may benefit some people with joint pain from certain conditions such as rheumatoid arthritis.
One 2016 trial suggests a correlation between reduced morning stiffness and the number of swollen and tender joints in rheumatoid arthritis patients.
Additionally, the Arthritis Foundation suggests that fish oil has strong evidence to support its use for arthritis pain and loss of function.
Also known as SAM-e, this is a compound that naturally exists in the body which contributes to the production of cartilage. It may help with pain relief.
Research suggests that SAMe may have the same effect as some nonsteroidal anti-inflammatory drugs (NSAIDs) in terms of reducing pain. Additional trials also indicate that SAMe has a significant effect in reducing pain from osteoarthritis.
MSM is a naturally occurring compound found in humans, animals, and some green plants. Some doctors recommend it for joint pain.
The Food and Drug Administration (FDA) labels MSM as a "Generally Recognized As Safe (GRAS)" substance, and most adults can tolerate doses as high as 4 grams (g) daily.
A 2017 literature review of studies on MSM suggests that the supplement may protect joint cartilage, improve range of motion, and reduce joint inflammation.
However, a 2018 study suggests that more research is necessary to support the evidence.
Glucosamine and chondroitin are structural components of cartilage that the body naturally produces.
However, the American Academy of Rheumatology does not recommend taking these supplements. Glucosamine and chondroitin may interact with blood thinning medications and impact blood sugar levels, so these supplements are not safe for everyone.
Researchers have conducted several large, high-quality studies on glucosamine and chondroitin with conflicting results. An older 2014 overview from the National Center for Complementary and Integrative Health suggests that chondroitin and glucosamine may not lessen osteoarthritis pain in the knees or hips.
However, more recent studies from 2015 and 2016 have observed that they are effective in relieving pain and swelling in the knee due to osteoarthritis, as well as joint space narrowing.
The difference in results may be attributable to differences in types and doses used in research.
Researchers suggest that there are conflicting results about whether vitamin D can improve joint pain and function with certain conditions, such as osteoarthritis.
Additionally, the American College of Rheumatology and Arthritis Foundation recommends against using vitamin D for hand, knee, and hip pain in some cases.
Some clinicians suggest that taking vitamin D may have a preventive effect on some types of joint conditions, such as fractures. However, evidence is conflicted about its effectiveness.
However, it is true that a deficiency of vitamin D can lead to bone and joint conditions which may cause pain.
The FDA regulates supplements available in the United States.
You can use the FDA's GRAS database to determine the safety of certain joint supplements.
You can also refer to the American College of Rheumatology and Arthritis Foundation's guidelines to learn which supplements to discuss with your doctor.
A doctor can also recommend the best joint supplement or treatment for you.
You should always consult with your doctor to determine dosage and to learn about possible interactions between your current conditions and medications.
This is because the most effective and safe dosage for you will vary depending on the supplement as well as individual factors.
Additionally, as with all drugs, supplements can have negative effects on health when used inappropriately. In some cases, these effects may be severe.
According to the Arthritis Foundation, you should see a doctor if the joint pain lasts for more than 3 days.
However, seek immediate care for any severe joint pain.
Additionally, contact your doctor for any new symptoms that occur after starting a new supplement or medication.
You should always seek the advice of a pharmacist or doctor before taking a new supplement, and inform them of your current conditions and any medication and supplements you already take.
Aside from supplements for joint pain, medical professionals will recommend different approaches to treat joint pain depending on the cause. These approaches can include at-home management as well as clinical treatment methods.
For example, joint pain as a result of rheumatoid arthritis can require treatment through immunosuppressant medications. For osteoarthritis, doctors may suggest steroid injections or surgery.
Additional techniques to manage joint pain can include:
maintaining a moderate weight
getting regular physical activity or resting from physical activity, as per your doctor's recommendations
protecting your joints by:

choosing activities such as swimming, walking, or cycling that do not twist or stress the joints
making adjustments at work, where possible, to minimize injury risk
wearing protective equipment such as seatbelts
avoiding repetitive motions

considering trying a CDC-recognized self-management education program
physiotherapy
Below are some frequently asked questions about joint supplements.
There is limited evidence on whether there is any medically relevant difference in the effectiveness of joint supplements for males versus females (sex assigned at birth).
However, appropriate doses and safety may vary according to factors such as biological sex, hormone levels, and body size.
Contact your doctor for advice on the best joint supplement for you and what dosage may be safe and effective.
According to the Arthritis Foundation, fish oil, SAMe, and curcumin have the most supportive evidence to reduce arthritis pain and inflammation.
However, joint health supplements can all have different effects and interactions, so contact your doctor for advice on which one may be appropriate for you.
Some supplements for joint pain may be effective. This can include alleviating symptoms of pain, inflammation, and functional impairment, as well as supporting cartilage and collagen health.
Studies indicate that supplements including vitamins, minerals, antioxidants, and natural substances may improve joint stiffness and pain related to different conditions.
Always contact a doctor before starting any new supplements or medications. This is because appropriate dosage levels will vary depending on the particular supplement and individual factors. Supplements carry a risk of negative interactions and side effects when used inappropriately.
Was this helpful?