Speech-Language Therapy for Autism
Was this helpful?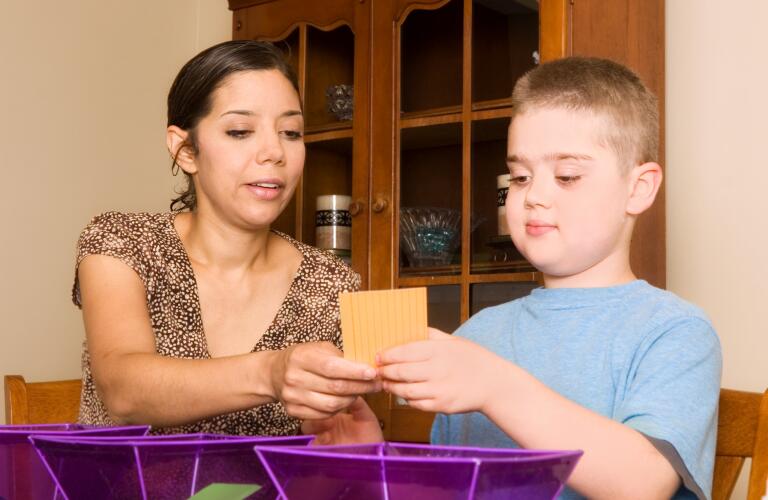 Every child with autism is different, but in many cases, children with autism spectrum disorder (ASD) experience some form of communication problem. And just as there are many different kinds of communication issues, there are many different methods for improving a child's communication skills.
Whether your child is learning to understand, talk, read or write, speech-language therapy can help him communicate and socialize in the most effective way possible. Starting a treatment program early, that's tailored to your child's age and interests, offers the greatest chance of success and will allow your child to reach his full potential.
Not every child with ASD has a language problem. Some children do not talk at all, while others love to speak, with large vocabularies, but have trouble understanding others. The communication issues vary widely on the autism spectrum.
Children with autism may have:
Delayed speech

Little expression

Difficulty developing language skills

Difficulty understanding others when they speak

Trouble with nonverbal communication (communicating using body language or facial expressions)

Trouble understanding body language and nonverbal cues in others

Problems understanding the meaning and rhythm of words and sentences

Repetitive speech (using words just heard or words heard days or weeks earlier)

A tendency to use tantrums to express needs

A sing-song voice when communicating
If your child shows signs of communication problems, your doctor may recommend you see a speech-language pathologist (SLP). These providers specialize in treating people with voice, speech and language disorders. The SLP will evaluate your child's verbal aptitudes and challenges and test for hearing impairments that may interfer with speech. Then, the pathologist will set goals to help your child communicate, either through spoken language or by using nonverbal communication skills, as well as improve social and behavioral issues.
For example, an SLP may work with a younger child on pre-language skills, such as making eye contact, gesturing and using body movements to help communicate. For an older child, the focus may be on the functional use of language, helping her learn to hold a conversation by staying on topic and taking turns speaking. For children who may never be able to develop language skills, the SLP may recommend sign language or the use of symbols, pictures or an electronic device to help convey thoughts.
An SLP may work with your child either one-on-one, or in a small group or classroom setting to help practice communication skills with others. She may help your child:
Interact with others through play, such as using gestures and understanding how to get along and follow directions

Understand and use words by asking for help, such as asking and responding to questions and taking turns in a conversation

Read and write by looking at books, telling stories, and writing words, sentences and letters

Manage hyperlexia (a condition in which your child may read early, but without understanding the meaning)

Use augmentative and alternative communication (AAC), which may include sign language, pictures, photos, objects, videos, computers or other electronic devices

Learn to accept new foods (children with autism may have trouble with the way certain foods feel, smell or taste)
Speech-language therapy can be very effective for many children with autism. For some kids, verbal communication is the end goal, with a highly structured, specialized treatment program. For others, learning how to understand and communicate through AAC is the desired outcome. The most effective program is one tailored to your child's age, development and interests. It should also include behavioral interventions and offer positive reinforcement along the way.
Talk to your child's doctor and ask for recommendations from other parents to find the right speech-language program and pathologist for your child's needs. Progress may be quick, or it may take some time. Try to be patient, and get the entire family involved in your child's treatment so you can reinforce it at home and encourage his or her efforts. Making your child's treatment a daily part of your family's life will offer an even greater chance of success.

Was this helpful?