Occupational Therapy for Autism
Was this helpful?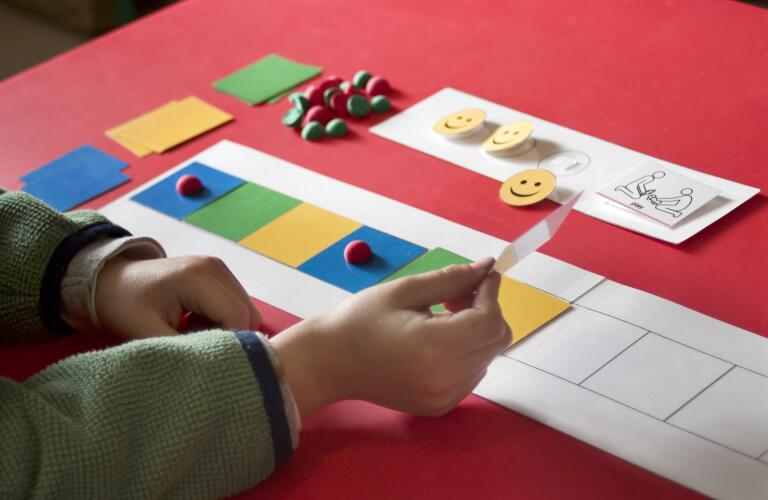 Children with autism often have a hard time with day-to-day activities and tasks. Occupational therapy might help.
Occupational therapists (OTs) are healthcare professionals who help people be more independent and better able to function in their daily activities or occupations, including sports and hobbies. They work with people of all ages with different conditions and needs. Their goal is to make things better at school, at home, at work, and during social activities. For instance, OTs might make adjustments to a person's environment and help organize and breakdown tasks to overcome a mental or physical disability, and to support a person's ability.
Children with autism can get help with communication, behavior and learning. An occupational therapist can help a child with autism learn to play better with other children. A therapist might help your child with simple tasks like dressing and eating. Therapists also can help children overcome their trouble dealing with sounds, touch and sensory overload.
Autism affects every child differently. Your child's therapy will depend on his or her needs and abilities.
The first step is an evaluation at home and at your child's school or preschool. The therapist will observe your child in these settings. The therapist also will get information from you, the child's teachers, and any other caregivers. This will help the therapist develop goals for your child.
The therapist will then put together a treatment plan to meet those goals. The plan might include changes or interventions at school or home. It might include a plan to avoid sensory overload. Your child may get an autism coach at school. Therapy also could include both physical and mental exercises to improve attention, coordination, play and motor skills.
An important part of occupational therapy is checking for improvement over time. Therapists call this an outcomes evaluation. If your child doesn't meet the therapy goals, that's a sign the treatment plan needs to change.
Therapy sessions usually last 30 minutes to an hour. How often your child will work with an occupational therapist will depend on the child's needs and abilities. Also, therapy may change over time.
When you're ready to start looking for an occupational therapist, ask your child's doctor to suggest someone. Also, your child's school may provide a therapist. The person you choose should be a certified occupational therapist with extensive experience working with children of all ages with autism, similar to your child's age and degree of autism.
A good occupational therapy program should include:
A complete evaluation

A team approach to treatment

Involvement of family and teachers in the therapy plan

Clear goals for therapy before treatment starts
With a good therapist and a good plan, you should see gradual improvement in your child's day-to-day life.
No single treatment works for all children. Occupational therapy is just one part of treatment for a child with autism. Your child might also work with other therapists for speech and behavior problems.
The best way to judge the success of occupational therapy is to see if your child's quality of life is getting better. For instance, the treatment is working if you see your child becoming more independent. Your child should be getting better and more self-sufficient at basic life skills. You also may find that occupational therapy for your child improves the whole family's quality of life.

Was this helpful?