How Doctors Diagnose Autism
Medically Reviewed By William C. Lloyd III, MD, FACS
Was this helpful?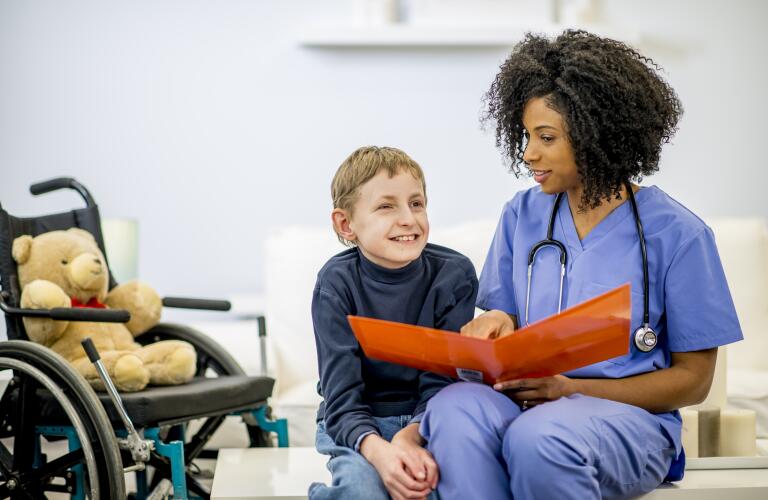 No parent wants to suspect signs of autism in their young child, but being on the lookout for possible signs is important for early diagnosis and effective treatment. Though autism can be reliably diagnosed by age 2, the Centers for Disease Control and Prevention (CDC) recently estimated that fewer than half of children identified with autism receive comprehensive developmental evaluations by age 3. The report also found black and Hispanic children receive developmental evaluations later than white children and continue to be diagnosed with autism at lower rates.
Early diagnosis of autism is critical, because early intervention and new therapies can help increase the chances of healthy development, improved function, and higher quality of life for your child.
Autism refers to a group of complex developmental brain disorders, or autism spectrum disorders (ASD), that typically show up in children as problems with communication, behavior, and social interactions. These factors affect everyone differently; children on the autism spectrum can range from quite gifted to severely challenged. Scientists don't know exactly what causes these disorders, but genetics and environmental factors may play a role.
Parents are often the first to notice the signs. At first glance, your child may appear to have an intellectual disability or problems with sensory processing, hearing or vision. Sometimes these issues can co-occur with autism.
The good news is doctors and educators are tuned in to the early symptoms of the condition more than ever before, so they can be helpful in pointing out and confirming any signs of autism in your child, which include:
Failing to make eye contact

Not responding to his or her name

Playing with toys in unusual, repetitive ways

Other repetitive behaviors

Communication difficulties

Problems with sharing, imaginative play or making friends, or a lack of interest in others

Body rocking or spinning

Lack of facial expressions

Insistence on sameness or rigid routines

Extra sensitivity to sounds, smells, lights or movement
If you notice any of these signs, it's important to get an evaluation as soon as possible to determine if your child has autism.
Every child should be screened for developmental milestones during well-child doctor visits from birth to at least 36 months. In addition, the American Academy of Pediatrics recommends specific screening for ASD at 18 months and 24 months. When you have concerns about your child's development, your child's doctor should refer you to a specialist, such as a developmental pediatrician, neurologist, psychiatrist or psychologist—or a team of specialists—for further evaluation.
If your pediatrician doesn't share your concern, trust your instincts and find a doctor who is familiar with diagnosing autism, who will listen to you and refer you to additional specialists. If you have trouble finding the right doctor, look to an autism support group or your local Autism Society affiliate for guidance, or search for an autism specialist on Healthgrades.
There is no medical test, such as a blood test, for autism, but by age 2, a diagnosis by an experienced professional can be very reliable. It typically begins with a medical assessment or M-CHAT, a list of informative questions about your child, including eating and sleeping habits, any allergies, illnesses, developmental milestones, family history, and a medical history of the mother's pregnancy.
A specialist will then do a behavioral evaluation, talking and playing with your child to observe how he or she speaks, interacts, learns, plays and moves. Your child may also need a hearing and vision screening, as well as genetic, neurological or other medical testing.
To ensure your child's medical team has the information needed to make a proper diagnosis, it can be helpful to bring the following to your first doctor's appointment:
A list of any medications, including vitamins, herbs and over-the-counter medicines your child is taking, as well as dosages

A list of all the changes and behaviors you and other caregivers have observed in your child

A video of your child's unusual behaviors or movements

A record of your child's developmental milestones, as well as any sibling milestones

A list of questions for your child's doctor, including where to go for further information about ASD

A family member or friend who can take notes and provide support
If your child is diagnosed with autism, you may feel overwhelmed by a variety of emotions, from shock to sadness to anger. Your child's doctor may recommend a team of specialists for you to visit, and you will likely have many questions. Prepare questions for your team in advance, and rely on family and friends to support you and help you gather and decipher all the information you receive.
It can also be extremely helpful to talk to other families who have received the same diagnosis. There are many support networks and resources online that can be helpful, but be sure they are reliable and relevant to your child. You know your child best.
Finding the right network of experienced professionals and supportive loved ones will help you feel that you are not alone. Be sure to rely on them for help when you need it; it's important that you take breaks and take care of your own health so you can be there for your child.
Above all, keep in mind your child is still the same child he or she was before the diagnosis, and that your family is now a team in approaching treatment—and life with ASD—together.

Was this helpful?