Autism and Cerebral Palsy: How Improving Communication Can Help Behavior
Was this helpful?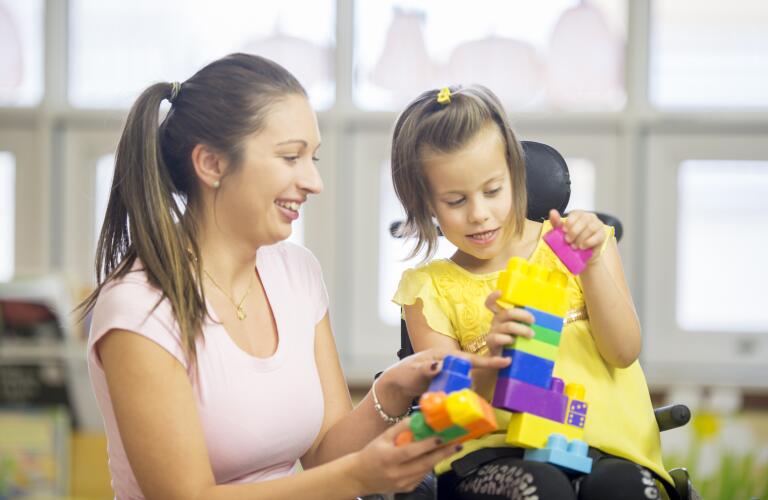 Having a child who struggles to communicate—such as a son with autism or a daughter with cerebral palsy (CP)—presents many challenges for families. Behavior problems are one example. Children with autism or CP may become aggressive, have tantrums, and even harm themselves while trying to express their feelings.
But there is hope. Research shows that improving communication skills may have a positive side effect—better behavior.
"Children with autism, cerebral palsy, and other special needs can learn to express themselves and increase their social participation, which often leads to better behavior," says Janice Light, Ph.D., the Hintz Family Endowed Chair in Communication Sciences and Disorders at Pennsylvania State University. In addition, children with better communication skills can build a larger vocabulary and develop the foundation for literacy.
Not every child with autism struggles with language, but most of them do. For many of these kids, talking with others is a challenge. They may not respond to other people's words or even their own names. They may also have a tough time understanding the meaning of words or "reading" body language.
Given these struggles to communicate, many children with autism become frustrated because they aren't understood. This can lead to vocal outbursts and other behavioral problems. You might consider this abnormal behavior as the child trying to communicate. A goal is to help these children find a better way to express themselves instead of tantrums.
Children with CP have permanent muscle impairments caused by abnormal brain development. In addition to poor muscle coordination, these children often have trouble speaking, though this varies from child to child.
Speech and language problems occur in more than one-third of those with CP. Often, these children have difficulty speaking clearly or forming words. This can be especially frustrating because they want to communicate with those around them. As a result, children with CP may become passive and withdrawn.
If your child has autism or CP as well as behavioral issues, talk to his or her treatment team. A speech-language pathologist (SLP) can help establish communication goals you can work on as a family.
An SLP can also evaluate your child's language abilities and develop a treatment plan to improve communication and reduce frustration—and lead to better behavior. For example, your child may benefit from training to improve eye contact, use gestures, or communicate with a picture board or speech generating device. For the best results, treatment should involve parents, siblings, other family members, SLPs, teachers, and other professionals.
Dr. Light recommends talking to your child's treatment team as soon as possible about communication and behavior problems. "To reduce frustration and give your child the best chance for success, you should start as early as possible. However, any person with special needs is never too old to benefit from treatment."
Was this helpful?