5 Types of Therapy for Autism
Medically Reviewed By William C. Lloyd III, MD, FACS
Was this helpful?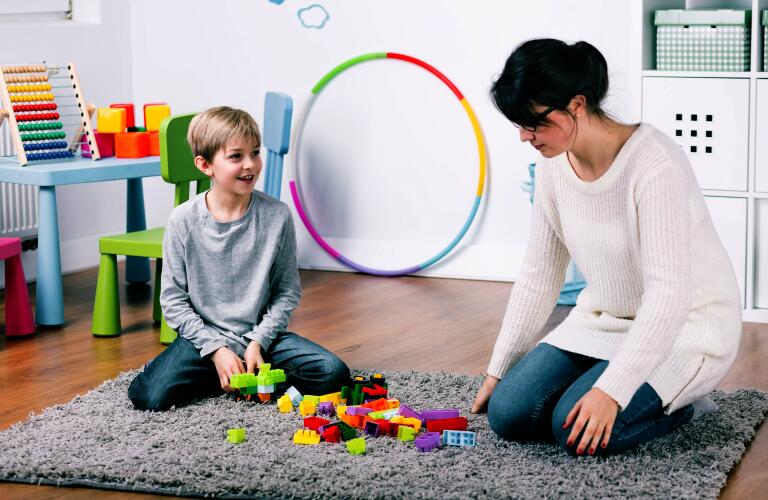 Receiving an autism diagnosis for your child can be overwhelming and scary. But the diagnosis is just your jumping-off point; depending on your child's specific needs, there are many different therapy options. Research has revealed more about autism over the past few decades, and while there is still no cure, there are a range of evidence-based tools for addressing its symptoms.
Early screening is crucial, as research shows the earlier you intervene, the more positive the results will likely be. Autism is a spectrum disorder, meaning it looks different in every person who has it. When creating a treatment plan for your family, your doctor may incorporate any of these therapies—or a combination of them—to help your child strengthen a variety of essential life skills.
When it comes to treating the challenging behaviors that come with autism, behavioral therapy has decades of evidence behind it—especially when kids receive it early in their development. Applied behavior analysis looks at your child's behavior as a form of communication, and it teaches them more appropriate ways to communicate their needs. For example, if your child runs out of the classroom at school, she may be saying that she needs a break. A behavior therapist can pinpoint what's behind a challenging behavior and teach your child a better way to communicate her needs—such as signaling for a break instead of running away. Make sure your therapist is trained in applied behavior analysis to ensure they're using research-based strategies.
Working with a speech pathologist can help your child address a variety of communication-related issues: word articulation, sentence formation, and even listening skills. Depending on your child's specific needs, a therapist may work with him individually or in a small group with peers working on similar skills. Sessions might focus on understanding verbal directions, responding to social cues, asking and answering questions, or taking turns in a conversation. The small, controlled environment can give your child the specific instruction, feedback, and practice he needs to develop better communication skills. Speech therapists can also help you decide whether any assistive communication tools are a worthwhile option.
Occupational therapy helps your child become more independent at daily living activities. Sessions may focus on life skills, such as eating or getting dressed, or on motor skills, like gripping a pencil or developing body coordination. Occupational therapists use interactive activities to develop and strengthen the skills your child needs to become more independent. These therapists can also provide you with guidance on whether any adaptions or assistive technology can help your child succeed, like a specialized grip for writing or noise-cancelling headphones in certain environments.
This specific type of occupational therapy zeroes in on the difficulty many children with autism have processing noises, sounds, lights, textures, and other sense-related triggers. Sessions teach your child to process these anxiety-producing triggers by gradually increasing their tolerance to them with play-based activities. Research is starting to show this approach helps the brain relearn how to respond in a more calm and positive way. One study showed that kids who received sensory-integration therapy, in addition to other ongoing therapies, made greater gains than peers who left out the sensory-integration piece. If your child struggles with stimuli like food texture or the noise of a crowded room, sensory-integration therapy could be a positive, effective way to directly address the issue.
You may decide to enroll your child in therapy sessions that specifically focus on developing and practicing social skills. Speech therapists or autism specialists often run these groups, and they're a safe space for children to learn and practice getting along with others and better understand social situations. While children without autism usually figure out the unspoken rules of social interactions, kids on the spectrum often need a bit more instruction and feedback to do so. Sessions provide kids with explicit modeling and feedback, often using fun programs and stories to do so, providing them with memorable cues and reminders to call up when needed.
No matter your child's specific symptoms and behaviors, your doctor can help guide you to the best treatment options for your family. Researchers continue to make progress in understanding autism, and with early therapy, children can effectively build the skills and tools they need to thrive.
Was this helpful?