Recovery After the Maze Procedure: What to Expect
Was this helpful?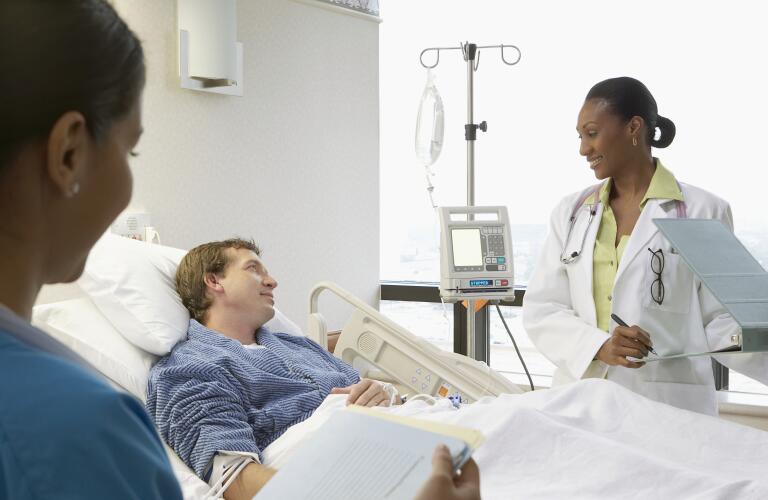 Recovery is different for a surgical ablation maze procedure vs. ablation with a catheter. Learning about maze procedure recovery can help you decide if the surgery is right for you. Knowing what to expect afterwards can also help you prepare for a successful recovery. Here's what recovery after a maze procedure will probably look like, including possible maze procedure complications.
With a cardiac ablation, people usually go home the same day or the next day. However, surgical maze procedures require a longer hospital stay, which includes a stay in the ICU (intensive care unit). After a full maze procedure, the ICU stay is usually a day or two. The whole stay usually lasts about a week. For a mini-maze procedure, you'll likely stay in the ICU for as short as a few hours or up to a day or so. The full hospital stay is also typically shorter, at 2 to 4 nights for a mini-maze procedure.
Problems and complications can develop while you're in the hospital after a maze procedure or in the days and weeks during recovery. In the hospital you may notice any of the following side effects of the procedure:
Coughing or trouble breathing, which you can help prevent and treat by doing the breathing exercises your team will teach you. Using a spirometer every few hours can help keep fluid out of your lungs and prevent further complications.
Fluid retention, which your team will likely treat with a diuretic ("water pill")
Nausea and grogginess from anesthesia or pain medicines
Pain and discomfort that your team will treat with medicines, which may include patient-controlled analgesia (PCA)
There are also potential issues that can occur for some time after a maze procedure including:
Abnormal heart rhythms, including short periods of afib, which up to half of people experience in the first three months afterwards. You many need to take medicines to manage your heart rhythm and a blood thinner to prevent blood clots during this time.
Recurrence of afib long-term, which may require another procedure or treatment
Slowed heart rate, uncovered after treating afib. About 3 to 6% of people will require a pacemaker. This percentage may be higher with some types of maze procedures, so ask your doctor about it.
After leaving the hospital, you will need to see your surgeon in about a week. This checkup will ensure you are healing properly. Then, you need to see your cardiologist within a month of your hospital discharge. The doctor will evaluate your heart rhythm during this follow-up appointment. After that, you will need an EKG (electrocardiogram) at three, six and 12 months after surgery. Your doctor will check an EKG annually going forward. Some doctors also recommend a longer heart rhythm study called a Holter monitor.
After a minimally invasive mini-maze procedure, you'll probably get back to normal activities rather quickly. Most people are walking and doing light exercise within a few days. You may also be able to return to work within a few days of a mini-maze procedure. Returning to work and normal activities will take longer after a full maze procedure. Full recovery can take eight weeks or longer because it's open heart surgery with a full incision through the breastbone to open the chest cavity.
Your doctor may recommend cardiac rehabilitation—or rehab—following maze surgery. This exercise and lifestyle program can help speed your recovery. It will show you how to regain energy, strength and stamina safely after heart surgery. Ask your doctor about participating in cardiac rehab and how it can help you.
When doctors match the right patients to the right maze procedure, the success rate is very high. A full maze procedure resolves afib in 80 to 95% of patients. The mini-maze procedure results are similar for people with paroxysmal—or intermittent—afib. In these patients, the success rate is 80 to 90%. The rate drops to 50 to 75% for those with persistent—or long-standing—afib. However, each person is unique. So, talk with your doctor and consider getting a second opinion to understand your likelihood of a successful outcome.
A successful maze procedure will allow you to live afib-free for many years. During this time, you'll enjoy a decreased risk of blood clots and stroke without using an anticoagulant. You'll also live free from bothersome afib symptoms. You should notice the biggest improvement in your health during the first 3 to 6 months after surgery. Your health may continue to improve with time, as you are able to return to exercise and full activity.
Keep in mind, success rates vary from doctor to doctor and from hospital to hospital. Experience is important when you are deciding on heart surgery. If you are considering a maze procedure, ask potential doctors about their success rates with your specific type of afib and the specific procedure they are recommending.

Was this helpful?