Types of Medications That Treat Asthma
Was this helpful?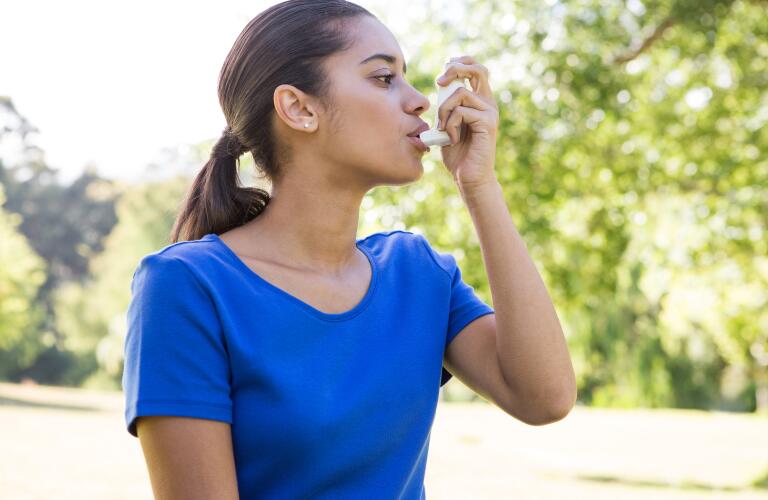 If you are one of the millions of Americans who have asthma, you know how important it is to take your asthma medications as prescribed. Asthma is a chronic disease that causes inflammation (swelling) and narrowing in the airways. It can make breathing difficult. But asthma doesn't have to slow you down. If you follow your treatment plan, you can stay on top of your asthma symptoms and feel your best.
What Are the Different Types of Asthma Medications?
Your doctor will create an asthma treatment plan, or action plan, tailored to your specific needs. The primary goal of asthma treatment is to prevent asthma symptoms from occurring and to control them when they do occur. Doctors use a combination of medications to achieve this goal including:
Quick-relief medications to rapidly treat your symptoms when they occur

Long-term control medications to provide ongoing control and prevention of your asthma symptoms. (They should not be used to manage acute asthma attacks.)
Both quick-relief and long-term control medications include anti-inflammatory medicines that reduce airway inflammation and bronchodilators that open narrowed airways. Some medications are a combination of an anti-inflammatory and bronchodilator.
Your asthma action plan will provide detailed instructions on how and when to take your medications. This includes times when you are breathing well, have minor to moderate symptoms, or when your symptoms are serious. If you continue to have symptoms after taking your medications, tell your doctor. Your doctor may adjust your asthma medication.
Also called rescue medicine, quick-relief medications offer immediate relief of asthma symptoms, such as coughing, wheezing, and chest tightness. They are taken only as needed. However, if you have exercise-induced asthma, you may need to take a quick-relief medicine before exercising.
Quick-relief medications are usually inhaled through an inhaler or nebulizer. An inhaler is a small hand-held device from which you inhale a precise amount of medication into your lungs. A nebulizer is an electrical device. It uses compressed air to deliver your medication in an aerosol or mist form that you inhale through a mouth piece or mask.
There are two kinds of quick-relief medications:
Short-acting beta agonists are bronchodilators that relax and open narrowed airways. They include albuterol sulfate (ProAir, Proventil, AccuNeb), levalbuterol HCl (Xopenex), and pirbuterol (Maxair).

Corticosteroids are medications that reduce airway inflammation. They include methylprednisolone (Medrol, Depo-Medrol) and prednisone (Deltasone). If your symptoms persist, you may need to take these medications for a short period of time.

Some drugs include both bronchodilators and steroids, such as the combination of fluticasone and vilanterol (Breo Ellipta).
If you have to take a rescue medicine more than twice a week, tell your doctor.

Long-term Control Medications
Long-term control medications provide ongoing control and prevention of your asthma symptoms. They work by reducing inflammation (swelling) in your airways and opening your tightened airways. However, they will not help you during an asthma attack. When your symptoms are serious and getting worse, you need to use your quick-relief medicines. Your long-term medicine should be taken daily as instructed by your doctor. You usually take these medications with an inhaler or in pill form (orally).
There are several kinds of long-term control medications:
Inhaled corticosteroids are generally considered the most effective long-term control medications. They include budesonide (Pulmicort Flexhaler, Pulmicort Respules), flunisolide (Nasalid, Aerobid Aerosol), fluticasone propionate (Flovent HFA), and triamcinolone acetonide (Azmacort Inhalation Aerosol).

Long-acting beta agonists are bronchodilators that you take in combination with inhaled corticosteroids. They include salmeterol (Serevent Diskus), formoterol (Foradil Aerolizer), and albuterol sulfate (VoSpire ER Tablets).

Combination medications, such as Advair Diskus and Symbicort, contain an inhaled corticosteroid and a long-acting beta agonist.

Immunomodulators, such as omalizumab (Xolair), may reduce the allergic response in people with allergic asthma. Your doctor injects you with omalizumab every two to four weeks.

Leukotriene modifiers are oral medications used as an alternative long-term control option for some people. They include montelukast (Singulair), zafirlukast (Accolate), and zileuton (Zyflo CR).

Humanized interleukin-5 antagonist monoclonal antibodies, such as mepolizumab (Nucala), are injections you get every four weeks at a doctor's office. It treats severe asthma by reducing the number of eosinophils in your blood, which reduces airway inflammation.
If you don't know what medications you should be taking for your asthma, schedule some time with your doctor or asthma specialist. Your pharmacist is another great resource for making sense of the many types of asthma medications available to you.

Was this helpful?