SOCIAL VOICES

My 3 Top Tips for Managing Severe Adult Asthma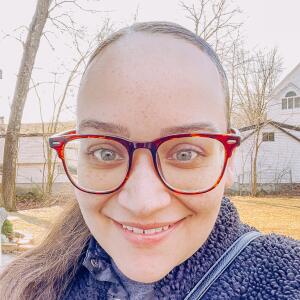 Having asthma as an adult is a different experience than having asthma as a child. My asthma has changed over time, and it can be a challenge to stay on top of it while juggling the demands of family and work. However, it's possible to manage your asthma long-term once you find what works for you. Over the last 2 years, I haven't had any big asthma flare-ups, because I've figured out what I need to do and committed to it. It hasn't always been smooth sailing, but I'm proud to have gotten where I am today.
In the past, my asthma made me feel awful. When I wasn't managing my asthma well on a daily basis, the smallest issue could arise and my asthma would be triggered. I would end up with daily symptoms that persisted for months.
My biggest asthma symptom has always been a long-lasting cough that can make me feel winded, exhausted, and totally drained. The constant coughing takes most of my energy, and internally it feels like my insides are consumed with a ton of pressure. There have been times when I would sit and cry because I wanted the cough to go away so badly, and I wasn't finding relief from my prescribed medications.
Eventually, I reached a point where I knew I needed to make a change and manage my asthma more carefully. Together with my doctor, I made a plan to stay in control of my asthma and prioritize my health, and it's made all the difference. Here's what I've learned.
This is a big one. At first, I never knew what my triggers were. As I got older, I started to notice patterns and identify the specific things that made my asthma symptoms pop up or worsen. When it's chilly in fall and winter, I'd often get a cold, which would trigger a months-long asthma cough. I also realized that air temperature and quality affect me indoors, as well – if an air conditioner is blowing too strong, or a heater is cranked up, I can experience an increase in asthma symptoms. Early spring pollen can also be a problem. Now that I know what my triggers are, I can take steps to avoid them or prepare myself to be able to handle them better.
Now I know my asthma is triggered by weather changes, outdoor allergens, and colds, and at one point, it felt as if I had seasonal asthma. It would mostly spike in the fall, and I would literally have a cough all the way into spring. Of course, I can't change the seasons, so I do everything I can to set myself up for success as the temperature gets cooler. I prepare for the colder weather by being extra careful to take my daily medications and stocking up on supplements to prevent colds. Any time I feel a cold coming on, even if it's just a little cough, I'm ready with my rescue inhaler or a nebulizer treatment, which helps the medication get deeper into my lungs. I keep my home's air temperature consistent and I'm grateful for central air, since I learned window units can be a problem for me. And sometimes, I find I just need to give my body a break from the winter entirely.
One winter, we went on vacation to a warm destination. I'd been coughing for almost 6 months, but 2 days into our trip, my cough magically disappeared. The dry air helped my asthma tremendously. And every year, as the pollen starts in early spring – and my asthma starts to worsen – we take a vacation that can help me if I am having horrendous symptoms. Since we live in New England, the weather isn't consistent, which can cause my asthma to be triggered. When we vacation in a place that has dry, warm weather, it ends up relieving my asthma symptoms and I'm grateful to be able to get away.
Everyone's treatment plan differs when you have asthma. Over the years, my own treatment has changed, and I've worked with my doctor to find what's best for me. Whenever I feel like my asthma symptoms aren't well managed, or my life situation has changed, I talk to my doctor. We've made tweaks to my treatment when I was pregnant and at different times of the year. Now, my plan consists of my daily asthma medication and my rescue inhaler when I need it. I also meditate regularly, which helps me stay positive and grounded – plus, the intentional, rhythmic breathing of meditation helps my lungs function better and improves my asthma symptoms.
Additionally, I do all I can to avoid developing a cold. I take supplements to boost my immune system and eat a nutritious diet so my body has what it needs to fight any infection. Colds can circulate during the summer, not just when it's cold out, so I do my best to stay healthy all year long.
By managing my asthma in these ways, I haven't had to use my rescue inhaler in 2 years, and although my asthma symptoms aren't gone completely, I feel in control of them. They're not controlling me.
Was this helpful?