How to Choose an Asthma Specialist
Was this helpful?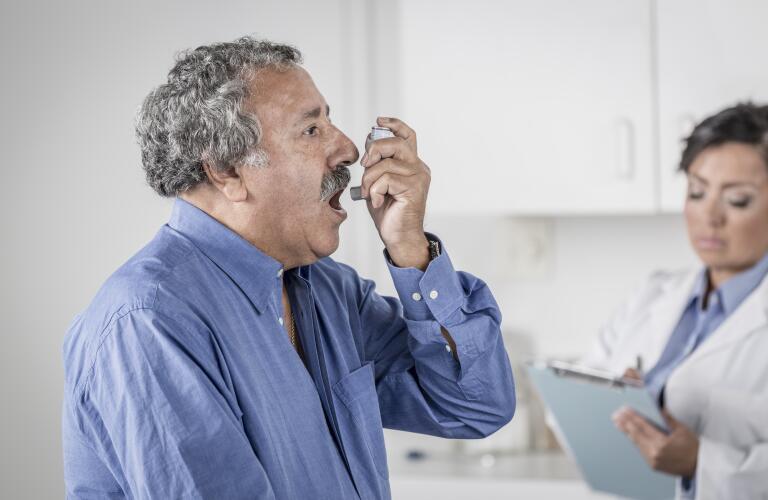 If you have asthma, you'll want to find an asthma specialist who has the skills and experience to help prevent and treat your asthma symptoms. There are many types of doctors who care for people with asthma. You may not have to look any further than your own primary care doctor or your child's pediatrician. Read on for some simple tips to help you choose the right asthma specialist for you.
The first step to choosing an asthma specialist is to learn about the kinds of doctors who treat people with asthma:
Allergists are either pediatricians or internists who have extra training in caring for people with allergies, asthma, and other conditions of the immune system.
Internists are skilled in treating many diseases that affect adults.
Pediatricians specialize in caring for children and teens with a variety of health needs.
Otolaryngologists, often called ear, nose, and throat specialists (ENTs), care for conditions of the ears, nose, sinuses, throat, and respiratory system.
Pulmonologists are internists or pediatricians who have extra training to care for people with lung and other diseases of the respiratory tract.
Pulmonary rehabilitation therapists are either registered nurses (RNs) or certified respiratory therapists (CRTs) who have extra education and training in pulmonary rehabilitation. This program helps you live the fullest, most active life with asthma. It includes management, education, emotional support, exercise, breathing retraining, and nutritional counseling.
Your primary care physician, who may practice in family medicine or internal medicine, is also trained to diagnose and treat asthma. Contact your doctor to ask him or her how often they treat asthma, and if they are aware of the latest asthma treatment advances.
Asthma Diagnosis and Action Plan
Choosing an Asthma Specialist: Points to Consider
When considering an asthma specialist, you should think about which types of asthma specialists have the skills and experience that best fits your needs, including your age, type of asthma, and medical history.
In some cases, you may need more than one specialist to manage your asthma. For example, if allergies trigger your child's asthma symptoms, you may want your child to see a pediatrician and an allergist.
Questions to Ask When Choosing an Asthma Specialist
Before deciding on an asthma specialist, you should ask questions about their qualifications and treatment approach.
Here are some sample questions to get you started:
What are the doctor's education, experience and training?
Is the doctor board certified? This means that the doctor has received advanced specialty training and passed a competency test in the specialty area.
Does the doctor have a record of malpractice or sanction? You can research doctor records on the HealthGrades website at www.healthgrades.com.
What is the doctor's philosophy and style of delivering care? Does the doctor try to get to know you and ask you questions about your lifestyle, health goals, and expectations?
Does the doctor take your insurance? What will your out-of-pocket costs be?
Does the doctor use electronic medical records? Do you have access to them from your computer?
Does the doctor participate in clinical research trials? (If so, this may make you eligible to gain access to the latest asthma treatments.)
Other important tips to consider when choosing an asthma specialist include:
Where is the office and hospital located and are they within a reasonable distance to your home?
What are the office hours?
How long do you typically have to wait to see the doctor?
How quickly does the doctor respond when you email or call with concerns?
Who will care for you if your doctor is unavailable? Does your doctor have colleagues within the same practice or does he or she collaborate with doctors in other practices?
Can you speak with a doctor after hours? How do they handle emergencies?

You can search for an asthma specialist near you and find important information about individual doctors at HealthGrades and state websites. Make sure that you are comfortable with the asthma doctor and staff and that you can afford the cost of their care. You want the best possible care available at a price you can afford.
Was this helpful?