SOCIAL VOICES

How My Huge Career Change Helped My Severe Asthma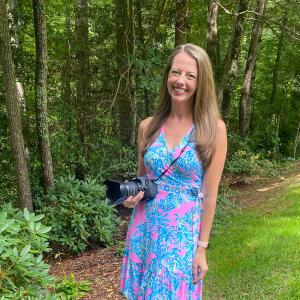 Growing up, my family loyally watched the local news and weather channel each night, and I felt like the anchors were a small part of our family. I quickly decided that being on local news was what I wanted to do when I grew up. It's a competitive career to pick, so adults would always remind me to have a backup plan. I never did.
Starting in elementary school, I read the morning announcements on the school news. By high school I was part of a 4-year TV production program that produced a daily newscast. I exclusively looked for colleges with a program in TV news journalism. My high school yearbook is filled with notes about me being the next Barbara Walters.
After studying telecommunications at the University of Florida, I quickly landed a job at a station in Macon, Georgia giving the news and weather reports. I lived and breathed local news and was grateful to be doing what I'd always wanted to do. After 2 years, I moved up in markets to Asheville, NC, where I spent years anchoring, reporting, and forecasting the weather.
During that time, I got the equivalent of a second degree in metrology from Mississippi State University so I could focus my career on being a meteorologist. Eventually, I was promoted to morning news meteorologist where I adored waking people up in the morning and being an important part of the community. I was living the dream I had since I was a young kid… not many folks can say that.
I blissfully worked for years before I started hitting some walls with my health that were just too big to ignore.
When I moved to Asheville, I was diagnosed with asthma. I managed it with a few medications, but it didn't impact my life much until I started working the morning shift on the news. This new shift required me to wake up at 2 a.m. and not finish my day until after 1 p.m. Something about shifting my normal sleep schedule dramatically triggered a decline in my health.
About 5 years into my beloved gig, my health started to take a turn for the worse. I'd get sick with a common cold and I'd get knocked out with coughing and asthma attacks. I couldn't seem to recover and I'd end up sick for weeks, and sometimes months. My asthma started spiraling out of control after several colds in a row, and even when I wasn't technically sick, I'd have days where walking up stairs was a struggle. My immune system was worn out and I seemed to catch any virus I was exposed to. I felt sick all the time.
I kept pushing forward until one round of asthma and bronchitis spiraled even more out of control. The coughing fits were so bad that I damaged my vocal chords and completely lost my voice a few times, the longest period lasting two months. I could not do my job and had to take several medical leaves from work. It was humbling to not be able to do the one thing I truly loved.
Finding my voice again was like climbing a mountain. I worked with specialists to get more specific treatment for my asthma, which was now considered severe asthma. I also had to go to speech therapy and even had sinus surgery to clear out what had turned into a permanent sinus infection after so many colds.
However, I refused to quit, and after months of work, I got my voice back. I was able to return to doing the morning and noon shows I loved.
I ended up going back to work, but my dream job wasn't as shiny as it used to be. Waking up at 2 a.m. means you go to bed at 7 p.m. It's not a great way to live and it's not a great way to stay healthy. Getting sick opened my eyes and made me realize how much of life I was missing.
When it was time to renew my contract again, I was left with some serious soul searching. Was I really going to be able to sustain this kind of life forever? Was my body trying to tell me that this schedule wasn't working for me? Should I quit while I was healthy instead of waiting for another round of colds to take me down?
I came to the conclusion that it was time to make a change. Leaving TV news was one of the hardest decisions I ever made, but I knew that my health struggles would eventually return if I tried to keep up the pace I was running.
I had been blogging as a hobby behind the scenes for a few years, but I decided to take a huge leap of faith and turn my hobby blog into a business. I left my job and decided to put the same amount of time, heart, and dedication that I had put into my TV news career into my blog, Running in a Skirt.
Working for myself gives me the flexibility to make my own schedule, travel, and take care of my 3-year-old twin boys – something that never would have been possible if I stayed at the TV station.
Not surprisingly, leaving the station basically cured my health struggles. My asthma is now under control and even my doctors have been amazed at how much better I'm doing.
Quitting my dream job was never something I imagined I would do, but change can bring blessings, too. My second career may not have been one I dreamed about since childhood, but it's even better because now I get to live a happier, healthier, and much more normal life.
Was this helpful?