SOCIAL VOICES

How I Successfully Ran a Marathon with Asthma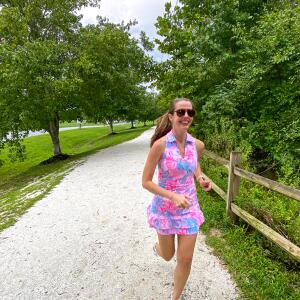 I developed asthma in my 20s, and for a long time, it was not well controlled. It's a humbling experience to not be able to breathe well, and it took me a while to accept that I had a chronic illness.
After my diagnosis, I went through many years of trial and error to find the right combination of medicine and treatments that brought me relief from regular asthma attacks, especially when I was dealing with common triggers like sinus infections or colds. Before I figured out my treatment regimen, I'd get sick with a cold and spiral into a struggle with asthma and coughing that would last 1 to 2 months. There were times when simple daily tasks like walking up stairs or just getting through a long conversation would leave me winded.
Since I had a late diagnosis of asthma, I didn't really want to accept any limits on what I could and couldn't do with the disease – and that included running.
I was an unlikely runner. I've never been athletic at all, so it honestly still surprises me that I got hooked on running.
Around the same time I was working on getting my asthma under control, some of my friends registered for a local 5K race. I wasn't really interested in running, but I also didn't want to be left out of something fun, so I signed up. They were all so excited about the race and their enthusiasm rubbed off on me.
At the time, I couldn't even run a quarter of a mile in one go, so tackling 3.1 miles felt nearly impossible. I spoke with my doctor and he gave me the all-clear to start running. He also passed along some tips; he told me to use my rescue inhaler before exercise, avoid running on high pollen days, and take walk breaks if needed.
There was a lot of trial and error in the beginning. I made mistakes, like trying to run on super hot, high pollen afternoons – my asthma would be triggered and I'd have to stop. I also had to take breaks and walk a lot before my lungs and legs got strong enough. There were days my lungs wanted to give up because it felt so hard, but my heart didn't let me quit.
I followed a training plan over 8 weeks to get ready for the race. I started running small distances and eventually worked up to running the entire 3.1 miles, even with my asthma. I was blown away that I could do it.
On race day, I felt like I had wings. The running and racing community is such a joyful and inclusive group, and they sucked me in.
Running gave me something I didn't even know I needed, a new hobby that pushed my limits and made me feel empowered instead of controlled by my illness.
After doing several 5K races, I signed up for a 10K, and then a 15K, and eventually, a half marathon. For every race, I followed simple training plans and ran a little farther. I loved everything about it.
As my body got stronger, so did my lungs. I actually felt more in control of my asthma as a runner than I did before I started to run because I was much more in tune with my body. I felt like if I could run with asthma, I could do anything – perhaps even become a marathoner.
After running several half marathons, the idea of running a full marathon tugged on my heart. I figured if I was going to be a runner, I might as well go all in and run the ultimate race.
I signed up for the Chicago Marathon.
Over the course of 5 months, I trained for the marathon. Each week, I'd run 1 mile longer, with my longest training run hitting 20 miles.
The challenge was so hard, but I thrived on it. Every week, I felt like I had accomplished something that I once thought was impossible. I loved the entire experience.
On race day, I stood at the start line as a girl who once had out-of-control asthma, who could barely run a quarter of a mile. I pushed through limits I didn't even know I had that day, and the impossible felt very possible.
I cried as I crossed the finish line knowing that I was in control, not my asthma.
For those who also want to run a marathon with asthma, here's my advice.
Check with your doctor: My doctor said my asthma was controlled enough to try running and gave me some helpful information, especially about using medications. My doctor told me to use my rescue inhaler 30 minutes before my runs, which has been a huge help to me. Everyone's situation is different, though, so make sure to check with your physician before starting any exercise routine.
Start with shorter races: Don't jump right into a marathon. Start with shorter races like 5Ks and 10ks to safely build your endurance and stamina. With asthma, it might take you longer to build up to running longer distances.
Consider walk-run intervals: There is no shame in taking intentional walk breaks, especially when running really long distances. If you are struggling to push through your longer runs with asthma, consider taking 1-minute walk breaks at the end of each mile or try something like the Galloway method, in which you alternate running and walking for specific periods of time.
Be mindful of the weather: My asthma gets worse in certain types of weather, like extreme cold or heat, or high pollen days. That's why, as much as I like to run outside, sometimes I run inside on a treadmill to avoid triggering my asthma.
Set realistic goals: As someone with asthma, you might not be the fastest runner out there. That's okay! Running isn't always about speed and often the biggest accomplishment is finishing the race. If you set realistic goals for yourself, you'll end up feeling happier about the result. For example, my main marathon goal was to finish healthy, and I did!
There is something magical about doing something out of the box, like running 26.2 miles, and it made me mentally and physically stronger than I ever imagined. I still pull on that strength to overcome challenges I face day to day, like raising my 3-year-old twin boys.
Running with asthma is an unlikely combination, but if I can do it, so can you.
Was this helpful?