Asthma and COPD Inhalers Have Gone Digital
Was this helpful?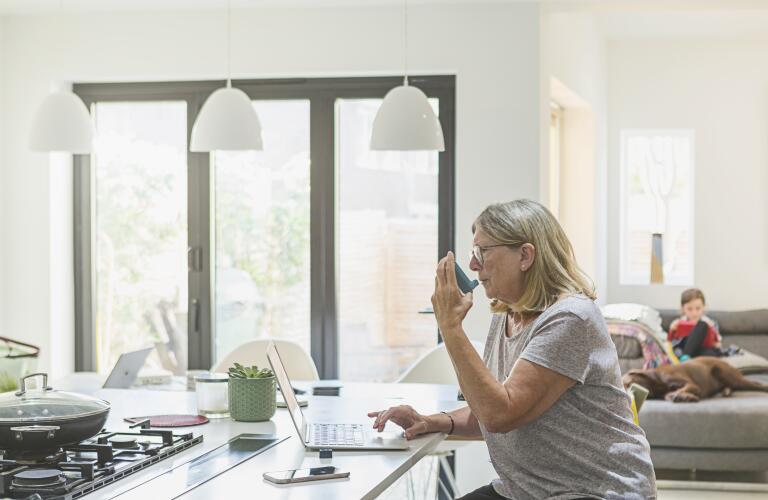 Inhalers for people with COPD and asthma deliver medicine right to the lungs. They relieve spasms and open the airways, easing breathing difficulties that come with these conditions. As essential as inhalers are to respiratory treatment, they can be difficult to use correctly. It's estimated that more than three quarters of the people who use them don't get the full benefit of the medicine.
Digital inhalers, including the newly approved ProAir, can help address common problems in inhaler use by electronically tracking how and when people use them. The data can help you and your doctor determine if there are ways to get more benefit out of the devices. Digital or "smart" inhalers have been shown to decrease the number of severe flares and emergency hospitalizations.
How Digital Inhalers Help
Most inhalers for asthma patients contain a powder form of albuterol, which quickly relaxes the lung muscles when they go into spasm. Inhalers for patients with COPD may contain albuterol and other short or longer-acting medicines. The drugs are effective, but many people inhale only about half the medicine they should from each puff.
To get the full benefit, you must shake the inhaler adequately between each puff and hold it at a particular angle. When you draw a breath, the duration and force of it affects how the medicine travels to your lungs. After a puff, you must hold the breath for ten seconds to let the medicine reach the airways and lungs before you exhale.
It can be difficult to know if you're using your inhaler effectively, and that's where technology comes in. There are different types of smart inhalers, but they all use sensors. The sensors deliver data to a smart phone app to track how often people use them and other useful information. Having an accurate log of inhaler usage can help you understand what triggers your symptoms, why you may not be getting symptom relief, and help your provider manage your asthma or COPD more effectively. They can also alert you if you miss a dose.
Types of Digital Inhalers
Some devices, such as Propeller and Hailie, attach to your inhaler to turn it into a digital "puffer." They have sensors that detect and record when and how often you use your inhaler. They may also sense environmental conditions, which can shed light on conditions that can worsen breathing problems.
The newer ProAir Digihaler is an inhaler with built-in sensors rather than an attachment. In addition to noting when and how often you use it, it monitors 'peak inspiratory flow rate,' which measures the strength of your inhalations and may be able to help predict flare-ups days in advance. Like other inhalers, the ProAir is breath-activated and contains multiple doses of medicine. It uses Bluetooth (a wireless technology) to connect to a smartphone app, though it does not have to be connected to the app to use the inhaler.
These new digital devices can help you and your provider determine if you need to change how or how often you use your inhaler. The goal is to get an appropriate dose of medicine so you can manage your condition more effectively. If you need help using your inhaler (or a digital inhaler), your doctor may refer you to a respiratory therapist. Knowing the right (and wrong) way to use your inhaler is crucial for symptom relief and preventing dangerous flares.

Was this helpful?