SOCIAL VOICES

5 Practical Tips for Happy Parenting with Asthma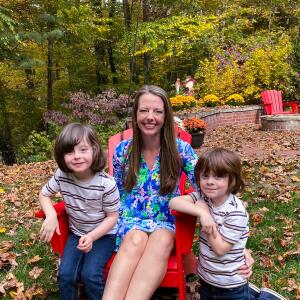 I have asthma and am also a mom to three-year-old twin boys. I've struggled with asthma for most of my adult life and before having my twins, I lived through several years where my asthma was uncontrolled and very disruptive. I worked with specialists to get my asthma under control and after I did, I was so grateful to have a healthy and successful twin pregnancy, even with asthma.
Parenting under any circumstances is undeniably hard. Parenting with asthma, or any chronic illness, requires a bit more care. You really have to find a balance between taking care of yourself and taking care of your kids. I've found that a bit of routine and a lot of grace gets us all through the day.
I'm not an expert in parenting and am learning more every day, but here are some of the things I've done along the way that have led to a happier parenting journey.
When you have kids, your natural reaction is to do everything for them first. However, the problem with having a chronic illness like asthma is you can't ignore it. You have to manage your symptoms, take your medication, and monitor your health. Otherwise, you might end up so sick that you can't give your kids the care and attention they need.
It's critical not to run on empty and to manage your medications and symptoms, even with kids. You can't take care of your kids if you don't take care of yourself. Go to your doctor's appointments, refill your prescriptions, and find time to take your meds even when you don't have any time.
Self-care is not selfish, it's critical as a parent with asthma.
Kids thrive on routine. I've found developing and sticking to a routine with kids will make your life easier while trying to parent with asthma.
Make time for the family to take daily walks, go to bed at the same time each evening, and try to eat healthy meals. Meal plan in advance so you don't have to stress about what's for dinner. I have 2-3 weeks' worth of dinner ideas that I rotate through. It takes some work upfront, but it's worth it come dinnertime.
When the twins were newborns and babies, this meant I kept a strict schedule for feedings. It's the only way I survived those early days. The schedule has changed through the years as the twins have grown, but I still follow one pretty closely.
Of course, include taking your medications and making time for self-care in your routine. Asthma is better managed with routine, too.
Once you have kids, it's more important than ever to try to stay healthy. If you've had asthma for any amount of time, you probably know exactly what triggers it.
Whether your triggers are high pollen days, dust, or certain animals, do your best to avoid any triggers to help manage your asthma.
With kids, it can be hard to avoid colds, but do what you can to keep your immune system strong, as colds are often a big trigger of asthma attacks.
Parenting with asthma means sometimes you will have to ask for help. My asthma is pretty controlled these days, but I do tend to get really sick with colds because of my asthma. My breathing is labored and I struggle doing basic activities. That means that when I get sick, I need to ask for some help, whether it's with cooking dinner, child care, or other everyday tasks. It seems silly to request assistance sometimes because it's "just a cold," but often I'm pretty sick with them and it's harder for me to recover than other people. I know that if I try to push myself, I'll stay sick for even longer than usual, so I try to listen to my body and rest as much as I can.
No matter how your symptoms affect you, the best thing you can do for your kids and your asthma is to ask for help when you're flaring up.
We live in a world where there are huge expectations on moms and dads to have it all together. We're supposed to pack the perfect lunches, keep our kids away from screen time, and host perfectly planned holidays. Sometimes, especially when you're dealing with the added stress of a chronic illness like asthma, you just can't do it all.
If you are having a day with breathing struggles, it's okay to let the kids watch a movie or eat a pre-made lunch. Don't feel guilty ordering takeout or skipping the fancy extras. When you are struggling, allow yourself to not do as much. Lower your expectations and be realistic about your capabilities.Let your kids know that you aren't feeling well, and have them help. They'll probably love taking care of Mommy or Daddy and feel empowered when asked to help with small tasks. You really don't have to do it all yourself.
Over the years, I've found that giving yourself a bit of grace is the biggest thing you can do to have a happier parenting journey.
Was this helpful?