SOCIAL VOICES

4 Tips for Juggling Asthma, Kids, and Work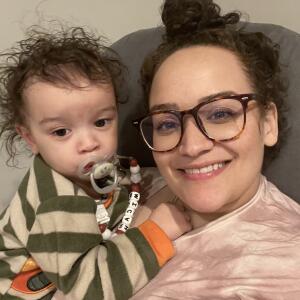 I'm a mom of two young boys and I work as a blogger and social influencer. Running my own business and running after my kids can be tough to handle – and adding asthma to the equation can be absolutely exhausting.
When my asthma spikes, I feel completely drained. However, I still have real-life responsibilities even if all I want to do is go to bed and sleep until my asthma symptoms dissipate. The problem is, sometimes my asthma is bad for weeks or even months. I'll have a constant bothersome cough that irritates my airways and takes all my energy. I'll be honest: some days are really hard. It can be a struggle to get through the day when everything hits at once.
I don't have it all figured out, but as the years pass, I learn more and more about balancing my family, my career, and my asthma. It's not easy, but there are ways to lighten your load and take care of yourself.
When you're in the middle of a work day or the kids are running around, it's very hard to figure out how to take care of yourself on top of everything else. That's why consistently doing all I can to prevent a flare-up is key. I always get plenty of vitamin C to stave off colds, which can lead to an asthma flare-up. And I've committed to using my daily inhaler so I don't have to depend on my rescue inhaler. It's also helpful to recognize when my asthma is worsening so I can be proactive and take extra steps to minimize symptoms, like avoiding triggers and cutting down on my workload.
It's important to find an asthma treatment that works for you, but this is something I've struggled with at times. When my cough is especially bad, my rescue inhaler doesn't always help so I've even done nebulizer treatments – these ensure the medication gets deep into my lungs. You're not alone in managing your asthma, and it's important to ask your doctor for help if you need it.
Before I had my first child, I used to work in an office, which was extremely hard. The air conditioning system kick-started my asthma cough, since any extreme temperature change can affect my asthma. I made sure to bring my rescue inhaler everywhere with me and I would try not to go inside and then outside very often so the air I was breathing stayed consistent.
Now, I work from home, which has its pros and cons. I can make my environment comfortable for me so my asthma symptoms aren't irritated. I've noticed that window A/C units increase my asthma symptoms, so I've set up a fan in my living area and fortunately, we now have central air, which makes a big difference.
Working from home with small children can be the hardest job in the world. It can be a challenge to focus on work while also keeping an eye on my kids and making sure they're getting what they need. Just when I start to get some things done, my one-year-old will wrap himself around my legs and start to cry, or I realize it's time for lunch. I've found that taking breaks throughout the day can help, especially when you're in the midst of dealing with bad asthma symptoms. When my asthma starts to worsen, I'll feel like I can barely function, and everything hits me all at once. If I try to push through, it usually gets even worse. I try as much as possible to take breaks and cut big tasks up into smaller, doable chunks.
I've also learned to be flexible with timing. When I've had a bad day, I'll try to go to sleep when the kids do to help me feel refreshed the next morning. Other days, I'll stay up later if I need to so I can get things done without interruptions. And sometimes I'll take the day off from work if I'm feeling burnt out and need time to rejuvenate and refocus.
Prioritizing self-care on a regular basis is a must, especially when you have a flare-up of asthma symptoms. I've learned to ask for help when I need it, and to take some time to relax whenever I can.
Meditation is a huge help for me when I'm overwhelmed with all the responsibilities of family and work, and my asthma is making things even harder. When I'm feeling panicked, meditation centers me and helps me focus on the current moment so I feel calmer and able to take on whatever is thrown at me. Plus, the slow, consistent breathing of meditation also helps me calm my asthma symptoms. Meditating regularly has given me a healthy, positive mindset, which can help on so many levels when it comes to managing kids, work, and asthma. Starting from a place of calm when things are chaotic makes me a better mom and individual.
It can take some time to find what works for you, but there are many ways to balance your home and work life, even when your asthma is making it harder.
Was this helpful?