Voltaren Gel: What It Treats and How It Works
Was this helpful?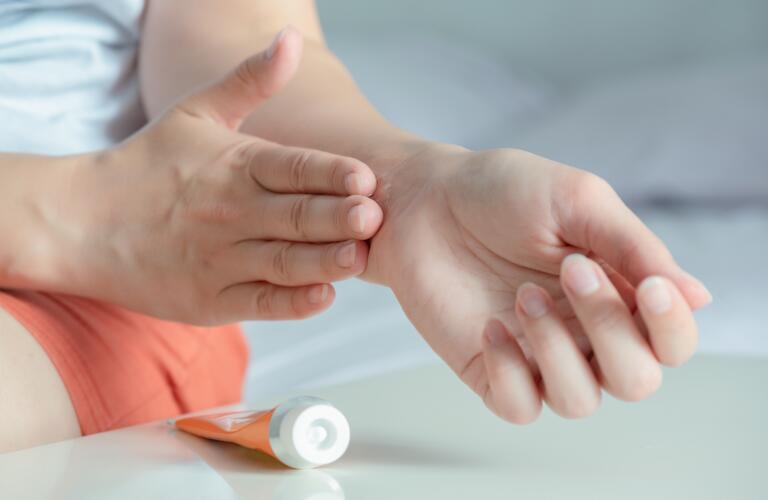 Voltaren is a brand name for the drug diclofenac. This medication is a nonsteroidal anti-inflammatory (NSAID) drug, like aspirin or ibuprofen. Diclofenac is mainly used to treat arthritis pain in the joints. It is generally safe to use topical Voltaren gel, but there are package warnings for groups who should avoid using this product.
What Is Voltaren Gel OTC Used For?
Previously available only as an oral medication, diclofenac is now available in topical gel form under the brand name Voltaren gel OTC. (The "OTC" stands for over-the-counter, meaning you don't need a prescription to buy it.) As with NSAIDs you take by mouth, Voltaren gel treats the joint pain, stiffness and swelling caused by osteoarthritis. It reduces inflammation and pain. Voltaren gel is approved for use on arm and leg joints only. It has not been studied for use in the hips or spine. You should not use Voltaren gel to treat muscle pain in other areas of the body, such as the lower back.
Unlike other joint pain creams and gels that only contain liniments like menthol and camphor, Voltaren gel contains a potent anti-inflammatory drug that is absorbed into your body through the skin. To avoid side effects, you should not use Voltaren gel in a larger dose or more often than indicated on the packaging.
The Voltaren gel OTC packaging includes a card that shows how to measure a 2-gram or 4-gram dose of the product. The Voltaren gel dose varies, depending on which joints you're applying it to. You should not use the gel on more than two body areas at a time. The dosing instructions for Voltaren gel are:
For the hands, wrists or elbows: Apply 2 grams to the affected joint, up to four times per day
For the feet, ankles or knees: Apply 4 grams to the affected joint, up to four times per day
Voltaren gel is intended to be applied up to four times a day for 21 days only. If your pain persists after three weeks of regular Voltaren gel use, you should consult your doctor.
Never wrap the affected joint with a bandage or any sort of covering after applying Voltaren gel, as the added heat can cause your body to absorb more of the medicine than is safe.
Voltaren Gel Side Effects
Diclofenac is a potent nonsteroidal anti-inflammatory drug, which means it can cause sudden, serious bleeding. (NSAIDs reduce blood clot formation resulting in bleeding.) You should check with your doctor before using Voltaren gel if you have:
Allergic reactions to other NSAIDs, such as aspirin
History of heart attack or stroke
You should not use Voltaren gel if you are pregnant or plan to become pregnant. You also should avoid diclofenac if you are breastfeeding.
Using Voltaren gel in higher-than-specified doses or applying it more often than indicated can increase your risk of severe complications, such as stroke, heart attack, or sudden, uncontrollable gastrointestinal bleeding.
When used appropriately, Voltaren gel can ease your osteoarthritis joint pain and help you enjoy an active lifestyle. Before using this product, consult your doctor or pharmacist to make sure it's safe for you.

Was this helpful?