The Right Shoes Can Ease Knee Pain
Was this helpful?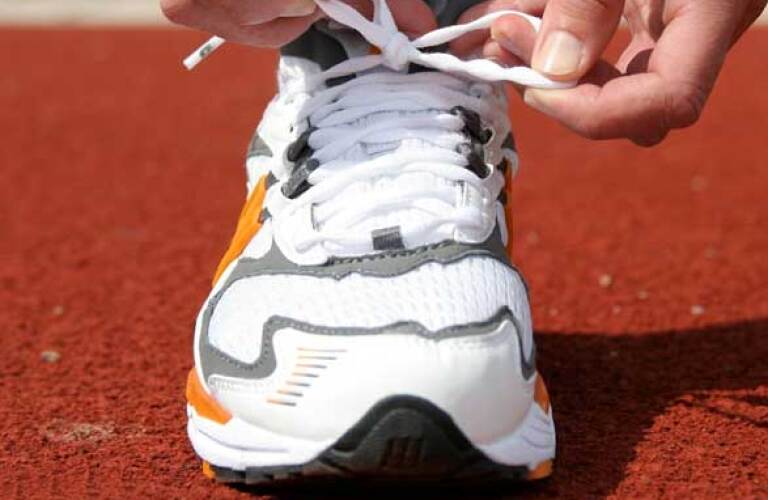 Boots, sandals, pumps, sneakers, loafers: When it comes to shoes, the options are dizzying. What you wear on your feet can affect your knees, so it pays to know which footwear may lessen pain and protect your knee joints. These tips can help you choose the right shoes.
Your feet change with age, and so should your shoe choices. The foot muscles get weaker, and the foot joints get creaky. Flexibility decreases, and heels lose some of their fatty padding. Shoe size may even go up as the feet spread, thanks to the effects of weight and gravity. Add in problems like bunions and arthritis, and wearing comfortable, well-fitting shoes becomes more important than ever.
The impact of footwear on knee arthritis hasn't been well-studied. But recent research shows that flat shoes with flexible soles—like flat walking shoes—put less stress, or "load," on the knee than clogs and thick-soled stability shoes.
This leads experts to think that shoes with a low sole that's flexible and bends with your foot could help prevent arthritic knee damage and pain. Think light athletic shoes or rubber-soled oxfords rather than shoes with stiff, thick soles.
Special insoles called lateral wedged insoles may provide pain relief for some people. Studies of these prescription shoe inserts have shown inconsistent results, however, and more research is needed.
A good fit and comfortable feel are the most important factors when selecting shoes. Your best bet is a shoe that's shaped like your foot. One trick is to trace the shoe on paper, then step barefoot onto the outline to see whether your foot fits within it.
Choose shoes with a flexible rubber sole for cushioning. A square or rounded toe box is best, as it gives your toes room to move.
Avoid mules and open-backed clogs, which don't provide back support. And high heels? They place tremendous stress on the foot and toes and lead to posture problems. Wear low heels (2 inches or less) only when you must, and switch back to flats as soon as you can.
Feet tend to swell during the day, so shoe-shopping is best done in the afternoon, when your feet are at their largest. Have your feet measured while you're standing. In most people, one foot is larger than the other, so buy the shoe size that accommodates the larger foot.
Try on both shoes wearing the same type of stockings or socks you plan to wear with the shoe after purchase. If you wear prescription orthotics, be sure you've brought them with you.
Take a good walk around the store. Make sure the shoe fits well on the sides, front, back, and top and you have wiggle room in the toe box. You want shoes that feel comfortable right away, without needing to be broken in.
If you have questions or difficulty finding well-fitting shoes, consult a podiatrist or visit an orthopedic shoe store.
Wearing the right shoes can lessen arthritis pain and protect your knee joints.

Flat shoes with flexible soles put less stress on the knee than clogs and thick-soled stability shoes.

When shopping for shoes, your best bet is a shoe that's shaped like your foot.

Was this helpful?