Self-Massage for Knee Arthritis
Was this helpful?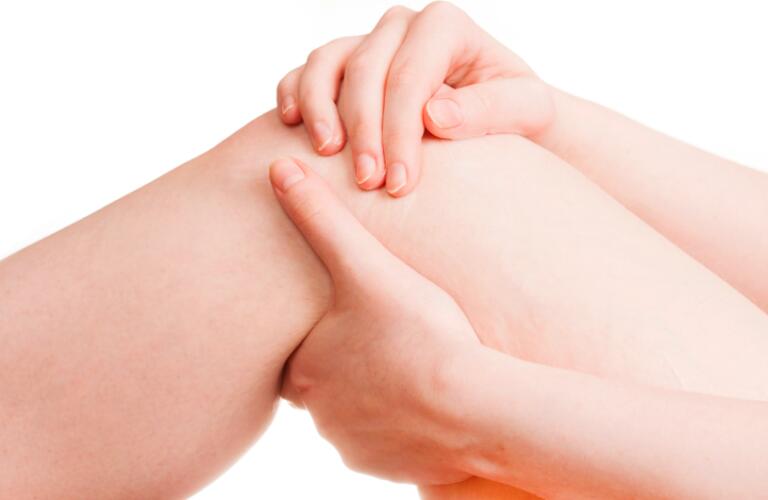 After a full day spent running after a toddler, your knee is throbbing.
No surprise there, as you have knee osteoarthritis (OA), the wear-and-tear form of the disease. For you and the 20 million-plus people in the United States who have knee OA, symptoms including pain, swelling and stiffness tend to worsen after physical activity.
Medications including non-steroidal anti-inflammatory drugs, steroids and other injections and sometimes joint replacement surgery can all help relieve knee OA pain. Lifestyle changes such as weight loss (if you are overweight) and regular exercise can also help improve pain and function.
Massage, including self-massages, however, whether on their own or in conjunction with some of these therapies, can also make a big dent in your knee pain.
The best part? It's free, drug-free and easy to learn and incorporate into your life and lifestyle.
A 20-minute self-massage done twice weekly improved pain, stiffness and function among people who have knee OA, according to a study in the International Journal of Therapeutic Massage & Bodywork.
You don't need to become a licensed massage therapist or even know the difference between Shiatsu and Swedish massage to be able to give your knee a pain-relieving rubdown.
Take a seat. Knee self-massage is typically done while seated.

Warm-up. Yes, massage like exercise also requires a warm-up to prepare your joints and bones. Use large, strokes across your knee before starting the massage. Applying heat before the massage can also help relax and ready your muscles.

Identify the painful or sore areas on your knee. Use smaller strokes on these areas. Move your hands or fingers back and forth, forth and back. The good news is you can't do it wrong! In the study, participants focused on their quadriceps (the four large muscles in the thigh control leg extensions at the knee). Consider using an oil or lotion to easily move your hands over your skin.

Listen to your body. If it is too painful, ease up on the pressure. Massage should not hurt.
There is no one-size-fits-all answer as to how often you should massage your aching knee/s. The International Journal of Therapeutic Massage & Bodywork study suggests twenty minutes twice a week is enough to make a difference. This is all it took for participants to improve the pain they felt when walking on a flat surface, up or down stairs, at night while in bed, sitting or lying, and standing up, when compared with their counterparts who were placed on a wait list in lieu of self-massage training. They also reported less stiffness upon first waking in the morning and lying, sitting, or resting later in the day.
What's more, self-massage also boosted participants' ability to walk up and down stairs, rise from a chair, get in and out of bed, shop, and perform other activities of daily living.
Massage also lowers stress levels, which improves overall quality of life. Self-massage can augment the benefits of professional massage as well. If you need some extra help, DVDs that teach self-massage techniques are available. You can also talk to a physical therapist or massage therapist who specializes in treating knee OA.
Was this helpful?