6 Ways to Maintain a Healthy Weight: Your Knees Will Thank You
Was this helpful?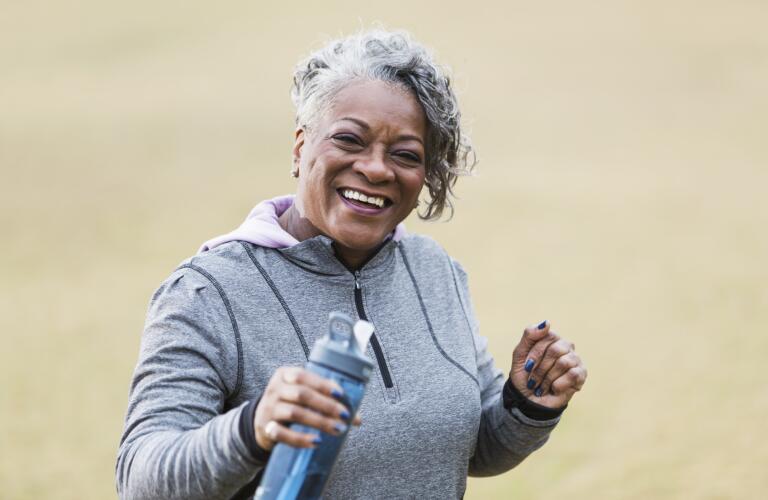 Carrying around extra weight can be hard on your knees. Not only does it increase stress on your joints, it could possibly speed up the breakdown of cartilage. If you already have knee osteoarthritis, it can make your pain and symptoms even worse.
But even a modest weight loss of five to 10 pounds can make a big difference. A 2005 study in Arthritis & Rheumatism showedlosing just 10 pounds would relieve 40 pounds of pressure from your knee joints. Studies have also shown that weight loss can improve function, lower inflammation levels in the body, and lessen the pain and symptoms of arthritis.
Of course, losing the extra weight takes discipline and, to be successful, long-term management. Not so easy for everyone, but now you have a powerful incentive: pain relief. Here are some tips to get you started on the road to realistic and achievable weight-loss:
Start with a plan. Judith Beck, renowned cognitive therapist and author of The Diet Trap Solution, says dieting may work in the short run, but it's too easy to revert back to your old way of eating. You need a long-term, healthy and satisfying plan that allows you to eat your favorite foods (think chocolate, fries and wine) every day, in moderation.
Set useful goals. They should be specific ("Walk for 30 minutes, five days a week" versus "Exercise more"), attainable and forgiving. Don't expect to be perfect, and if you slip-up, try not to fall into the trap of self-blame or "giving up." Get back to your plan as soon as possible.
Cut back on both dietary fat and total calories. Dietary fat may help reduce calories, but if you don't cut your overall calorie intake, as well, you won't achieve significant weight loss.
Do some activity every day. Dieting alone won't do the trick. For real results, you have to get moving, and just like the long-term eating plan, the best bet is to choose activities that you enjoy (think sports, swimming, or even dancing!). Start slow and progress to 30 minutes or more on most or, preferably, all days of the week. Grab a friend to keep you company and accountable.
Post reminders about why you want to lose weight. Whether it's to feel better, look better or have stronger knees, you need a strategy for those times you will inevitably fall off the wagon. Write down your reasons, and post them where you will see them daily. Prepare a written "motivational speech" that will help you get back on track today!
Choose weight-loss medication as a last resort. Clinical guidelines suggest that you try lifestyle-based approaches to lose weight for at least six months before using weight loss drugs. If you do opt for medication, make sure it's approved by the FDA for long-term use, and that it's used in conjunction with dietary changes and physical activity. And, as always, check with your doctor before starting any medication or supplement.
Was this helpful?