With TAVR, I Can Keep Going Full Speed
Was this helpful?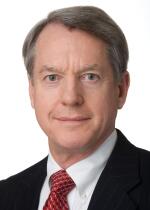 I live a very full life, and I rarely slow down. I run a public opinion research firm in Washington, D.C. I'm fortunate to have a wonderful family; I'm married and have five children and two grandkids.
For more than three decades, I've flown a private airplane, and I played racquetball for about the same amount of time, until the cartilage in my knees forced me to find new activities. Now, I bike frequently, lift weights, and golf. I'm 70 years old and I'm still going full speed–and I can't imagine being any other way.
When I was diagnosed with mild aortic stenosis in my mid-60s, my cardiologist told me I didn't need to take any action until it progressed. I kept moving at my normal pace and checked in with my doctor every year. At every appointment, my heart's aortic valve got narrower and narrower, preventing my body from getting the oxygen it needed. But I continued to feel fine–I still biked 100 miles each week and had plenty of energy, even though my aortic stenosis had become severe. I asked my cardiologist if it was time to replace my valve, and I added that I didn't feel symptomatic. He said, "When you start having symptoms, we'll know it's time."
My Aortic Stenosis Confession: Susan
A few months after that appointment, I was going to a concert with my wife. I dropped her off at the door and went to park the car. As I jogged down the sidewalk to get to the theater in time, I felt a little lightheaded. As I walked through the door, I thought, "I'm feeling a little faint." And that's the last thing I remember until I woke up in the ambulance. I had passed out right in the hallway. Someone found my ticket in my pocket and notified my wife. She ran to the ambulance and jumped in, and then I was taken to the hospital.
At the hospital, they checked to make sure I didn't have a concussion after my fall, and they confirmed my diagnosis of severe aortic stenosis. It was time to get my heart fixed. They explained that the valve had to be replaced, and there were two ways that could happen. The cardiologists in the room started to debate the options. One made a strong case for open-heart surgery, in which a surgeon would cut open my chest and replace the valve. I'd have months of recovery ahead of me and I'd need to take a break from my go-go-go lifestyle. But the other cardiologist told me, "You would be a very good candidate for a TAVR procedure." He explained that TAVR, or transcatheter aortic valve replacement, was much less invasive and involved a doctor threading a catheter containing a replacement valve up from a small incision in an artery to my heart. Recovery was typically quick and there wasn't as much of an impact on one's life.
My wife and I started investigating and we decided TAVR was the way to go. But there was a big obstacle. Today, TAVR is approved by the U.S. Food and Drug Administration (FDA) for most people with severe aortic stenosis. But just a few years ago–when I needed my valve replaced–open-heart surgery was still the gold standard. Although TAVR had been performed for several years, it was only FDA-approved for patients who were likely to have complications from open-heart surgery. I was relatively healthy and younger than the average severe aortic stenosis patient, so my risk of complications after open-heart surgery was low.
People like me were getting TAVR only through the clinical trials; it wasn't something my cardiologist could just schedule. I almost participated in one trial, but that particular study was comparing outcomes between patients receiving open-heart surgery and TAVR. There was a 50/50 chance I'd end up with the surgical option. My wife watched a video showing an open-heart surgery, and I came home to find her sitting on the couch in tears. She said, "If there is any safe, effective alternative to this, I'm not letting them do this to you. This is brutal." I withdrew from the clinical trial.
At that point, we started looking for a different approach. We even considered traveling to Germany, where TAVR procedures are commonplace. We would've had to pay for everything out of pocket, but it seemed like it might be worth it. However, our son came to visit us as we were discussing next steps, and he texted a cardiologist friend who suggested we look into more trials on ClinicalTrials.gov. We immediately got on the computer and found there was another trial six miles from our home, in which every patient would receive TAVR. We contacted the researchers and after reviewing my tests, they accepted me into the study. I'd learned I had a bicuspid aortic valve–my valve had two leaflets, whereas most aortic valves are tricuspid, with three leaflets. This particular study at Medstar Washington Hospital Center had filled its openings for tricuspid valves–but they had a few more slots for people with bicuspid valves. All I can say is, I am a lucky man. Today, the FDA has approved TAVR for most severe aortic stenosis patients, so we wouldn't have to jump through these hoops. But back then, I was grateful to find a solution, especially one so close to home.
A little over a month later, I got to the hospital for my TAVR procedure. It lasted all of 45 minutes. I stayed the night at the hospital, and when I woke up the next morning, I felt just fine–no pain at all. I got out my laptop and started going through some work emails. The nurse came in and asked, "What are you doing sitting up?" I told her, "I feel fine. I'm ready to go home. Let's get me out of here." It turned out I needed a few tests and the doctors wanted to make sure I didn't need a pacemaker. Everything came back looking good, and I spent one more night there. The next day, I checked out of the hospital. I was ready to go back to work, but my wife persuaded me to take one day off.
On Monday, I was back in the office, and I felt great. The doctors told me to avoid biking or weightlifting for 30 days–not because of my valve, but because the incision in my artery needed to heal properly. I walked a lot during those 30 days so I could try to stay in shape. After a month, I went back to the doctors; they did an echocardiogram and they said, "You're good to go. Get back on your bike. Get back in the weight room."
Every six months, I go back for a check-up, and the doctors have me walk back and forth in the hall to measure my fitness level. Every appointment, I time my walk to see if I'm faster than the last one. They won't let me jog, but one of these days, I hope they do. I want to crush my old record.
I am grateful every day that I was able to get a TAVR. It was so much less invasive, with a drastically different recovery experience than open-heart surgery. I was back on my bike and in the weight room one month after my procedure–something that would have taken months had I gone the surgical route.
And the best part? I had more energy almost immediately. I noticed it on my first bike ride after the procedure. There's a hill at the end of my 20-mile ride, and I had a lot more juice at the top of that hill than I had before. It made me realize I probably should have gotten the TAVR much earlier. That's my recommendation to anyone with severe aortic stenosis. Don't wait until you pass out in a concert hall. Get your valve replaced as soon as you can, because feeling bad happens gradually. You don't realize you've got less energy until you see the difference with a new valve.
Was this helpful?