SOCIAL VOICES

What the Heck is an Interventional Cardiologist? And Other Mysteries of Heart Valve Disease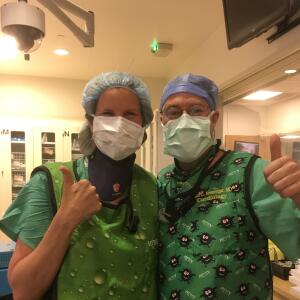 When I first learned I had severe aortic stenosis, or a heart valve failure, and needed heart valve replacement, I knew absolutely nothing about it. My doctor told me aortic stenosis is a condition in which the aortic valve doesn't open properly, preventing the flow of blood from the heart to the rest of the body. He said I'd need my aortic valve replaced, either through open-heart surgery or minimally invasive transcatheter aortic valve replacement (TAVR), but that just brought on more questions. Because of my history of high dose chest radiation to treat Hodgkin lymphoma when I was 17, the main thing I knew was open-heart surgery held greater risk for me than the average patient. TAVR seemed like the best option for me, but I was still nervous about it. I discussed the procedure extensively with my doctor and even spoke to someone who'd gone through the TAVR process already. With their help, I learned a lot about this method of aortic valve replacement and felt confident that TAVR would help me get back to living a life I loved–and fortunately, that's exactly what happened!

At first, I was overwhelmed by what the doctor was telling me; I felt a lot of anxiety as I learned new medical terminology and tried to understand the nuances of my condition. But knowledge is power, and educating myself helped alleviate a lot of stress. If you're considering a TAVR procedure, here's what you need to know from someone who has been there.

With TAVR, a doctor doesn't need to open your chest to access your heart; instead, a catheter containing a replacement valve is threaded up through an artery to your heart. My first appointment at the university medical center where I would receive my treatment took place with a heart team, which included both a heart surgeon AND an interventional cardiologist, who together discussed my treatment options. I had never even heard of an interventional cardiologist; I assumed I would see a heart surgeon to discuss my options for valve replacement. I was surprised to learn that generally a heart (cardio-thoracic) surgeon performs surgeries that involve opening the chest, like coronary bypass surgery, or replacing any of the four heart valves via open-heart surgery. An interventional cardiologist performs catheter-based interventions like cardiac catheterization or TAVR.

When discussing TAVR with me, Dr. John Messenger, my interventional cardiologist, explained that my aortic valve could be replaced through a small incision in the femoral artery in my groin. This is the case for most people, although sometimes a small incision is made in the chest instead of the groin area. Dr. Messenger told me he would thread a catheter containing a replacement valve through the femoral artery to my heart. After careful positioning, the new valve would open over my diseased valve and start working right away!

Since TAVR is a catheter-based procedure, it can be performed while the heart is beating, unlike open-heart surgical aortic valve replacement (SAVR) which requires the chest to be opened and the heart to be stopped. A heart/lung bypass machine is necessary during open-heart surgery to add oxygen to the blood and circulate it through the patient's body. But with TAVR, no heart/lung bypass machine is needed, since the heart continues doing its job during the procedure. Additionally, conscious sedation is often used during TAVR, instead of the general anesthesia used in SAVR. With conscious sedation, a combination of medications is used to relax the patient and to block pain. Plus, the patient is able to breathe without needing intubation. Conscious sedation has fewer risks and a shorter recovery time than general anesthesia.

The first TAVR procedure was performed in France in 2002. In the last 20 years, it's been thoroughly studied and has undergone many iterations and improvements. In the past, SAVR via open-heart surgery was the standard of treatment for severe aortic stenosis, and only those with a high risk of complications from surgery were recommended to undergo TAVR. Today, most people with severe aortic stenosis are good candidates for TAVR and can avoid the long recovery, higher risks, and more invasive nature of open-heart surgery.
When discussing treatment options with my doctors, I learned that mechanical replacement valves are sometimes recommended for younger patients because the metal valves can last longer. I didn't want to receive a mechanical valve because it would require both open-heart surgery and the need for prescription blood thinners for life, which carry an increased risk of bleeding complications. However, when a tissue valve is implanted via TAVR, the only blood thinner needed is a daily baby aspirin.

I thought that if/when my new TAVR valve needed to be replaced, I would need open-heart surgery in the future. I was very pleasantly surprised to learn that I could have TAVR again, called a valve-in-valve TAVR, if I ever needed another valve replacement. The latest iterations of TAVR valves have not been widely used long enough to study how long they will last in humans; however, we have reason to believe the valve longevity will be similar to surgically implanted tissue valves, lasting 10 to 15 years.

When I make important decisions, I am most comfortable moving forward when I have done my research AND heard from someone with real life experience, whether I'm making a significant purchase or deciding on a vacation destination. I find it interesting that patients are expected to choose a treatment and course of action after consulting with just one health provider. I'm a firm believer in second opinions to understand all the treatment options available, especially when it comes to heart valve replacement. It's important to hear from both a surgeon and an interventional cardiologist experienced in performing TAVR before you make your decision.

It's also incredibly helpful to hear from patients who have had TAVR themselves. Before my own TAVR, I asked my heart team if they knew of a patient who would be willing to speak with me about the TAVR experience. They got me in touch with a man named Bill, and we spoke on the phone before I made my decision. Hearing how happy he was about his TAVR procedure, how much better he felt afterward, and how easy his experience was gave me confidence that I was making the right decision for me.

Now, it's quite easy to connect with other TAVR patients online to ask questions, learn about their experiences, and even get support through your journey. Part of the reason I launched my website, www.strongheartnow.com, is to connect with other aortic stenosis patients trying to learn more about their options. There are many resources out there, including online support groups, so don't be afraid to see what's available to help you with this process.

Recovery from TAVR is generally quick, with most patients heading home the day after the procedure. After I became very active as a patient advocate, I had the opportunity to observe four different TAVR procedures in the same day. I came back two weeks later and observed one 4-hour long valve replacement via open-heart surgery in order to get an accurate idea of the differences between the two. The day I observed the TAVRs, I went on rounds with Dr. Messenger to visit the patients within hours of their procedures. The first patient we checked on was a 65-year-old man. When we walked into his room, he was sitting up in bed, eating lunch, and chatting with his wife. One of his first questions for Dr. Messenger was, "Doc, how soon can I get back to the gym to my weightlifting routine?"
My Aortic Stenosis Confession: Susan

My own TAVR experience was similar. I spent one night in the hospital after the procedure, and I was even able to attend an event that was important to me the day after I left the hospital. Most people are able to return to their own "normal" fairly quickly after TAVR, with a short down time primarily to ensure that the incision in the femoral artery heals completely. Within two weeks of my TAVR, I was back to teaching middle school full time. Follow up appointments were simple, too; I saw my doctor one month after TAVR and again one year later.
A week or two after my TAVR, once I was home and feeling much more like myself, I realized just how much time and energy I had spent feeling anxious. If I had only known ahead of time how easy it would be, I could have saved myself so much stress! When I first learned that I could have valve replacement via TAVR, I felt as if I had won the lottery. And six years post TAVR, I know I did!
Was this helpful?