Not Your Average TAVR Patient: My Personal Experience
Was this helpful?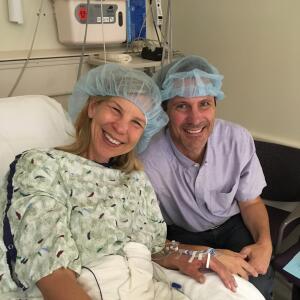 I'm not the "average" patient who receives transcatheter aortic valve replacement (TAVR) to treat their aortic stenosis, a condition in which the flow of oxygenated blood from the heart to the rest of the body is restricted because the aortic valve doesn't open normally. The majority of people with this heart valve disease are older than 60. However, I was diagnosed with severe aortic stenosis at age 47. Although I might not fit the typical demographic of someone needing a heart valve replacement, I've discovered that as patients, our experiences and emotions are more similar than not as we go through the process from diagnosis to treatment and beyond.
My Aortic Stenosis Confession: Susan

My diagnosis came as a complete shock. For several years, my primary care physician noted a murmur each time she listened to my heart with her stethoscope. She never discussed it with me, so I always assumed it was simply a variation of normal. I've since learned a murmur is an abnormal "whooshing" sound of blood flowing through the heart, and murmurs can indicate that a valve is too narrow or is leaking.

One day, my doctor listened to my heart and said, "Your murmur is changing, Susan. I want to have it checked by a cardiologist." I left her office with a referral in hand, and honestly, I didn't think much more about it. A few weeks later, after an echocardiogram, I followed up for my first visit with a cardiologist.
I had been feeling fine, so I fully anticipated the appointment to be uneventful. I was in for a surprise.

The cardiologist told me the test indicated that I had severe aortic stenosis. The condition is serious, and eventually fatal if untreated. Treatment requires replacing the damaged heart valve. I was in my late 40s and had never had a heart problem.

Aortic stenosis crept up on me while I was unaware. Thinking back on it, I had symptoms but didn't recognize them. Before I was diagnosed, I mistook my symptoms of occasional chest tightness and palpitations for anxiety. After all, I had recently gone through a divorce and started a new teaching job. I told myself the shortness of breath I experienced at my Zumba dance classes must be exercise-induced asthma, or allergies, or I was just out of shape. Never once did I consider my heart might be involved.
A Connection Between Valve Disease and Cancer

I did have a history of cancer. When I was 17, I was diagnosed with Hodgkin lymphoma, a type of blood cancer. I was shocked when the cardiologist told me the radiation treatment that cured my cancer had led to severe aortic stenosis three decades later.

I searched online to learn more about my new diagnosis and the connection to my previous cancer treatment. I found many medical research papers stating the link between mantle radiation treatment (high dose radiation to the entire chest) for Hodgkin lymphoma and subsequent cardiovascular disease, particularly valvular heart disease. I felt frustrated that I had not been followed regularly by a cardiologist, which, I now know, is the standard of care for many cancer survivors because cancer treatments can be harmful to the heart. And yet, I felt incredibly fortunate the problem had been discovered in time. Just two years earlier, a college friend had lost her brother suddenly to heart disease; he was close to my age and also a Hodgkin lymphoma survivor.

I was first told I would need open-heart surgery to replace my aortic valve, and I was frightened and overwhelmed about the path ahead. Because of my complicated medical history, I was referred to a large university medical center an hour from my home. I had no idea then what a lucky turn of events that was for me!

My appointment at the university hospital took place with a heart team, which included both a heart surgeon AND an interventional cardiologist, who together discussed my treatment options. I had never even heard of an interventional cardiologist. I was surprised to learn that generally, a heart (cardio-thoracic) surgeon performs surgeries that involve opening the chest, whereas an interventional cardiologist performs catheter-based interventions like heart catheterization or transcatheter aortic valve replacement (TAVR).

I was surprised and happy to learn I could be a candidate for TAVR, a minimally invasive procedure, instead of open-heart surgery. Dr. John Messenger, my interventional cardiologist, explained that my aortic valve could be replaced through a small incision in the femoral artery in my groin. He would thread a catheter containing a replacement valve through the artery to my heart. After careful positioning, the new valve would open over my diseased valve and start working right away! Because of my history of high dose radiation to the chest, open-heart surgery posed a higher risk of complication or poor outcome. TAVR seemed like a good idea, but I was still anxious about the unknown.

I asked Dr. Messenger if he knew a patient who would be willing to talk with me about the experience. Our valve clinic coordinator connected me with Bill, a former marine in his 70s, who graciously spoke with me before my TAVR. Talking with an actual patient who had gone through the procedure was the reassurance I needed. The day I learned I would be scheduled for TAVR, I felt like I had won the lottery! I was convinced it was the safest and best option for me.

My TAVR experience was smooth sailing: I had no complications and improved quality of life almost immediately. My color was better, I could walk without becoming short of breath, and I had energy! I was only in the hospital overnight after the procedure, and I was even able to attend an event that was personally important to me the day after I left the hospital. Most people are able to return to their "normal" fairly quickly after TAVR, whatever "normal" is for you. As Dr. Messenger says, "If you weren't a concert pianist before TAVR, you won't suddenly become one after." I was back to my normal job teaching middle school full-time two weeks later.

A few months after my procedure, I knew I wanted to help others just starting out on this journey with heart valve disease. I volunteered with the American Heart Association and became a Heart Valve Ambassador. I shared my story online at www.Heart.org and on my website www.strongheartnow.com. I regularly hear from other long-term survivors of Hodgkin lymphoma, from the U.S. and all over the world, who email me to tell me our stories are almost identical; they too were not aware about their risk of heart disease after cancer treatment. The folks in my online support groups are ever ready to share tips and encouragement, so newbies with upcoming procedures need not feel alone.
Sharing our patient experience is a powerful way to make a difference. When we share our stories, we give another person the gift of hope, and of knowing they are not alone. Bill called to check on me about a month after my TAVR, and he was happy to hear I had done so well. Just as we were wrapping up our conversation, Bill asked, "Have you noticed you cry more easily now?" As a matter of fact, I had noticed that I seemed to feel things more deeply in the first few weeks after valve replacement, but I thought it was just me being sensitive. Bill surprised me when he confessed, "Here I am, an old ex-Marine in my 70s, crying like a baby at the smallest things—it's because I'm just so damn happy to be alive!" I felt the same way—grateful and happy to have my life back! What a gift to know I'm not alone.
Was this helpful?