Meet Your Aortic Stenosis Team
Medically Reviewed By William C. Lloyd III, MD, FACS
Was this helpful?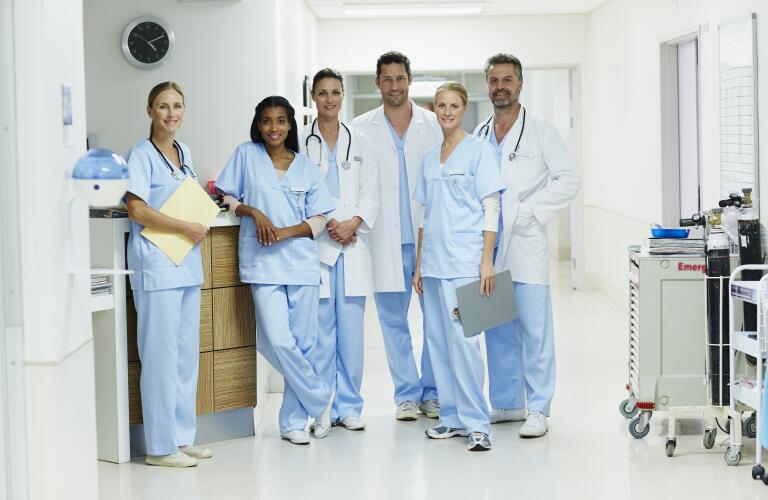 The people who treat you for heart disease or cardiovascular conditions, such as aortic stenosis, are specialists. They are doctors, nurses, and other healthcare professionals who spend their days devoted to this specialty area. While every hospital is different, the teams are usually made up of the same types of professionals.
My Aortic Stenosis Confession: Susan
Aortic stenosis occurs when the aortic valve opening narrows—this may occur after years of degenerative plaque buildup and damage. The aortic valve is responsible for directing fresh blood from your heart into your blood vessels. The narrowing restricts this blood flow, so the rest of your body can't get all the oxygen-rich blood it needs. To treat severe aortic stenosis, the aortic valve must be replaced. One way to replace the valve is through a transcatheter aortic valve replacement (TAVR). Get to know some of the people who could be on your TAVR team, working together to determine and carry out your individualized treatment plan.
Primary care physician. Your primary care physician (PCP) or family doctor may be the first doctor who recognizes the signs and symptoms of aortic stenosis. Your PCP will get reports from the specialists, in order to provide you with continuous medical care during and after your TAVR.
Cardiologist. When your PCP suspects you might need further testing and treatment for your heart, he or she will refer you to a cardiologist. A cardiologist specializes in the medical treatment (non-surgical and non-invasive) of the heart. Your cardiologist will review the test results from your PCP and order more specialized tests, such as a computed tomography (CT) scan, a stress test, or a cardiac catheterization, to make a diagnosis. It is the cardiologist who will refer you to other specialists, such as an interventional cardiologist to see if you would be a candidate for a TAVR procedure.
Interventional cardiologists. An interventional cardiologist is a cardiologist who has advanced training in diagnosing and treating problems concerning the structure of your heart--without using surgery. As part of the TAVR team, an interventional cardiologist will insert a special catheter (thin tube) into one of your blood vessels, and thread it to your heart. Once the catheter is secured, the interventional cardiologist uses the catheter to put the replacement valve into place.
Cardiothoracic surgeon. A cardiothoracic surgeon specializes in operating on parts of the body found in your chest and thorax. This includes your heart, lungs, esophagus, and more. Cardiothoracic surgeons on a TAVR team are responsible for making small incisions and putting the heart valve in place.
Radiologist. A radiologist is a doctor who specializes in performing radiology testing, such as CT scans and magnetic resonance imaging (MRI), and interpreting (reading) their results. As part of the testing process to see if you should have a TAVR, a radiologist will examine the images of your heart and report the findings and diagnosis to your cardiologist or surgeon.
Anesthesiologist: Anesthesiologists work throughout the healthcare system, as they specialize in providing anesthesia (the medication that puts you to "sleep" during surgical procedures) and pain relief. An anesthesiologist will create and deliver a personalized plan for your anesthesia to safely support the TAVR procedure. This could be general anesthesia, where you're completely asleep, or local anesthetic, where only specific area of your body is numbed.
Nurses play a vital role on the TAVR team. They may include:
Registered nurses (RNs): they assist in the lab or operating room, and may serve as critical care nurses for post-operative care.
Nurse practitioners: RNs with advanced training.
Nurse coordinator: sometimes called the valve clinic coordinator, they meet with the patients and family members to explain the TAVR procedure and answer any questions about the procedure and the recovery. Coordinators follow your progress throughout, to ensure that all testing before the procedure has been completed according to the hospital's protocol. The coordinator also makes sure you receive follow-up care either in the hospital or through outside clinics or offices.
Echocardiographer or cardiovascular sonographer: this is a technologist who has been specially trained to perform ultrasound (sonography) of the heart and blood vessels. If your cardiologist has recommended TAVR for you, a sonographer may do an ultrasound of your heart before the procedure, to give the TAVR team a clear image of the heart valves. On the day of your TAVR, a sonographer may be present to provide images during and after the procedure.
Medical assistants (MAs): they may assist in the operating room (OR) and provide post-operative care. As part of a TAVR team, an MA may act as a program coordinator, explaining the TAVR procedure and providing follow-up, preparing and giving medications, performing electrocardiograms (ECGs), and more.
Administrative coordinator: an administrative coordinator on a TAVR team takes care of the practicalities, such as scheduling the procedure and follow-up appointments.
There are many people who may play a role in your treatment for aortic stenosis. Some play a small role, others a larger one, but together, they form a team whose goal is to help treat your aortic stenosis and improve your quality of life.

Was this helpful?