SOCIAL VOICES

Aortic Stenosis: It's Not Anxiety or Old Age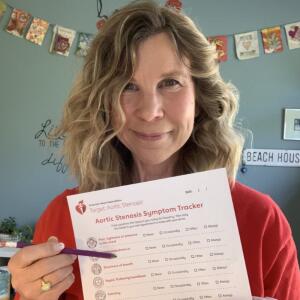 We've all done it—we notice something different going on with our bodies, and unless we're in excruciating pain, bleeding profusely, or a bone is obviously broken, we tend to push it aside and carry on with our day. Most of the time, a "wait and see" approach works out, but if symptoms continue, it's important to check in with a healthcare professional.
A few years ago, I was feeling increasingly short of breath with exercise. I loved going to Zumba dance classes, but when the exercise intensity increased, I struggled to breathe and had to slow down significantly to catch my breath. I concluded I was just out of shape. Other times, when I wasn't exercising, I felt a tightness in my chest. I attributed that to anxiety—when I'm feeling anxious, I experience a similar, uncomfortable chest tightness. Because I thought I knew the cause, it never crossed my mind to make an appointment with my doctor to dig deeper.
Like most people, I didn't know much at all about heart valve disease. Fortunately for me, my primary care physician noticed my heart murmur during a routine appointment for something completely unrelated. When she asked me if I had noticed any symptoms, I actually said "No, no symptoms." I didn't even know what heart valve disease symptoms were! She sent me for an echocardiogram (a painless ultrasound of the heart) and referred me to a cardiologist to review the results.
At my first cardiology appointment, I was diagnosed with severe aortic stenosis, or a heart valve failure. My cardiologist explained that the leaflets of the aortic valve in my heart had become thick and stiff, which made the valve's opening too narrow and greatly reduced my heart's ability to pump oxygenated blood through my body. This explained the shortness of breath and the chest tightness. I wasn't just out of shape. I wasn't just feeling anxious. In reality, my body wasn't getting the oxygen it needed to function well, and my heart was working overtime to try to make up for it.
To say I was shocked would be an understatement. When my cardiologist told me the treatment was valve replacement surgery, I moved from stunned to panicked. My journey from diagnosis to valve replacement was challenging. I was told my valve could be replaced via open-heart surgery, but ultimately, I took a less invasive route. I underwent transcatheter aortic valve replacement (TAVR), in which the doctor threaded a catheter containing a replacement valve up through an artery to my heart. Then, the new valve was positioned over my old valve, and it began working immediately.
After my successful valve replacement, I wanted to create and share resources that I wished had been available to me. I began by connecting with individual patients one by one, then created an online support group, and eventually helped start a nonprofit organization dedicated solely to patients with heart valve disease, Heart Valve Voice US, where I'm now the Director of Patient Engagement.
In addition to my own story of aortic stenosis, I've heard hundreds of others. Here's what I've learned: Most people don't know much about aortic stenosis, its symptoms, or the options for treatment. They, too, attribute the symptoms to anxiety or old age, without realizing something more serious is going on.
My Aortic Stenosis Confession: Susan
I've had conversations with other women who, like me, mistook uncomfortable tightness in the middle of their chests as a symptom of anxiety and later discovered they had heart valve disease. Interestingly, after this happened to me I did an online search and found several articles stating that women with heart disease are commonly misdiagnosed with anxiety. Additionally, many older patients and their family members have shared with me that they initially ignored symptoms because they mistakenly believed what they were experiencing was just a normal part of aging. One man in his 80s who took walks every day started needing to stop and catch his breath on a bench in order to have the energy to walk the rest of the way home. He never mentioned this to his wife or his adult children because he thought it was just a sign of getting older. Eventually, when he fainted and was taken to the hospital by ambulance, he learned that he was suffering from critical aortic stenosis. Fortunately, he had treatment via TAVR and can now walk the same distance without stopping!
Like my cardiologist described, aortic stenosis is a narrowing of the aortic heart valve that restricts the heart's ability to supply the body with oxygenated blood. This narrowing often happens gradually, and the only way to diagnose heart valve disease is with a test called an echocardiogram. A heart murmur heard through a stethoscope provides a doctor with a clue that heart valve disease may be present, but an echocardiogram is the necessary test for a diagnosis. Early stenosis is labeled as "mild" and doesn't require treatment. Many people never know they have mild stenosis because they don't have any physical symptoms at all.
I've also learned from my doctors that no one can predict how slowly or quickly aortic stenosis will progress from mild to moderate to severe. With severe stenosis, especially when someone has symptoms, the damaged valve must be replaced with a new one. In some cases, I've spoken with people whose stenosis wasn't discovered until it was considered "critical," and their doctors recommended valve replacement immediately. My doctor informed me that severe, symptomatic valve disease is eventually fatal if left untreated.
No matter your age, it's important to know and recognize the symptoms of heart valve disease, which include:
Shortness of breath (when exercising, going up stairs, walking)
Tightness, pain, or pressure in your chest
If you're noticing these symptoms, don't wait. Make an appointment with your doctor. Before your appointment, keep track of your symptoms and how often they occur. Here's a link to a printable symptom tracker that you can take with you to your appointment.
The good news is that aortic stenosis is treatable. In addition to open-heart surgery, minimally invasive procedures like TAVR are now widely available. The vast majority of patients I speak with enthusiastically share that they feel much better, have more energy, and can breathe easily again after valve replacement. After my TAVR, I, too, felt like I had my healthy life back.
Was this helpful?