SOCIAL VOICES

7 Top TAVR Questions Answered By Someone Who's Been Through It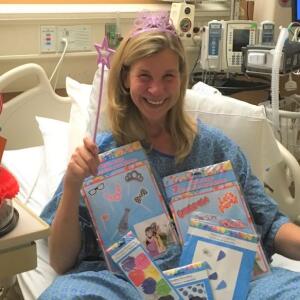 One thing was certain immediately after my diagnosis of severe aortic stenosis, or a heart valve failure: I had questions! What exactly is aortic stenosis? What are the treatments? How long is recovery? More questions surfaced in the hours and days after diagnosis. Still others occupied my thoughts at 2 AM while I was anxiously awaiting my valve replacement.
My first questions were readily answered by my cardiologist. An echocardiogram test confirmed I had severe aortic stenosis: the aortic valve in my heart no longer opened normally, which limited the amount of blood flowing from my heart to the rest of my body. The only treatment for AS is valve replacement, either through open-heart surgery or transcatheter aortic valve replacement (TAVR). Recovery time varied significantly depending on whether I would have surgical or transcatheter valve replacement.
My Aortic Stenosis Confession: Susan
As someone who has been through diagnosis and treatment and has lived well with my new TAVR valve for almost seven years, I'll share some "insider information" I learned from experience–answers to questions that might not come up in a medical appointment. I hope these insights ease your mind a bit while you're waiting for your new valve.
During my TAVR procedure, a small incision was made in the femoral artery in my groin, and a new tissue (bioprosthetic) valve was threaded up through a catheter into my heart. After careful positioning, my doctors opened up the new valve over the diseased valve and it began to work immediately. I don't remember feeling anything during the actual TAVR procedure. Typically, the procedure is done using "twilight sedation" instead of general anesthesia. I found the experience to be much like being sedated for a colonoscopy. My doctor explained the advantages of twilight sedation: there's less risk than general anesthesia and less time in the recovery room.
In the recovery room, I recall the need to lie flat for several hours afterward to prevent any bleeding from the incision in my artery. Discomfort from lying flat in the same position was the only pain I remember feeling at all. I experienced some bruising and soreness at the incision sites, but I didn't need any pain relief when I went home the day after my TAVR. Ultimately, my TAVR experience felt very similar to the heart cath/angiogram I had as part of my pre-TAVR workup, except after TAVR, I now had a new valve that immediately improved my blood flow.
I had no shortness of breath, and I was surprised at how easy the TAVR experience actually was. I found diagnosis, testing, and waiting for treatment were definitely the hardest parts of the whole process.
My doctor explained that a person's baseline level of health and wellbeing prior to TAVR largely determines the speed and ease of recovery. Prior to the onset of my severe aortic stenosis, I was healthy and active. While waiting for my new valve, movement was taxing and I would easily become short of breath just walking across the room. But after my TAVR, I began to feel better almost immediately. I was back to work full-time as a middle school teacher two weeks later. I could have returned sooner, but fortunately I was able to take two weeks off to fully recover. If you have additional health challenges, your recovery might take more time. Always check with your doctor to discuss your individual situation.
This question comes up often in the Facebook support group I started, with some folks feeling quite worried about it. A one-month post-TAVR check-up is common and typically includes an echocardiogram. At my appointment, my doctor mentioned that I had a "trace" leak around my replacement valve–called a paravalvular leak. He explained that a trace leak is common, and often the leak seals once the heart muscle heals and forms scar tissue around the new valve. That proved true in my case, and at my one year follow-up appointment, the trace leak was gone.
The first time I needed an MRI after my TAVR, I reached out to my TAVR team to make sure there weren't any restrictions. My team told me it was safe, as long as the radiology department knew I had a TAVR valve. When I arrived for my MRI, at check-in I was asked for information about the type of valve used in my TAVR and for the valve serial number to ensure that the MRI settings were safe. I had assumed that information would be in my medical chart. Fortunately, all those details were printed on the valve information card I received from the manufacturer. Before any new procedure, even dental appointments, I'm diligent about letting my providers know I've had TAVR.
My card was automatically sent to me from the manufacturer a few weeks after my TAVR. I also keep the information handy in the "Notes" section of my own contact information on my phone. If you've already had your valve replacement, you likely received your card when you left the hospital or you may receive it in the mail from the valve manufacturer. If you don't have your card or need a new copy, reach out to the company. You can find contact information on the manufacturer's website, as well as opportunities to sign up for newsletters and other patient support. Most valves are made by these companies: Abbott, Boston Scientific, Edwards Lifesciences, or Medtronic.
If I could wave a magic wand and change only one thing about the TAVR process, I would not have wasted so much time worrying beforehand. Once my TAVR procedure was behind me, I was amazed at how easy and comfortable my actual experience was. My advice to other patients would be to start with the end in mind. Picture how you want to feel with your new valve, and imagine yourself doing what you love to do–gardening, bike riding, walking in nature, playing golf, or any other favorite activity. Instead of wondering what might possibly go wrong, ask yourself this question: "What if everything goes right?" Make that the focus of your thoughts.
In the seven years since my TAVR, I've spoken at length with others who have gone through it and had the same questions. I hope these insights can give you confidence and optimism about what comes next.
Was this helpful?