SOCIAL VOICES

3 Tips for Navigating Bumps in the Road on the Way to Aortic Stenosis Treatment

Was this helpful?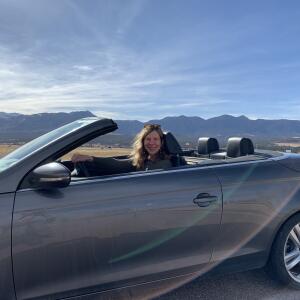 When my doctor first diagnosed me with severe aortic stenosis, or a heart valve failure, I felt overwhelmed. Aortic stenosis is a condition in which the heart's aortic valve does not open enough to allow blood to flow properly. Eventually, people with aortic stenosis will need to get their valve replaced with a new one. During that doctor's appointment, I had a hard time concentrating as my cardiologist used medical terms that were new to me, like stenosis, regurgitation, heart failure, valve replacement, blood thinners, and minimally invasive procedure. The new vocabulary list included tests to be scheduled, like echocardiogram, heart catheterization, TEE (transesophageal echocardiogram), and cardiac CT. I felt as confused and uncomfortable as if I had been handed the keys to a rental car in a foreign country, where everyone drives on the opposite side of the street and traffic signs are posted in a different language.
Navigating aortic stenosis from diagnosis through successful treatment is a journey, and journeys often have a fair share of bumps in the road. As another patient who has "been there" ahead of you, I'd like to share a few tips to help you steer clear of the obstacles and arrive safely at your desired destination: a healthy life with your new heart valve!
If you're feeling overwhelmed like I was, you might find it helpful to take some time to become more familiar with your new diagnosis, the tests involved, and the treatment options available. I felt more comfortable making decisions about moving forward once I had a basic understanding of what was happening with my body. I find that information is empowering and helps me feel like I am taking an active role in my care rather than feeling like a victim of something that is happening to me. To get started, your first great resource is your doctor, of course. But it can also be helpful to read about your condition on trustworthy websites like the American Heart Association. If anything confuses you or isn't clear, make a list of questions to ask your doctor the next time you see them.
It's important to know you are not alone on this journey. On my way from diagnosis to treatment, I experienced unexpected challenges dealing with insurance coverage and approvals, and delays in scheduling my treatment. I was thrilled to discover a nonprofit organization, the Patient Advocate Foundation, whose mission is to assist patients experiencing roadblocks in their care. If you run into difficulty dealing with insurance coverage, are uninsured or need financial assistance, or if you would benefit from one-on-one help from a professional case manager, this organization offers many resources.
The Heart Valve Careline, provided by the Patient Advocate Foundation, is a free patient hotline providing one-on-one professional assistance to those with barriers to healthcare access, specifically tailored to the needs of heart valve patients. Through the Careline, patients have a partner on their side to guide them through the complex insurance and reimbursement system. Additionally, the Healthy Heart Patient Empowerment Resource Directory is a directory of links to a variety of helpful resources for heart valve patients.
I found another source of invaluable support by connecting with other patients through online support groups. Mended Hearts, Heart Valve Voice U.S., and support groups on Facebook are great options.
The road from diagnosis to treatment can be long or short, but most patients find it challenging. Once a patient experiences symptoms from aortic stenosis (shortness of breath, fatigue, chest pain or pressure, heart palpitations, and even fainting) it is definitely time for treatment. It's important to remember to rest and take extra care of yourself physically and emotionally during this time, and also as you recover after treatment. I needed to slow down and let some things go for a while because I could not accomplish everything I did before my aortic stenosis became severe and symptomatic. I had always been one to exercise, and I had to continually lower the intensity of my activity prior to my valve replacement. I also experienced anxiety while waiting for treatment. I learned a lot about self-care and ways to manage stress prior to treatment and I still use those techniques today.
Although the journey is challenging, I want to encourage you that it is worth it! Getting a new aortic valve was a game-changer for me, and I hear similar stories regularly from other patients. My valve was replaced via transcatheter aortic valve replacement (TAVR) in which a catheter is inserted into the femoral artery in the groin, a new valve is threaded through the catheter up to the heart, and after careful positioning, the new valve opens up over the diseased valve and starts to work right away. My recovery was short, and I was back to work full-time as a busy middle school teacher two weeks after the procedure! My symptoms were eliminated, I had energy and stamina again, and I was able to resume my life as it was prior to experiencing the effects of symptomatic valve disease. My TAVR was more than six years ago, my valve continues to perform perfectly, and I feel great. I am aware my new valve will need to be replaced at some point, and my interventional cardiologist plans to perform a similar replacement via TAVR when the time comes.
My Aortic Stenosis Confession: Susan
After my TAVR procedure was over and I was back home recovering the next day, I realized much of the stress and anxiety I felt leading up to it was unnecessary. If I had only realized how smoothly the actual procedure would go, how little pain I would experience, or that I would have no complications, the anticipation wouldn't have been so difficult. But, of course, that would have required a crystal ball to predict the future. The next best thing is hearing the experiences of others who had positive outcomes, getting the information and support you need along the way, and taking good care of yourself on your path to treatment.
Once you get that new valve, I hope you make the decision to follow a heart-healthy lifestyle, follow up with your cardiologist regularly, and get out and ENJOY your new lease on life!
Was this helpful?