SOCIAL VOICES

3 Packing Tips for Your TAVR Hospital Stay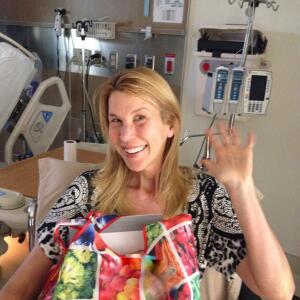 If you're reading this, chances are you or someone you love is considering transcatheter aortic valve replacement (TAVR) or is already scheduled for the procedure. When I first learned I needed heart valve replacement, I felt unprepared. I was scared, especially of all the unknown. The diagnosis of severe aortic stenosis, or a heart valve failure, was completely new to me: my doctor told me the flow of oxygenated blood from my heart to the rest of my body was restricted because my aortic valve wasn't opening normally. The condition is life-threatening, and the treatment is to replace the heart valve.

I've learned so much since then, and now as a patient advocate, I love making life a little easier for others who are just starting out on the patient journey. A question that comes up often: What do I pack for the hospital? Patients who recently had the TAVR procedure are a great source for the inside scoop on how to pack for your short hospital stay.
So, let's take one thing off your to-do list: Deciding what to pack for the hospital. Print off this article, add any items you wish, and put a copy in your suitcase for safe keeping.

When packing, don't add so much that your bags are unmanageable, important items are hard to find, or you run the risk of losing belongings. Also, leave all your jewelry safe at home.
On the other hand, taking a minimalist approach can leave you uncomfortable, sleepless, and unable to communicate with loved ones. Focus on including basics like:
Loose, comfy clothes to wear home, like sweats or elastic waist pants, slip-on shoes, and a soft button-up top
Cardigan or shawl with easy access to your chest
A zippered baggie with disinfectant wipes for the TV remote, your phone, and other high touch items

Hospitals are known for being noisy. And no one wants to be jolted awake by bright lights at 3am after you've finally fallen asleep. Remember to bring things that will help make your night more comfortable and sleep less elusive. You don't need to pack everything on this list, but do make sure you prioritize items that will help you shuttle off to slumberland, including:
Ear plugs and an eye mask
White noise apps for your phone
Your own pillow (or small neck pillow); Make sure it's machine washable
Essential oils to relax, like lavender, valerian, or chamomile
A couple of teabags of your nighttime favorite

Staying in touch with loved ones who can't be with you in the hospital often helps them as much as it helps you! Easy access to a fully charged phone or tablet can be a lifeline to friends and family, and will also provide you with entertainment like books, videos, puzzles, and games. I recently learned about a phone app called "Marco Polo" that lets you communicate by sending videos. You simply download the app, create a group with one or more contacts and share video messages within the group. No texting or written messages, so you don't need your glasses. You can send (or watch) videos any time without interrupting the recipient, even if it's the middle of the night. And your loved ones will be reassured to see your face and hear your voice, knowing that you really are doing well.

To stay in touch with your loved ones, don't forget to pack:
6 ft phone charger cord, an extension cord, or a backup battery charger
Marco Polo app to stay in touch

When you get home, wash everything you took with you to the hospital. Spray the bottom of your shoes or just leave them outside for a few days, along with anything else that isn't washable. And don't bring home the slipper socks (and any germs they carry) from the hospital!

As you settle back into your normal routine, commit to your permanent heart-healthy lifestyle. Plan ahead so you have plenty of healthy foods to eat. Focus on real foods: vegetables, fruits, whole grains, and lean proteins. Reduce or eliminate processed foods, which have too much salt, fat, sugar, and chemicals.
My Aortic Stenosis Confession: Susan
Move your body, always following your cardiologist's advice. Start slowly, don't push, and build up step by step. Incorporate healthy movement into your life every day. If seated stretching is your speed, you can find a video online for EVERY level of exercise! Consider participating in cardiac rehabilitation, an outpatient program of exercise and education designed to help you improve your health as you recover after valve replacement. What I appreciated most about cardiac rehab was the opportunity to exercise safely under supervision, which gave me confidence that I could safely return to a full, active life with my new heart valve.

Additionally, continue to prioritize sleep. Most adults need 7 to 9 hours of sleep nightly. Stress reduction is another important part of your healthy lifestyle. Give meditation a try!
A week or two after TAVR, once I was home and feeling much more like myself, I realized just how much time and energy I had spent feeling anxious. If I had only known ahead of time how easy it would be, I could have saved myself so much stress! Hopefully, getting some insight into how to pack for your TAVR hospital stay can reduce any anxiety before the procedure.
Was this helpful?