Finding the Right Doctor for Coronary Angioplasty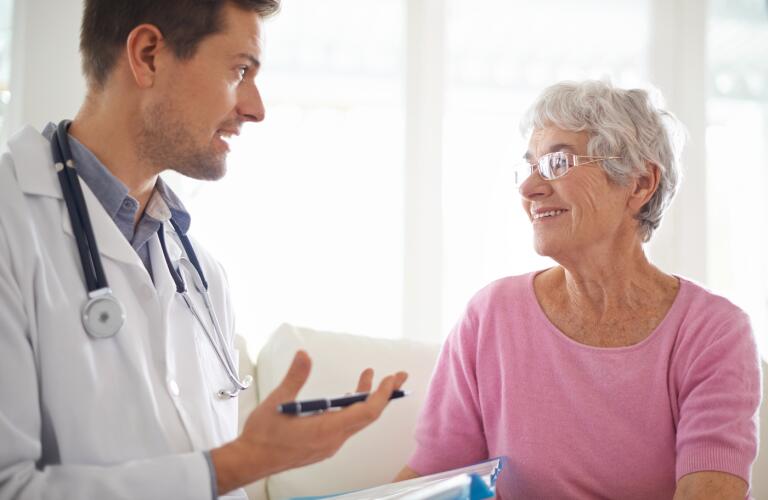 If you have advanced coronary artery disease, your doctor may recommend you undergo an angioplasty procedure. Also called percutaneous coronary intervention (PCI), an angioplasty aims to "open" clogged arteries in the heart and restore blood flow to this vital organ.
Coronary angioplasty most often is performed on patients who are hospitalized due to heart attack, but some people have the option to undergo the procedure before a heart attack occurs. This is elective angioplasty. In that case, you can take some time to find the right doctor—and facility—to provide this potentially life-saving intervention.
Angioplasty is a minimally invasive procedure designed to treat or prevent heart attack (myocardial infarction). The cardiologist inserts a thin, flexible medical device into an artery in the groin and threads it up to the coronary arteries using X-ray guidance. Doctors also perform angioplasty procedures for non-coronary arteries, such as arteries supplying blood to the kidneys or legs, but coronary angioplasty treats blocked arteries that supply freshly oxygenated blood to the heart muscle. An angioplasty doctor is a cardiologist with special education and training in PCIs.
Angioplasty can be performed in most hospitals or in a freestanding clinic. There are different approaches to clearing coronary artery blockages including:
Angioplasty with stent, which places a flexible metal tube at the site of the blockage to hold the artery open

Angioplasty with drug-eluting stent, which uses a special stent that slowly infuses medication into the surrounding tissue to slow or prevent another blockage at that site

Balloon angioplasty, which compresses plaque against the artery wall by inflating a balloon in the tip of the catheter

Laser angioplasty that destroys plaque at the blockage site using heat
Your angioplasty doctor will discuss the risks and benefits associated with each type of angioplasty. Together, you can make an informed decision about which type is best for you.
If you decide on elective angioplasty to prevent a heart attack, take some time to find an experienced doctor. The more experience a doctor has performing the angioplasty procedure with good results, the better your results are likely to be.
Consider these factors when making your decision:
Board certification. Interventional cardiologists (doctors who perform angioplasty) are certified by the American Board of Internal Medicine (ABIM). Doctors who choose to certify in interventional cardiology demonstrate their commitment to continually evaluating and advancing their practice skills. Verify any doctor's board certification status, such as at the American Board of Medical Specialties.

Clinical research publications. At PubMed Trusted Source PubMed Central Highly respected database from the National Institutes of Health Go to source or a general search engine of your choice, you can perform a quick search of your doctor's name to see if he or she has ever published any research on coronary artery disease, interventions or related topics. Doctors who participate in clinical research may be more up to date on best practices and trends in cardiology.

Hospital affiliations. Make sure your interventional cardiologist has privileges to practice at a hospital or other facility your insurance company considers in-network.

Hospital quality ratings. You can look up the government's quality ratings for many hospitals by using Medicare's Hospital Compare website. Healthgrades.com and other sites also provide this information.

Licensure and disciplinary actions. Verify your physician has an active medical license and review any past disciplinary actions by calling your state's Board of Medicine or going to their website.

Patient ratings. Check websites like Healthgrades.com to find out how other patients rate the doctor(s) you are considering.

Volume of angioplasties performed at the facility. Studies show a patient's risk of experiencing an adverse event due to PCI are lower when the procedure is performed in a facility that performs a high volume of angioplasties. Aim for facilities that perform the largest percentage of angioplasties in your area. Your doctor or your insurance company may be able to provide you with this information. You also can call hospitals and other facilities to ask them approximately how many angioplasties they perform each year.
You also should consult with your insurance company about other issues related to your coverage, such as how to know if the anesthesiologist for your angioplasty is an in-network provider, or whether or not you need a prior authorization for an elective angioplasty (as opposed to treating a heart attack in progress). By taking care of these financial details, you can focus on getting well after your angioplasty instead of worrying about receiving an unexpected bill.
Angioplasty can be a life-saving procedure for someone having a heart attack and someone with advanced coronary artery disease. If you have signs and symptoms of advanced coronary artery disease, such as elevated blood cholesterol levels and sedentary or mild chest pain with exertion, talk with your cardiologist about whether you might benefit from an elective angioplasty.
Was this helpful?