What Is Chronic Idiopathic Urticaria?
Was this helpful?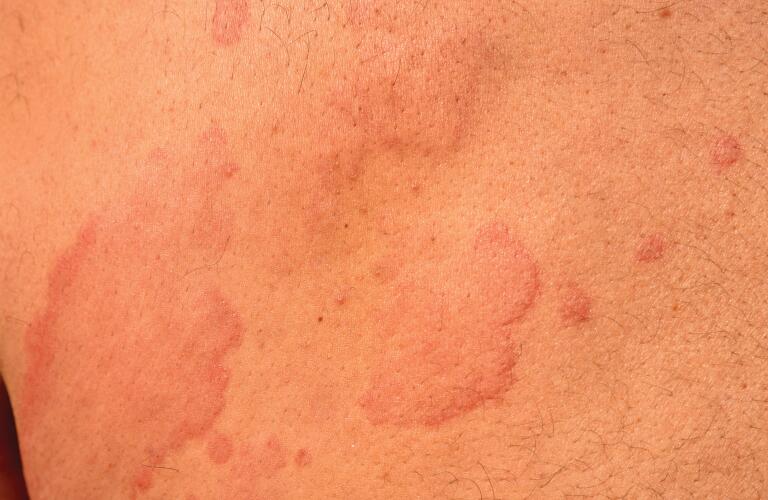 About 20% of people can expect to experience hives at some point in their lives. Also called urticaria, hives are a rash of itchy, swollen red welts. For most people, hives usually only last about 24 hours, but in some cases, they can appear every day for weeks and even months. If hives last six weeks or longer, they're considered chronic. Chronic hives can be frustrating, but fortunately, treatments are available to help you get the condition under control.
Acute Versus Chronic Urticaria
Most people who experience hives have acute urticaria. Acute urticaria can last for minutes, hours, or days, but definitely less than six weeks. It's usually a result of an allergic reaction to a specific trigger, including:
Foods such as shellfish, nuts, or eggs

Medications such as aspirin or antibiotics (particularly penicillin and sulfur)

Stings from insects
Once the cause is determined and eliminated, acute hives tend to clear up relatively quickly.
Less than 1% of people will experience chronic urticaria, in which new outbreaks of hives occur almost daily for at least six weeks. Chronic urticaria isn't caused by the same things as acute urticaria, and in some cases, the cause is a complete mystery. There are two main types: chronic physical (inducible) urticaria and chronic idiopathic (spontaneous) urticaria.
Chronic Idiopathic Urticaria Versus Chronic Physical Urticaria
Chronic physical urticaria is the term for long-lasting hives caused by a physical interaction with the skin. The most common cause of chronic physical urticaria is dermographism, which means "writing on the skin." This condition occurs when proteins in the body attack the mast cell, or allergy cell, and histamines are released. If you have demographism and scratch or stroke your skin, welts appear as if you'd drawn them with a pen.
Chronic physical urticaria can also be caused by something in your environment, from the clothes you're wearing to the temperature outside. Typical triggers include:
Pressure from belts

Constricting sock bands

Cold temperature

Sun exposure

Increased sweating from heat, exercise or anxiety
Unlike chronic physical urticaria, chronic idiopathic urticaria (CIU) can't be traced to a definitive cause; idiopathic means "cause unknown." This may feel frustrating because you can't alter your clothing, avoid something in your environment, eat differently, stop medication, or do something else to "fix it." Even though the exact cause of chronic idiopathic urticaria isn't clear, effective treatments are available.
Your doctor will likely recommend that an allergist or immunologist evaluate your chronic urticaria from a specialist perspective. Your specialist will ask you about your individual and family medical history and may order diagnostic blood and urine tests.
Treatment Options for Chronic Idiopathic Urticaria
Chronic idiopathic urticaria is usually first treated with antihistamines. They are effective for many people, but not all. Corticosteroids may be added but aren't recommended as a long-term solution. A decade ago, additional options were limited, but that isn't the case today.
Omalizumab (Xolair), for example, is a biologic therapy that works with the body's immune system to block symptom triggers at the cellular level, and more biologics are currently being studied. Several immunosuppressive drugs are also available that prevent the faulty immune response of hives. Tricyclic antidepressants are a third alternative that has proven effective in cases that were considered difficult to treat in the past.
Chronic idiopathic urticaria isn't an easy thing to deal with, but there are many ways to find relief. If your current treatment isn't working, take a proactive approach with your doctor to find the right fit for you.
Was this helpful?