PHYSICIAN VOICES

Understanding Hives

Hives is the name for an itchy rash on the body that may develop when you come into contact with or ingest something you are allergic to (e.g., a food or new medicine). Hives most commonly appear suddenly without warning, but some people experience hives as a chronic recurring condition with unknown triggers.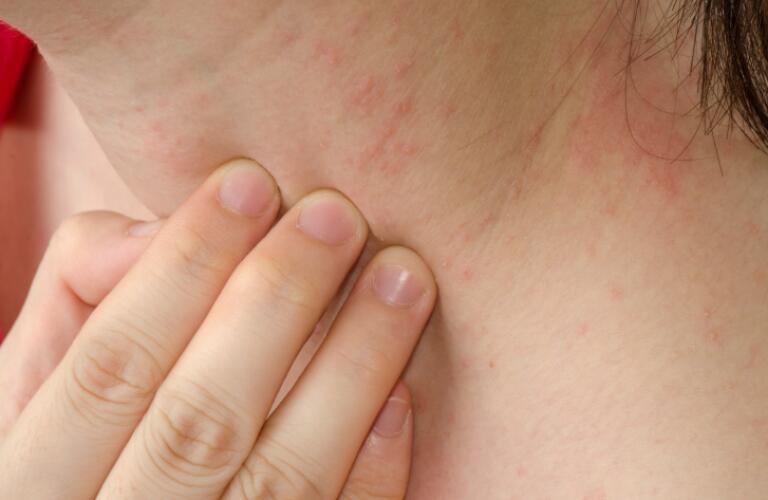 When hives occur all over or on large areas of the body, that's called a systemic reaction. In these cases, hives are usually caused by a food, medicine, viral infection, insect bite, or some other substance.
If the hives are confined to one specific part of the body, it's known as a localized reaction. This usually occurs when that part of the body comes into contact with something like a plant or its sap, pollen, or a pet.
People commonly worry that hives can be transferred from one person to another, but actually, hives are not contagious.
Symptoms from hives generally involve skin changes like a rash and swelling of different parts of the body. However, if you experience a sensation of fullness in the affected area, this is a medical emergency. Seek care immediately. There is a very real risk your breathing may be affected.
Skin Changes: Depending on the skin tone, hives may look like raised pink, red, or brown spots or blisters with pale centers. The spots (also referred to as wheals or whelps) often look like mosquito bites initially and can range in size from half an inch to several inches wide. The spots can change location, size, and shape and may merge together. They are also sometimes itchy.

Angioedema: People who develop hives can also develop angioedema or a swelling underneath the area, in the deeper layers of the skin. Puffiness around the lips, eyes, mouth, ears, and genitals are common, but the swelling can occur anywhere in the body.

About 10% of the population will develop hives at some point in their lives, but most people will only contract the condition once. Hives generally resolve in 3 to 4 days.
There is no treatment to cure hives, but over-the-counter antihistamines such as diphenhydramine (Benadryl), loratidine (Alavert, Claritin), cetirizine (Zyrtec), or fexofenadine (Allegra) will decrease symptoms like intense itching, as well as the size and number of hive spots. You should continue to take the antihistamine until the spots have disappeared for at least 12 hours. Watch out for increased tiredness or sleepiness as this is the most common side effect of this class of medication.
You can also try taking a cool bath or placing a cold washcloth on the spots to alleviate itching. Avoid heat or rubbing the spots as this may make itching and other symptoms worse.
If you have recurrent hives, your doctor may tell you to take antihistamines when you first notice symptoms. Your doctor may also prescribe an oral steroid (prednisone, prednisolone) if your symptoms are more severe. If you have recurrent hives, especially if they lead to angioedema, your doctor may consider an injectable medication. Make sure you and your doctor have a treatment plan.
You should call your doctor immediately or seek medical care right away if you believe you have hives, angioedema or experience any of the following:
difficulty breathing
tightness in the throat
swallowing becomes difficult
you start to feel very sick
nausea
vomiting
abdominal pain
passing out

Hives can be a local reaction or an indication of a more serious medical issue. Understanding the difference and knowing the actions to take are important if you experience this sudden condition.

Was this helpful?